Big Brother 17 Heads of Household
Liz Nolan and Shelli Poole have their hands full and their heads spinning as they try to make their decisions about who to nominate. The two extra votes for Jeff during last nights eviction, cast by Liz Nolan and Steve Moses, has the entire house in a tizzy. Who is the target this week?
Keep reading or click "see more" below for a sneak peek inside the Big Brother 17 house. Get ready to watch ALL the drama on the Live Feeds as the new Heads of Household make their nominations and the nominees face off in the Battle of the Block! You can try the Live Feeds FREE for one week! Watch all the drama on the Live Feeds! This season, the Live Feeds are only $5.99 per month. And, it
's just not Big Brother without the Live Feeds, you're sure to enjoy watching all the ins and outs that you miss by only watching the television episodes. Plus, signing up for the live feeds by clicking on our banners and links is a great way to help support all that we do here all summer long.
CLICK HERE
to get signed up today and help support this website at the very same time. We truly appreciate your support.


Because it's been so crazy and everything is likely to change again in just a few hours, I'll give you a quickie update on what's happening .. so hold on for a bumpy, back and forth ride...

Last night 7/16 - We started out the night with Austin assuring Jackie that even though Liz may nominate her, he would do whatever he could to keep her safe...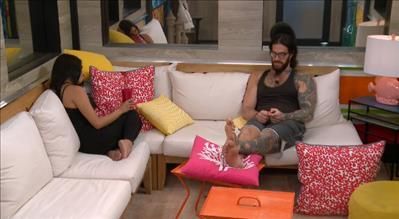 As I mentioned above, the main topic of the night were the hinky votes, everyone trying to figure out who...

Vanessa is positive that one is America's Player and the other is Becky...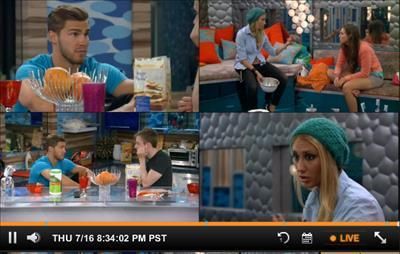 Vanessa to Audrey- I know with every fiber of my being ( that' it's Becky )

Their talk turns to America's Player...
..
Audrey- I wonder why people think it's me... ( America's Player)

Vanessa- because you are the one that every one blames for everything...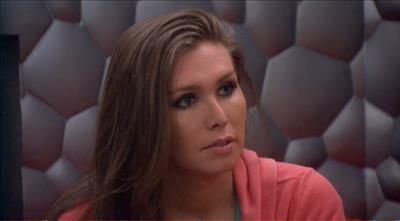 Audrey- I'm feel like they're thinking because I'm transgender that America would vote for me because of Caitlyn Jenner.. and I feel like that's just really ****ed up.
Vanessa shares her thoughts about Becky with Clay ...
Clay in turns shared with Vanessa that Audrey told him that she thinks Vanessa is lying, changing her stories, to protect Steve ( who she originally accused of being the hinky vote - until she talked to him- maybe I should say interrogated him - and then told him she believed him )
Vanessa- you know why ? Because she knows I'm onto her ( as America's Player ) and she's scared of me...


1:42 AM BBT

Becky tells Shelli that Jeff told her about the twins... and that he was protecting them...




Becky- if you were in her ( Liz ) spot.. wouldn't you vote for Jeff to stay ...
Shelli- yeah I guess so.
In between this time.. both Liz and Shelli are talking to Jackie, Meg, Jason, Steve and James...

Shelli tells Jackie, no worries, and in fact, she wants to get closer to the girls in the house.

Meg cries to Shelli, she tells her no worries
Liz talks to Meg, she tells her no worries.

Liz talks to Jason, tells him it's early, doesn't know what she's doing yet.
Liz and Austin tell Steve, no worries but he needs to talk to Shelli.
He does and Shelli tells him, no worries.

Liz and Johnny Mac agree if she doesn't put him up, they will not target each other for 2 weeks.
Shelli fills Vanessa and Clay in on what Becky told her ... and that she doesn't trust Austin because Austin told Jackie that Liz might nominate her, but he would try to protect her.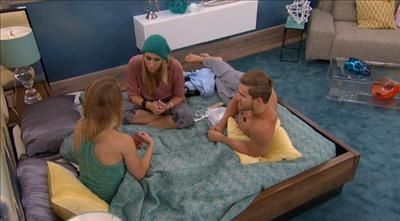 7/17 4:07 AM BBT -
After much he said/she said... the Head of Households and their alliance members get together for a meeting...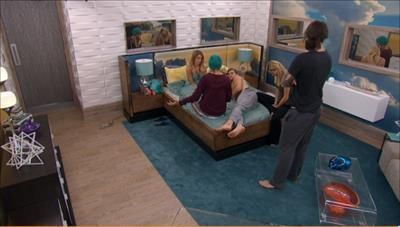 The only thing they all agree on is that Jason is the target this week. The debate continues into the night ... I should say into the wee hours of the morning!

You can check out our Live Feed Updates
HERE
for their discussions and more.
The drama continues on the Live Feeds!
Try them today FREE for one week!
Just
CLICK HERE
or on any of the live feed banners you see here to get signed up and help support this website at the very same time.

Catch up with our Live Feed Updates HERE or join in on a Live Feed Discussion HERE
Another great way to help support this website is by making a donation via our PayPal button. It's just over there on the right! We truly appreciate any support and would not be able to do this without you! Be sure to add your BBU Nickname in the note section so I can add your new donator button!
Follow us on Twitter -
https://twitter.com/BB_Updates
and Facebook -
https://www.facebook.com/bigbrotherupdates
Check out one of our favorite places on the net - -
SirLinksAlot.net
Please note: If you are a returning member, you will need to register again.
*Your old BBU sign in and password will not work - you must Register again

.

For all ( returning or new ) registering:
There is a two step registration process...

1) Complete registration and you MUST include a valid email address you can check.
2) Upon completing step 1 - make sure you check your email address because you MUST click on the second step verification link to complete your registration process.
As always, thanks for reading ~~ Lexie