Big Brother 17
Head of Household Shelli Poole, could make a big move that will either make her or break her in
side the Big Broth
er 17 house.
Vanessa Rousso might not be Head of Household, but she does hold some power and she's wheeling and dealing throughout the house. And, as a result, Jason Roy, might have a plate full of good luck fall right into his lap. You never know what will happen inside the Big Brother house, until it actually does because things change by the minute, but you can keep reading or click "see more" below for a sneak peek into what they are up to now! Watch all the drama on the Live Feeds! Try them one week for Free and then they are only $5.99 per month. It's just not Big Brother without the Live Feeds, you're sure to enjoy watching all the ins and outs that you miss by only watching the television episodes. Plus, signing up for the live feeds by clicking on our banners and links is a great way to help support all that we do here all summer long.
CLICK HERE
to get signed up today and help support this website at the very same time. We truly appreciate your support.
9:28 PM BBT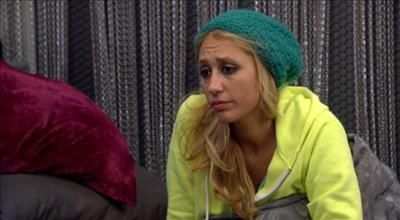 Vanessa to Jason- I think we can work som

ething out. I'm obviously going to want to make a deal. I have to make sure she (Shelli) is on board. As long as she is, I'll come to you with an offer. And,
you are also going to have to involve 2 of your allies...
Jason - I only have 1 true ally .. it's Meg. The other person I would say that I'm closest to is James.. but that is through Meg.

Audrey walk in, so that convo ends...

But that doesn't stop Vanessa...


9:34 PM BBT
Vanessa/Johnny Mac - Storage Room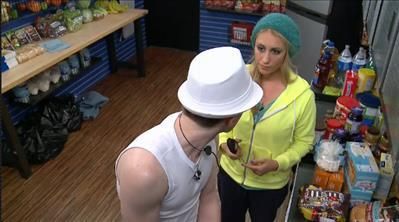 Vanessa - once I talk to Shelli, I'll come find you and we'll talk.

Johnny Mac- okay

Vanessa- I just gotta talk to her first.. make sure she won't be pissed if I use it kinda thing..

Johnny Mac- Okay

Vanessa- don't say anything to anyone...




Austin/Vanessa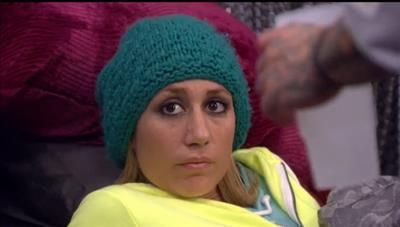 Vanessa tells him she was trying to make a deal with Jason, but Audrey walked in...

Austin - she ( Audrey ) was up there with Shelli already for an hour, doing her hair, I'm afraid she will get in her brain.

Vanessa- I think I'm going to do it anyways.. it's a great deal for me.. I can secure that side of the house from going after me.. which is good.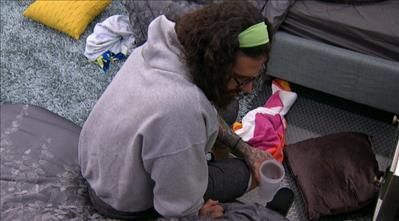 Austin - Shelli won't listen to Audrey at this point will she? She wouldn't put up me or Liz would she?

Vanessa- noooo! And let me tell you what ... if that ever happens... she makes an enemy out of me.

Austin- a deal with Jason would be good.

Vanessa - not just with him.. I'm going to make one hell of a deal...

Austin - for the next 24 hours.. try to keep Audrey away from Shelli ... she's gonna go ape **** ..



10:20 PM BBT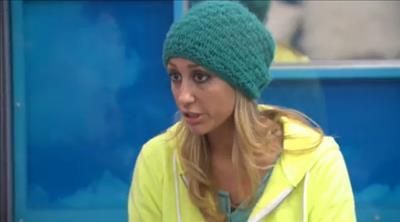 Vanessa to Shelli- I think I'm going to go to Jason and make a deal...something pretty big like next time you win HoH, I'm safe and because Meg and James are his (Jason's) allies..... I'm going to ask for the same deal from them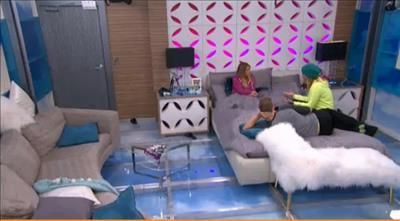 She tells Shelli that if she tells her that using the veto would be betrayal, then she won't use it... and

that it doesn't have to be Audrey on the block .. that Becky and Steve are options...






10:40 PM BBT

Austin joins the HOH crew...




Vanessa- I say we don't let her ( Audrey) know what's going to happen
Clay- she shouldn't know until she sits down in that chair..

Shelli to Austin- how do you feel about this?

Vanessa- I'm going to take down Jason and she will put up Audrey

Austin- good .. if that's what you want to do.. I'm all for it..

Shelli- people are trying to talk me into it..

Vanessa- it's not what you want to do?

Shelli- I'm just saying I need reassurance...
Austin- we will back you up on it for sure...


10:45 PM BBT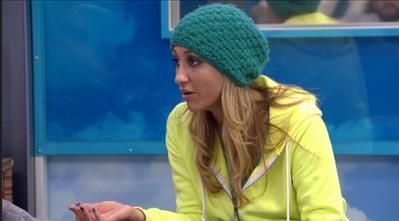 Vanessa to Shelli- do I have your blessing to use it?
Shelli- mm hmm
Vanessa- okay.. so I'm going to make a deal to use it ...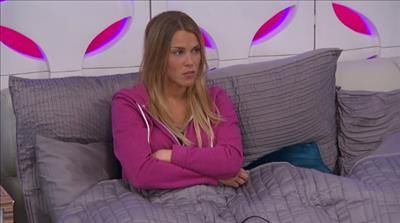 Shelli - because ultimately .. either way .. it sounds like that it's going this way with Audrey .. but even if it wasn't ... and she didn't go nuts and we were still protecting her... I still think there are bigger targets out there other than Jason and John and I really don't want to send Jason home.
Vanessa to Shelli- okay .. over the next 24 hours, I'm going to broker whatever deal I can with them

Shelli - yep

Vanessa- and you will do your deal separately then?

Shelli- yeah

Vanessa- okay

Austin - sweet

Shelli- and I'm going to have to talk to pretty much everyone in the house at some point ..

Austin - but if she's up there .. isn't everyone going to want to vote her out.. anyway...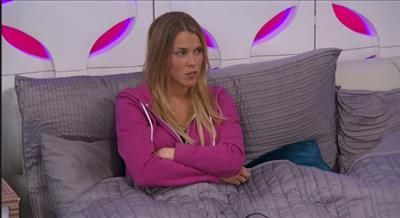 Shelli- here's the thing.. do I blindside her ( Audrey ) or do I prep her?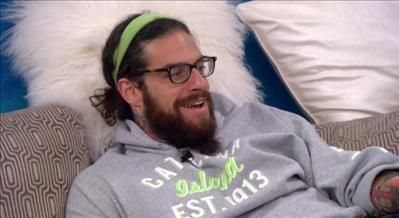 Austin- Oh My God, you can't prep that ....

Vanessa - blindside...

Clay - agrees...
Shelli- That will be some really good TV this veto ceremony, if that's what we do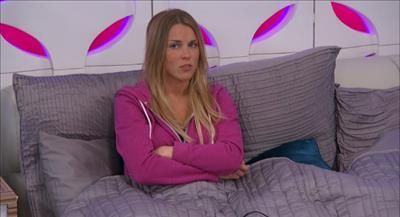 Shelli- and I am HOH .. but if we do this.. it will be "we" .. not Shelli ...

Vanessa- I'll take the blame, I'll say it in my speech


Clay- I'll take the blame, I don't care.
Austin- She is voting against us, she's not winning HoH. What is she doing for us? It's pissing everyone off cause we protect her
At that point Steve comes in so that ends that convo...

However just a bit later...
11:36 PM BBT

Jason joins Shelli and Clay in the HoH room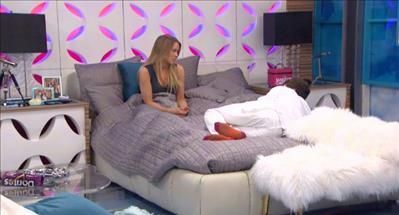 Shelli to Jason -
I've talked to Vanessa. Obviously she can use it on either you or John. And, John is safer on the block than you are. I agree with that logic.. so if Vanessa were to use it... I'm game on her using it on you to take you down.

Jason - okay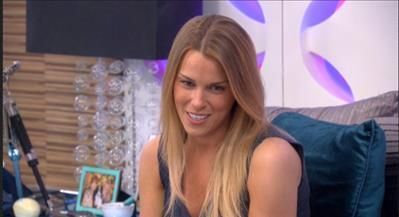 Shelli- this week, I think has been beneficial to us and to you, getting to know you better... so w
hat I'm thinking, moving forward, is an understanding between us.... If Clay or I win, we will never put you up again.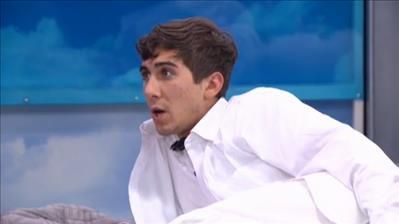 Jason- Likewise
Shelli- so if you could do the same...
Jason- of course...
I don't know where they found this chick...they went to manipulation boot camp and picked her out. She is good at this.
Shelli - This could be the most dramatic veto ceremony ever.
Will Audrey find out before Monday's Power of Veto Ceremony? Will all hell break loose?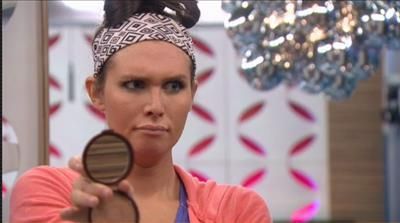 The drama continues on the Live Feeds!
Try them today FREE for one week!

How can you get the live feeds?
Just
CLICK HERE
or on any of the live feed banners you see here to get signed up and help support this website at the very same time.

Catch up with our Live Feed Updates HERE or join in on a Live Feed Discussion HERE
Another great way to help support this website is by making a donation via our PayPal button. It's just over there on the right! We truly appreciate any support and would not be able to do this without you! Be sure to add your BBU Nickname in the note section so I can add your new donator button!
Follow us on Twitter -
https://twitter.com/BB_Updates
and Facebook -
https://www.facebook.com/bigbrotherupdates
Check out one of our favorite places on the net - -
SirLinksAlot.net
Please note: If you are a returning member, you will need to register again.
*Your old BBU sign in and password will not work - you must Register again

.

For all ( returning or new ) registering:
There is a two step registration process...

1) Complete registration and you MUST include a valid email address you can check.
2) Upon completing step 1 - make sure you check your email address because you MUST click on the second step verification link to complete your registration process.
As always, thanks for reading ~~ Lexie