Big Brother 17 Audrey Middleton found herself in smack in the middle of the drama today inside the Big Brother 17 house. Not that she's not always somewhere in the drama that's always stirring about. But today, she probably wished she was anywhere but!
What started off as just an assuming conversation between Audrey Middleton, Austin Matelson and Clay Honeycutt quickly turned into so much more and exploded into a day full drama on the live feeds. K
eep reading or click "see more" below for a sneak peek inside the Big Brother 17 house! Watch all the drama on the Live Feeds! Try them one week for Free and then they are only $5.99 per month. It's just not Big Brother without the Live Feeds, you're sure to enjoy watching all the ins and outs that you miss by only watching the television episodes. Plus, signing up for the live feeds by clicking on our banners and links is a great way to help support all that we do here all summer long.
CLICK HERE
to get signed up today and help support this website at the very same time. We truly appreciate your support.
The conversation first started between Audrey and Austin, as they talked about trust and how difficult it is to give and receive inside the game. Clay joined in and that was the spark that ignited the flame ...
12:54 PM BBT

Audrey/Clay/Austin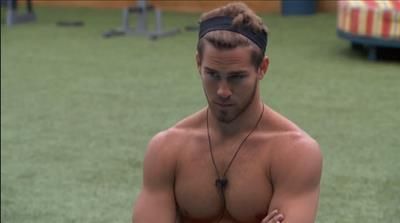 Clay to Audrey - when you don't trust people, especially when they trust you, it makes them uneasy about you. You have people that trust you and you almost drive them away because you work yourself up so much because you're paranoid that they don't trust you back. And, Shelli of all people, has really proven that to you.

Audrey -I really don't doubt her.

Clay- but you do ...

Clay and Audrey continue to go back and forth ....

( it's very FlashBack worthy - but we need to move forward - it's been that kind of a day )

At the same time that Clay and Audrey are talking out side...





Vanessa and Shelli are in the HoH room, having a discussion about how to catch Audrey in a lie, so that Shelli can justify nominating her.
Shelli- She thinks you are not going to use it. She is so happy you won.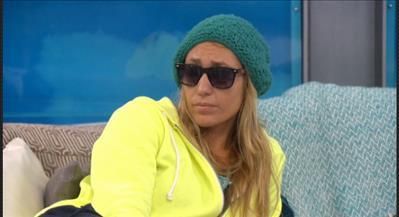 Vanessa- This is terrible but I need to get over it. I feel a war between my heart and my head. My head needs to win it. I cant be stupid anymore.
Shelli- I feel the same. I am on board now 100%....the more I've thought about it. I am so pissed about this position Audrey has put me in
Vanessa- Audrey is doing everything to make it miserable. It's like we're on a road trip with a kid screaming in the back.

Little did they know what was going on outside between Clay and Audrey ...
Audrey - When I tell you what I'm thinking, you guys don't want to hear it and think I'm casting seeds of doubt.
Am I supposed to sit here and be a mute? Am I ****ing Victoria? What do I need to do? Do I need to chop my ****ing arm off and wrap it in a bow and give it to her (Shelli)?

Clay leaves ...

Audrey to herself- Oh my God, these people are so ****ing stupid
Clay to Shelli/Vanessa- I almost blew my **** with Audrey


Shelli- does she know that this ( back door ) is coming?
Clay- no, no, no, she doesn't know at all?
Clay- She always goes back to how she wants to play the victim and no one understands how she feels.
Audrey is knocking on the HoH room door.
1:47 PM BBT
Audrey at the door- Can I talk to Shelli please?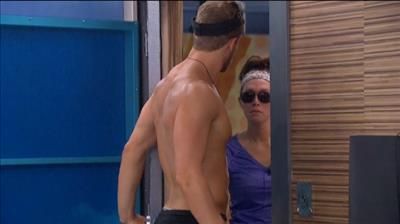 Clay- can I talk to her?
Audrey to Shelli- Can you just mediate this and listen to both of us?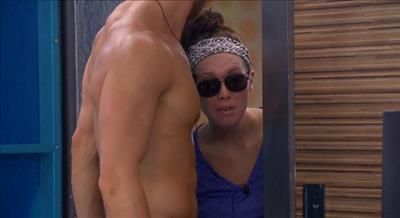 Clay- no. I'm going to talk to her. You can talk to her after.
Shelli - are you guys having a fight?
Audrey - yes, we're arguing about something that is so stupid.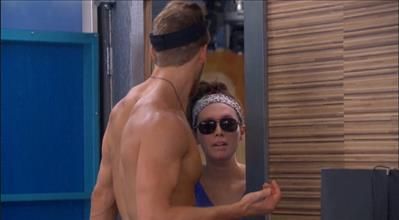 Clay - I want to talk to her alone, then you can.
Audrey - that's the thing, I don't care if you are in the room.
Clay- but I care if you are.
Audrey- this is getting so blown up Clay.
Clay- no, I need to talk to her.
Audrey - I'll wait out here.




Clay to Shelli - I can't talk ..she's just right there.
BB - Audrey, please change your batteries...
Shelli- oh thank god.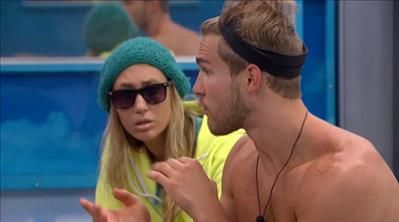 Clay
quick
ly tries t
o fill Shelli and Vanessa on his convers
ation with Audrey.

1:52 PM BBT
Audrey joins Shelli, Vanessa and Clay in the HoH room ..
Audrey starts to cry, saying that her feeling got her when Clay said that she hasn't done anything for Shelli's game.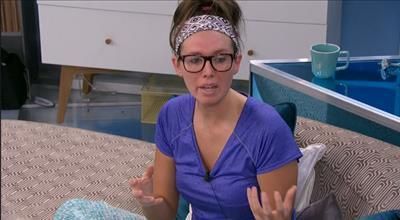 Audrey - I feel like Clay is coming at me saying "you think all of these things", telling me how I think and how I feel.

Audrey to Clay -
I think this stems with something deeper with you. I think you are making this about you and that's why you were cornering me outside.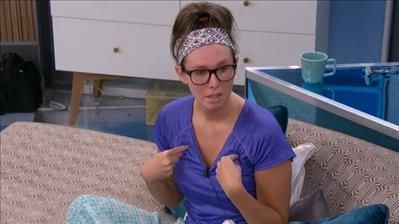 Clay- I CORNERED YOU?!?
Audrey -yes!
Clay -I cornered you? Don't you dare say that!

There is a lot of continued back and forth between Clay and Audrey ....




Clay to Shelli- She is blatantly lying to my face and to y'alls face. I can't stand liars
Shelli - There is a lack of trust. He is absolutely correct. You don't trust us.

2:05 PM BBT
Audrey turns on the water works...


Audrey - I've been defending an image that has been projected on to me. I know what I've done and what I haven't.


She tells them that they have never put themselves in her shoes. And, how can she not feel insecure.
Shelli - In my heart it
offends me that you would say none of us have put ourselves in your shoes when that's exactly what I've done.
Vanessa- me too.

Audrey - I feel like I'm in this position, where I constantly have to be in defense mode. I was kicked out of the room, couldn't listen to conversations.

Clay - but like they said, there should be a level of trust, where no matter how things look, you trust them, but you don't and that's worrisome for them
.
At 2:13 PM BBT
Vanessa gets heated when Audrey talks about Vanessa talking to Steve.
Vanessa defends herself ...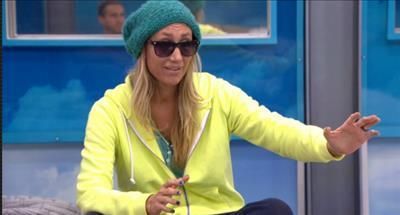 Vanessa- are you calling me a liar?

Audrey - no

Vanessa - either you are calling me a liar or you are one.

They go round and round about Audrey's concerns over Vanessa "supposedly" talking to Steve and may have an alliance with him.

Vanessa -
Why don't you ever ****ing listen to anything I say?




Clay- I would like to clarify a Final 2 deal that you ( Audrey ) say that Vanessa came to you with.
Vanessa- this should be good.
Audrey- You ( Vanessa ) said at a certain point that you know Shelli is going to choose Clay over me.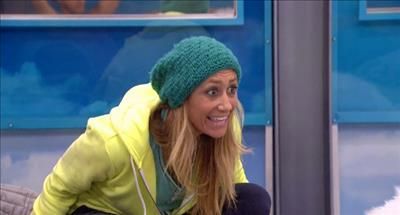 Vaness
a- YOU SA
ID THAT...
Vanessa
-
Are
you kidding me?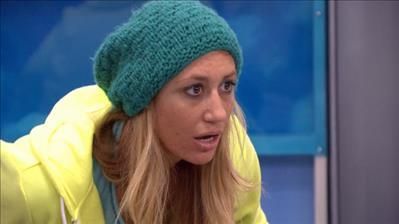 Aud
rey- no
Vanessa- YOU SAID THAT!
Audrey- here's the thing, Vanessa is not going to trust me after this.. but it is the truth and you are going to see it afterwards
Vanessa- I have no loyalty to you (Audrey). She has thrown you (Clay) under the bus every mother****ing day...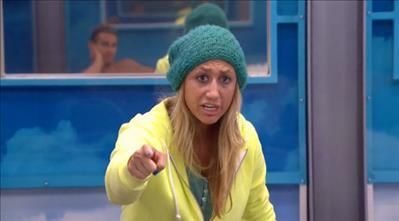 Audrey - Vanessa, you are deflecting.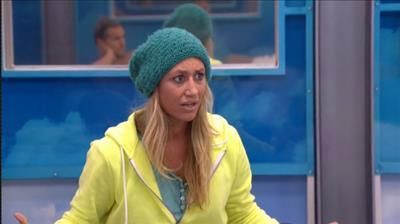 Vanessa- I'm not deflecting, I'm telling the mother ****ing truth!!!!
Audrey-
I swear on my life that that conversation happened and you ( Clay ) made a mistake by bringing that up
Clay- oh did I?

Audrey - yes..
bu
t i
f I go home this week, that's fine but I'm going to go home with integrity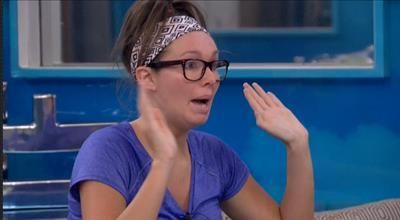 ( Vanessa laughs )


Audrey- I know what did and did not happen through the entire course of this game, and you ( Clay) made waves that you did not have to make, because you were upset with conversations...



Vanessa- omg.. omg.. omg...



Clay- wait a minute.. I trust Vanessa, I trust Vanessa with my game. And I made waves? I am going to bring up whatever I want ... because I trust the ( Shelli/Vanessa) I'm seeing if I ca
n trust you.. but you know what.. don't you ever threaten me about me bringing up something to the people I trust.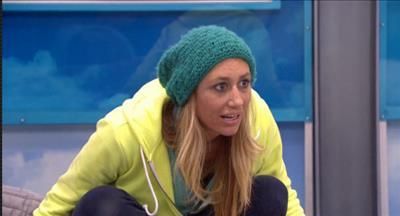 Vanessa to Audrey .. are you going to try to deny that you said specifically they are a couple and are always going to choose each other.

Audrey - Vanessa you said...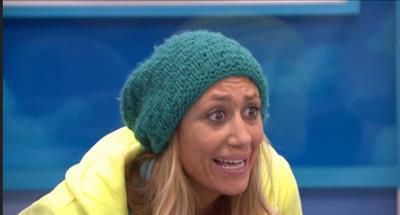 Vanessa- YOU SAID IT!!!!!! I STAYED SILENT !!!!

Clay walks out...

Vanessa continues....
Audrey - I know what happened. You are an amazing manipulator. You set up the whole Jeff thing as if it wasn't a plan to get him out ...
They go back and forth about that ...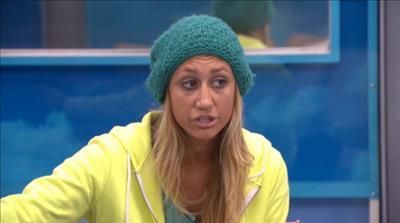 Vanessa- what's the point.. girl if you ever think from this point that I am on your side, what a mistake you've made. What a mistake you've made! You have no loyalty to anyone. You want to make Shelli believe you have loyalty to her. You do not!
Audrey- There's
no way I could ever turn on her (Shelli).
Vanessa- You can spin it that way and cry all you want. You did!
Audrey -
You said you think we would be good in the finals together and you told me why.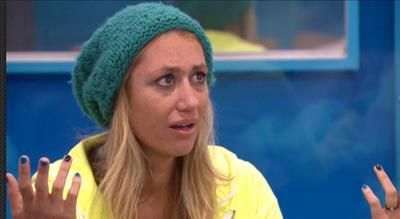 Vanessa ( starts to cry and says ) well...
I wish you well in life. I genuinely wanted you to do well. I think you have sorely misguided strategy .. you've been constantly planting seeds of doubt to each other and you're going to know where I stand now. And, if you don't think my feelings are hurt by this, they are. This is bull ****ing **** and you know it.. you know it's not true.

2:28 PM BBT - Clay returns and Vanessa continues to talk ...




Vanessa to Audrey- did you just not say to me yesterday that they ( Shelli/Clay ) are becoming closer in the game and they will have to be broken up?
Audrey - No, I swear on my life.
Vanessa- Quit swearing on your life and lying. Like dude, do you not value your own life?
Clay/Vanessa and Audrey continue to go back and forth
Audrey - I'm going to stick to what I know... you want me to sit here and say that I'm doing all this stuff and I'm not going to do that ...



Clay - Your word means **** right now in this game
Audrey- When this is over, you are going to feel stupid.
Clay- I am going to take that chance and it's not just us Audrey. Sorry it's not.


The back and forth continues ... ( it's definitely Flashback worthy)
Clay and Vanessa both finally leave the room, leaving Shelli alone with Audrey.



Shelli talks...
Audrey cries
Shelli finally has enough ...
3:14 PM BBT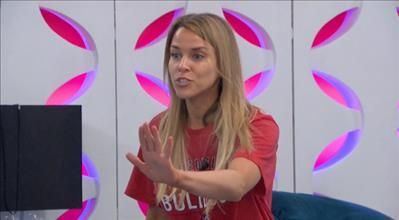 Shelli- I am watching this and I'm seeing the arrows pointing at one person.
Audrey- I'm not dumb, I know what's going to happen. I really hope it doesn't. You guysshould have kept me in this game. People would have come for me before they come for you.
~~ silence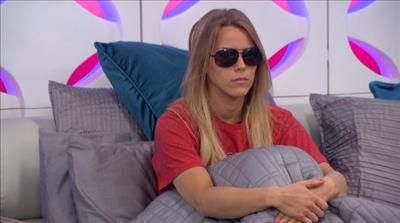 Audrey- we don't have to talk about it again, I've been completely outplayed.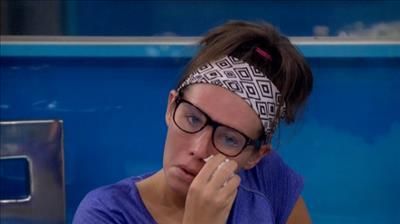 Audrey- I can't defend myself anymore... i
f you feel like it's better for your game to not have someone like me around, I can't control that.
As your friend, I want you to know I really did have your best interests this whole time no matter what anyone says.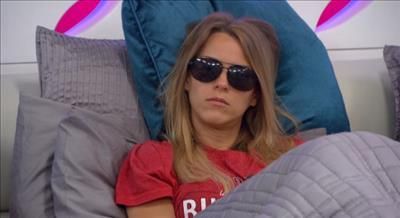 Shelli- I can't talk about this anymore. I'm going to go clear my head.
Shelli leaves Audrey alone in the HoH room....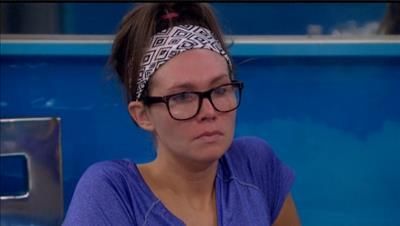 Audrey to herself- I have no ****ing clue what to do now.
3:25 PM BBT - Shelli returns to the HOH room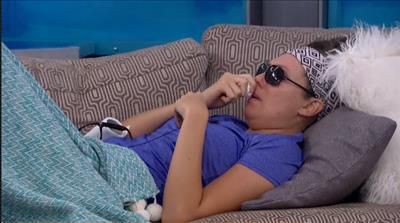 Audrey- Does this have to be a thing discussed with the entire house? I mean I know what the outcome of this is, but do I have to feel uncomfortable with the entire house?

Shelli- no, Audrey, do not feel uncomfortable, do not.

Shelli leaves.
It doesn't take long for Audrey to figure out what "to do" ...

4:14 PM BBT



Audrey to James- Austin, Vanessa, Liz, Clay and Shelli are in an alliance. They had me included, but now they have completely flipped on me.
James- oh ****.
Audrey- so, if I can convince Shelli not to put me up, and I can make her believe that I won't come after her, then I stay, then one of us gets the power, then we ****ing gun for them. But, you can't say anything until after the Veto Meeting, what you can do, is talk to Jackie, see if she would be on board.
James- okay
Audrey tells him all about how they set up the fight between Vanessa and Jeff, to give Vanessa a reason to nominate Jeff.
James- Jackie is going to be pissed.
Audrey- We could get out Johnny Mac. Keep Jason, Me, you, Meg, Jason, Jackie, Becky.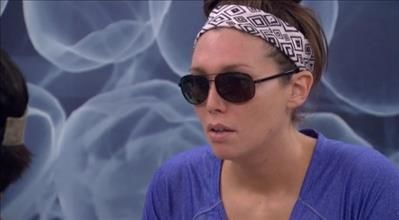 Audrey- Don't talk to Clay. He's useless. Talk to Shelli.... ask her why I'm ....stick up for me, they will trust you.
James - If I'm going to do this... like you say...
I need some empirical evidence.
Audrey- Empirical evidence is I have never thrown Clay and Shelli under the bus until now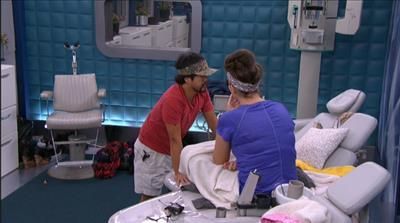 Audrey -We save Jason, tell him everything, get Johnny Mac out and flip the house next week. We can win HoH, then nominate four of them - Austin, Clay, Liz, Shelli and Vanessa

Audrey talks to Jackie...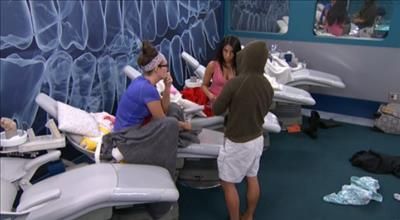 She tells her everything about how they set up Jeff's eviction, the 6 person alliance, the 5 person alliance, the Final 2 deal with Vanessa and more.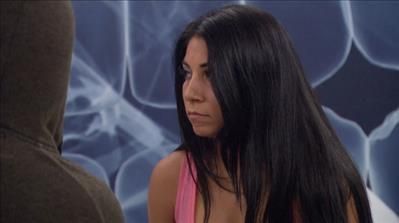 Jackie- You are telling this because you are trying to cover your ass?
Audrey- I think I can avoid going up ... because if I'm up against Johnny Mac, no way I'm staying. Jason said it perfectly, it's like campaigning against Jesus

Moving us forward... ( you can FLASHBACK for all the drama ) - Try the Feeds FREE for One Week - Keep them for just $5.99

8:02 PM BBT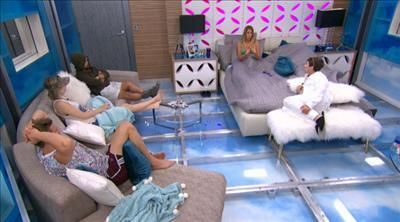 Meeting in the HoH room with Shelli, Clay, Jason, James and Meg as Shelli explains that Vanessa has the Power of Veto, she can use it and that would mean that she would need to name a replacement nominee.
James spills everything that Audrey told him today.
Shelli - If I do this, it is going to be a really big deal. This isn't me putting her on the block, it is us

8:39 PM BBT - Everyone in the HoH room ... except Audrey.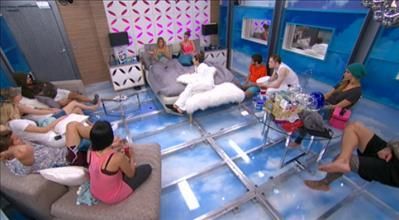 They each have something to say ( it's a FlashBack Moment as they share their "Audrey stories")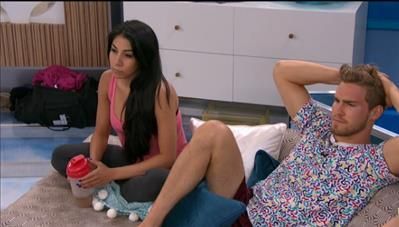 Shelli- Me putting her up is extremely dangerous....I need to have allegiance with all of y'all. I want it to be the house putting her on the block.
Meg- It absolutely is. We are the ones that vote.
Jackie- Blame it on us
9:00 PM BBT

Shelli is fired up hearing all the things that Audrey has spilled to everyone today after their fight





Shelli to Vanessa- use the veto, she is going up, and everyone here is voting her out. Story over.

Vanessa - well, I'll think about it...

Everyone laughs ...




Well.. Everyone except Audrey that is...
Shelli- She has upset us all in this game ....but she is a human being. This is going to be done in a kind way. We are getting her out of the house for a game reason, not personal.
Jason- don't let her start the game talk...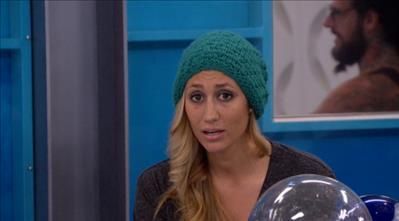 Vanessa- That's really funny she tried to make me the target when I have the PoV.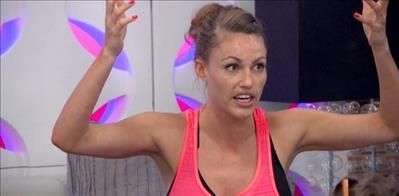 Becky- Inhale, exhale and let the bitch go home
The Power of Veto Ceremony happens next and the drama definitely continues on the Live Feeds...
Try them today FREE for one week!

How can you get the live feeds?
Just
CLICK HERE
or on any of the live feed banners you see here to get signed up and help support this website at the very same time.

Catch up with our Live Feed Updates HERE or join in on a Live Feed Discussion HERE
Another great way to help support this website is by making a donation via our PayPal button. It's just over there on the right! We truly appreciate any support and would not be able to do this without you! Be sure to add your BBU Nickname in the note section so I can add your new donator button!
Follow us on Twitter -
https://twitter.com/BB_Updates
and Facebook -
https://www.facebook.com/bigbrotherupdates
Check out one of our favorite places on the net - -
SirLinksAlot.net
Please note: If you are a returning member, you will need to register again.
*Your old BBU sign in and password will not work - you must Register again

.

For all ( returning or new ) registering:
There is a two step registration process...

1) Complete registration and you MUST include a valid email address you can check.
2) Upon completing step 1 - make sure you check your email address because you MUST click on the second step verification link to complete your registration process.
As always, thanks for reading ~~ Lexie