Big Brother 17 Power of Veto Ceremony is FINALLY over and we have the results! The house came together last night on a decision that would impact today's Veto Ceremony. Was the power used to change the nominations?
Did things go as planned? Well, yes and no!
K
eep reading or click "see more" below to find out all the details. Watch all the drama on the Live Feeds! Try them one week for Free and then they are only $5.99 per month. It's just not Big Brother without the Live Feeds, you're sure to enjoy watching all the ins and outs that you miss by only watching the television episodes. Plus, signing up for the live feeds by clicking on our banners and links is a great way to help support all that we do here all summer long.
CLICK HERE
to get signed up today and help support this website at the very same time. We truly appreciate your support.


If you missed yesterday's drama, you can CLICK HERE to catch up and follow up by checking out more of the drama that followed... in our Live Feed Updates Forum.


Audrey Middleton held off today's Power of Veto Ceremony from taking place, as she carried out her dramatic stance inside the Big Brother Diary Room. We're not sure what she was doing in there, but the rumors via social media ran rampant.

What we do know is that she finally emerged after 5 hours ...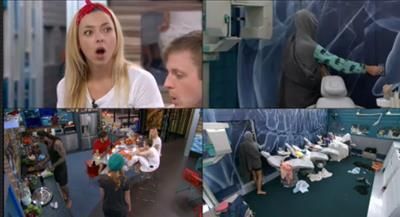 The look on Julia's face, pretty much says it all... as she sees Audrey finally out of the Diary Room...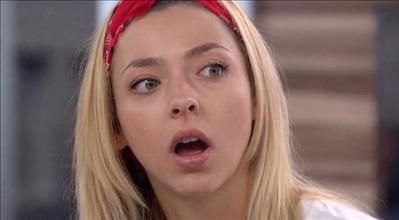 Audrey said nothing and headed straight to the Have Not Room




( brown bag in hand)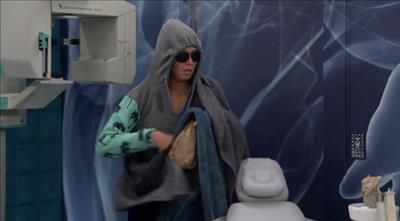 And, turned off the lights....




Jackie and Becky ( who are also Have Not's for the week ) were sleeping...




Vanessa joined Shelli in the HoH room ...
Vanessa to Shelli- she came out, I went in to give her some Advil and some water, figured she has a headache again I'm sure.. she seemed really stable ... she said to me in a calm voice and not crying... you can sit it down.. so I did. She said ... don't need it right now, they already gave me something. They probably gave her something
to calm her down, she's not crying... she seemed really stable.
With that the Live Feeds went to FISH and once back...

We find Audrey .... ( still with the light off, even though they are to "remain on during the day" )


And, we find out that the Power of Veto Ceremony, went on without her in attendance.

Below are your official results:
Power of Veto Winner Vanessa Rousso used the power to remove Jason Roy as a nominee.

Head of Household Shelli Poole, followed through with naming Audrey Middleton as the replacement nominee.

Either John ( Johnny Mac ) McGuire or Audrey Middleton will be evicted this week.

The drama continues on the Live Feeds...
Try them today FREE for one week!

How can you get the live feeds?
Just
CLICK HERE
or on any of the live feed banners you see here to get signed up and help support this website at the very same time.

Catch up with our Live Feed Updates HERE or join in on a Live Feed Discussion HERE
Another great way to help support this website is by making a donation via our PayPal button. It's just over there on the right! We truly appreciate any support and would not be able to do this without you! Be sure to add your BBU Nickname in the note section so I can add your new donator button!
Follow us on Twitter -
https://twitter.com/BB_Updates
and Facebook -
https://www.facebook.com/bigbrotherupdates
Check out one of our favorite places on the net - -
SirLinksAlot.net
Please note: If you are a returning member, you will need to register again.
*Your old BBU sign in and password will not work - you must Register again

.

For all ( returning or new ) registering:
There is a two step registration process...

1) Complete registration and you MUST include a valid email address you can check.
2) Upon completing step 1 - make sure you check your email address because you MUST click on the second step verification link to complete your registration process.
As always, thanks for reading ~~ Lexie