Big Brother 17 Live eviction and Head of Household Competition is over! The drama begins all over again tonight! Be ready to watch all the crazy antics of the season for the low, low price of only $5.99 per month. You get one week free to try them out! It's just not Big Brother without the Live Feeds, you're sure to enjoy watching all the ins and outs that you miss by only watching the television episodes. Plus, signing up for the live feeds by clicking on our banners and links is a great way to help support all that we do here all summer long.
Who was evicted? Which two house guests are the new Heads of Household? Keep reading or click "see more" below to find out!
CLICK HERE
to get signed up today and help support this website at the very same time. We truly appreciate your support.
The "Wackstreet Boyz" performed "live", after Julie Chen read a tweet from the "Backstreet Boys" supporting them...
A segment aired with Audrey's family, showing their support of her both inside and outside of the Big Brother house.
Julie Chen tells us that Audrey has already received one penalty vote, for choosing to eat regular food when she was a Have Not.
Live Votes:

Clay - Audrey
James - Audrey
Austin - Judas votes to evict John
Jason - for Da'Vonne I vote to evict Audrey
Vanessa - Audrey
Becky- Audrey
Jackie - Audrey
Steve - Audrey
Julia - Audrey
Meg- Audrey
With a 10 - 1 vote Audrey Middleton has been evicted from the Big Brother 17 House.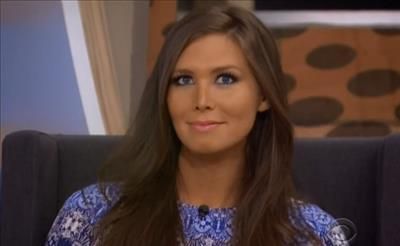 There was applause for Audrey as she exited the Big Brother house, ( remember she told Shelli last night that she had been assured she would not be boo'ed)... however as soon as Audrey joined Julie on stage, we went to a commercial break.

Once back, Julie Chen asked Audrey how being accepted so quickly when she announced to her house mates that she was transgender felt to her and how she felt she played the game.


Head of Household Competition
:
It's a Face Off Challenge ...
Up first ...
Jason/Steve
Steve eliminated
Jason picks:
Austin/John
John eliminated
Austin picks:
Jackie/Becky
Becky eliminated
Jackie picks:
Liz/Vanessa
Liz ( really Julia ) eliminated
Vanessa picks:
Jackie/Meg
Meg eliminated
Jackie picks:
Austin/James
James immediately hits BOB before the song even begins but is correct
Austin eliminated
James picks:
Vanessa/Clay
Clay eliminated
Vanessa picks:

James/Jackie
James (again hits HOH before the song even begins ) but is incorrect

Jackie is the first Head of Household




Vanessa/Jason face off




Vanessa is the second Head of Household


Vanessa and Jackie are the two new Heads of Household ...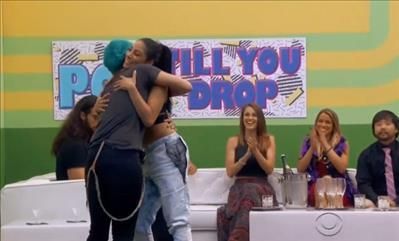 Britney Haynes joins Julie Chen...




Britney says being a mother is what she was meant to do ...




Britney tells Julie Chen that she loves this season, finds it one of her favorites. She loves Jason, jokes saying she thinks they could have been the "twin twist". She loves Vanessa's game play, thinks it's interesting to watch and she adds, who doesn't love Johnny Mac, right now, can't figure out who he is, is he human or what? She predicts that either Shelli or Clay will go quickly, but picks Vanessa and/or Shelli/Clay as the winner, along with a floater in the F2. She makes a joke about just seeing Jackie for the first time ever.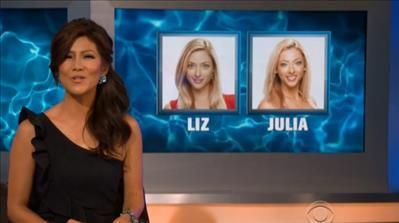 Julie Chen notes that if Julia and Liz survive next week's eviction, they will begin playing the game as individuals.
Who will Jackie and Vanessa nominate?

Stay with us as the drama continues on the Live Feeds...
Try them today FREE for one week!

How can you get the live feeds?
Just
CLICK HERE
or on any of the live feed banners you see here to get signed up and help support this website at the very same time.

Catch up with our Live Feed Updates HERE or join in on a Live Feed Discussion HERE
Another great way to help support this website is by making a donation via our PayPal button. It's just over there on the right! We truly appreciate any support and would not be able to do this without you! Be sure to add your BBU Nickname in the note section so I can add your new donator button!
Follow us on Twitter -
https://twitter.com/BB_Updates
and Facebook -
https://www.facebook.com/bigbrotherupdates
Check out one of our favorite places on the net - -
SirLinksAlot.net
Please note: If you are a returning member, you will need to register again.
*Your old BBU sign in and password will not work - you must Register again

.

For all ( returning or new ) registering:
There is a two step registration process...

1) Complete registration and you MUST include a valid email address you can check.
2) Upon completing step 1 - make sure you check your email address because you MUST click on the second step verification link to complete your registration process.
As always, thanks for reading ~~ Lexie