Big Brother 17 Head of Household Jackie Ibarra and Vanessa Rousso have reached a plan for their nominations. It involves creating yet another eight person alliance, and 3 volunteers on the block, but hey why not right? Try the Live Feeds Free for one week and bee ready to watch all the drama that's sure to go down this week. It's just not Big Brother without the Live Feeds, you're sure to enjoy watching all the ins and outs that you miss by only watching the television episodes. Plus, signing up for the live feeds by clicking on our banners and links is a great way to help support all that we do here all summer long.
What are Jackie and Vanessa cooking up? Keep reading or click "see more" below to find out.
CLICK HERE
to get signed up today and help support this website at the very same time. We truly appreciate your support.
Here's the short story ...
But.. you can check out all the details of tonight's talks in our Live Feed Updates
We find Vanessa talking to the camera ...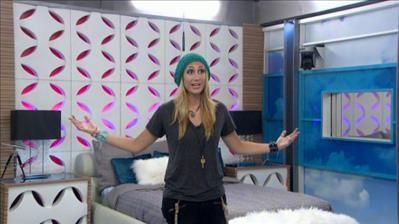 Vanessa - there is is... Austin just lied to me.. point blank to my face. I mean I'm loyal. But I'm not stupid. ****. Why did Austin have to lie to me? Why? Why? Why?

* the lie she's talking about, is that she asked him if he told Jason about the "twins" ... he says he mentioned it, but didn't confirm. Jason told her a whole different version of what Austin told him, including the name "Julia".
After much debate and getting 3 people to volunteer to go on the block, in order for a back door plan, Vanessa and Jackie have their nominations in order...
11:39 PM BBT
Vanessa suggest that Clay go up.. telling him he'd be safe and she would do it if she was in his position ..
Vanessa asks Jackie if she thinks she could convince Becky to go up with "one of these two" ( Shelli/Clay ) to win the BOB.
Jackie says if Clay goes up, she thinks Becky would.




Clay tells Jackie that he will go up .. with Becky IF Meg .. will throw the BoB next to Liz


12:27 AM BBT

Steve comes in ....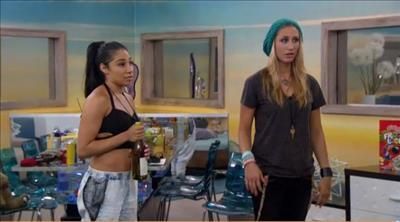 Vanessa/Jackie to Steve- you are not going up ...

Once Jackie leaves the room...

Steve to Vanessa- are we still working together?




Vanessa- yes. You are not going up.. not a back door plan... there is a plan in place. You are not a part of it at all. I will fill you in later this week

12:38 AM BBT

Vanessa tells Julia that she loves Austin, but can't trust him and that she ( Julia ) needs to listen to her over him.




That all he's trying to do is get to jury with Liz and he's willing to let her ( Julia ) be cut to make sure he gets there with Liz.

Meanwhile...





Jackie- Would you want to go up?
Becky- No.
Jackie- If you went up with Clay, would you?
B
ecky- Yeah, if Clay is down
Jackie tells Becky, that if someone wins POV, they have Steve as a back door .. and i
f for some reason Austin wins and takes Liz down, we have Steve to put up
12:59 AM BBT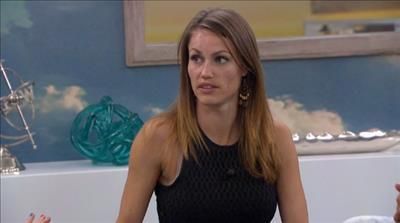 Becky confirms to Vanessa that she will go on the block with Clay...

And then...

Vanessa and Jackie meet with Jason. Meg and James to get one of them to volunteer to go on the block with Liz and throw the BoB.




Vanessa- I love you guys.. been wanting to work with you.. been looking for a moment that I would have a reason to do this.. I do now... it's very likely there are twins.. their #1 ally is Austin. Would be best to have Austin go home first, best to have him as a back door.. she ( Jackie ) wants to remain in power... she ( Jackie ) has a reason to put Liz up ... and my side of the block.. after talking to Shelli and Clay.. we got Clay to volunteer to go up along with Becky... now we need to get one of to go up on the other side.. to throw it .. with Liz...

Vanessa - got to leave Steve off.. for a possible back door.. Johnny Mac is too obvious... and Shelli/Clay put on table .. Final 8 deal with you guys...

Meg/Jason -say they are in....

Jackie- that's why we wanted to talk to you guys... let you decide...

Jason - that just stresses me.. I said I would never throw anything in this game... but I get the concept...

Vanessa - it's either this or we have to rethink the noms...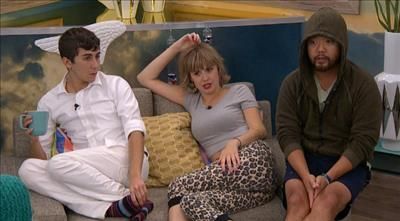 Vanessa- what do you think about it James?
James- I think it's a fool proof plan... but 2 of us ( him/Jason) have already been on the block this week..

Meg- James, you've been throwing my name around since this morning, saying I was going on the block this week.
James- I'm just saying that we ( him/Jason) just came off

1:26 PM BBT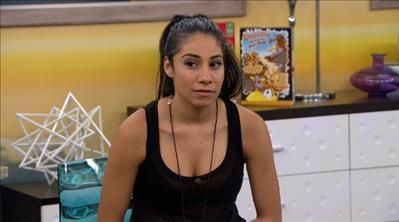 Jackie- how do you feel James?
James- I'm down with whatever
Jackie- you know I love you .. don't want to do this... that's why I wanted you guys to decide...

She promises that she will protect them....

Meg- I trust all of you .. but it's just scary to say you volunteer to do this

Vanessa- it's not like you are a huge target in a showmance.. it's not like that at all.. just use that logic...

Jason- yeah but you only see things from your eyes.. we all feel like we are targets...

Jackie says she understands...

Jackie to James- now I can show my loyalty back to you ...you kept me safe... I promise you .. you won't go anywhere... and you can sleep in my bed every night...

James- so we just keep saying Steve ( as back door ) if he ( Austin ) asks?
J
ackie- yes...

Jason- can you do this James? I know you are getting closer to Austin

James says he's really not... he would feel bad about him leaving.. feels back for anyone leaving ..

Vanessa- but from a game stand point.. can you see the reasoning? Could you do it? ( throw the PoV )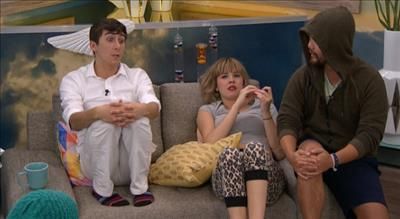 James- yes.. as long as you keep me safe. I'm going to volunteer... as long as if any of you win HOH next week... can I have a week off?

All agree and a New 8 person alliance ( Vanessa/Jackie/Meg/James/Jason/Becky/Shelli/Clay) is named " Dark Moon" with Austin main back door plan and Steve as the back up back door plan, if Austin happened to win the Power of Veto and pull Liz off the block.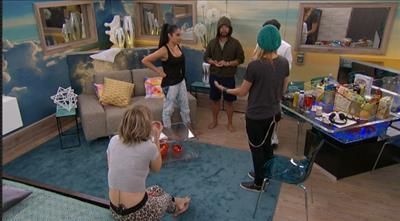 James speaks with Jackie alone...




James- You trusted me, so I'm putting my trust back in you. I still think that Meg would have been the better option, but her emotions would have gotten the best of her, so I''ll do it.


2:23 AM BBT

Austin to Meg and Jason - I think I'm good this week, with both sides...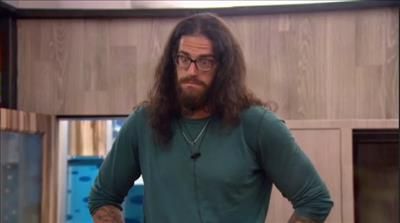 Jackie and Vanessa will make their official nominations later today, followed by the Battle of the Block Competition.
Stay with us as the drama continues on the Live Feeds...
Try them today FREE for one week!

How can you get the live feeds?
Just
CLICK HERE
or on any of the live feed banners you see here to get signed up and help support this website at the very same time.

Catch up with our Live Feed Updates HERE or join in on a Live Feed Discussion HERE
Another great way to help support this website is by making a donation via our PayPal button. It's just over there on the right! We truly appreciate any support and would not be able to do this without you! Be sure to add your BBU Nickname in the note section so I can add your new donator button!
Follow us on Twitter -
https://twitter.com/BB_Updates
and Facebook -
https://www.facebook.com/bigbrotherupdates
Check out one of our favorite places on the net - -
SirLinksAlot.net
Please note: If you are a returning member, you will need to register again.
*Your old BBU sign in and password will not work - you must Register again

.

For all ( returning or new ) registering:
There is a two step registration process...

1) Complete registration and you MUST include a valid email address you can check.
2) Upon completing step 1 - make sure you check your email address because you MUST click on the second step verification link to complete your registration process.
As always, thanks for reading ~~ Lexie