The Big Brother 17 Power of Veto Competition isn't the only thing that was "squirrelly" this week. "Squirrelly" pretty much sums up Vanessa Rousso's reign as Head of Household. After the PoV Competition Vanessa had her mind made up to talk to Liz Nolan about Austin Matelson fate inside the Big Brother house. What was the fallout? One word "nutty".... at least that's how the flip flop drama is driving the live feeders! Keep reading or click "see more" below for a sneak peek inside the Big Brother 17 house! Watch all the drama on the
Live Feeds
!
Try them one week for Free and then they are only $5.99 per month. It's just not Big Brother without the
Live Feeds,
you're sure to enjoy watching all the ins and outs that you miss by only watching the television episodes. Plus, signing up for the live feeds by clicking on our banners and links is a great way to help support all that we do here all summer long.
CLICK HERE
to get signed up today and help support this website at the very same time. We truly appreciate your support.


Once again, I'll just give you the short story of all the nutty things that have happened since Clay won the Power of Veto Competition, which will force Head of Household Vanessa Rousso to put up a replacement nominee. Keep in mind, Clay winning is exactly what she wanted, she wanted him safe, she wanted the back door to swing open far enough to shove Austin out of it before he knew what hit him. The old adage "be careful what you wish for" comes to mind, as we bounce back and forth through Vanessa's "squirrelly" decision making process.

I tease a little when I call Vanessa "squirrelly" because, in fairness, anyone would be a little nutty with Shelli in their ear, paranoid about her boy toy Clay and Austin lying to their face and falling in love. But, we can't just blame Shelli's paranoia over Clay or Austin's love-lust for Liz on Vanessa's loopy HoH this week. Vanessa promises everyone the world, the problem is, her world inside the Big Brother 17 house, is growing smaller each week.

After the Power of Veto Competition, Vanessa was more than ready name Austin as the replacement nominee, once Clay uses the Veto to safe himself. After all, she'd promise pretty much the entire house that was exactly what she was going to do. Clay, Becky and James volunteered to go on the block, to help ensure that's exactly how the week would play out. Best Laid Plans.

Before Vanessa even had the chance to break the news to Liz, that Austin was throwing her and her sister, especially her sister under the bus to Jason, Vanessa and Shelli started questioning if they might be making a mistake taking out Austin this week. Mainly because Shelli grew more and more paranoid about the other houseguests reactions after Clay won the Power of Veto.





Shelli- If that 6 person alliance targeting Clay is going down, I'm about to freak out!!! I'm about to start going to war!!
Vanessa- could this be an elaborate plan to get us to take out one of our own?
Shelli- are we doing the wrong thing right now? How dumb are we?
Vanessa- do you think that Meg/James/Jason are really going to be loyal to us? I gave my word to the 8 person alliance...
Shelli - but you know what .. **** changes...
Vanessa- well I do have levels of trust.. and I have been closer to you guys .. that would be my excuse... ( for changing her mind about Austin)
Shelli- yeah your moral compass... and people aren't going to be stupid enough to tell you they are gunning for Clay .. god this game!


Meanwhile, Austin is downstairs with Liz, realizing that he just lied to Vanessa's face when he told her he was not the vote for Audrey this week. He asks Liz to cover for him.


7/25 - 5:44 PM BBT
Liz finally makes her way to the HoH room ...

Liz to Vanessa- I don't want to be in the middle of this..
Vanessa- well too bad.. you are.. Sit down.




Vanessa fills Liz in on how Austin talked with Jason about the twins, how he told Jason that the twins would chose each other over him and it would be okay to target Julia next week.

Vanessa- Austin wants your sister out.
Liz- I know he does .. she's a **** block for me.

Vanessa tells Liz that Austin is the target for the week...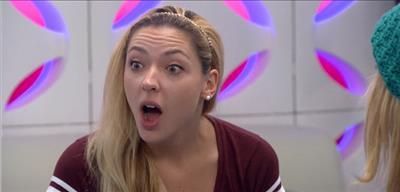 and that the whole house is on board.
Liz tells Shelli and Vanessa that she does not like Austin that way, but she knows he has her back.


Vanessa- but he is a Judas... he just did a Judas move to you .. he wants ass and he wants your sister out ...






Liz- I can't even stand sleeping in the same bed with him.... He is more comfortable now and tries to caress me. H

e's not even cute.. he repulses me.. that beard and that long hair..

Shelli- LIZ .. what are you doing ???

Liz- I dunno

As Liz continues to deny any feelings for Austin ...telling Shelli and Vanessa that she's scared of Austin because of the way Caleb turned on Amber when Amber said she wasn't interested in Caleb.

Liz - I don't even want to be in the jury house with him... I feel like he's going to creep up to my room and try to have sex with me.

Shelli drops the bomb...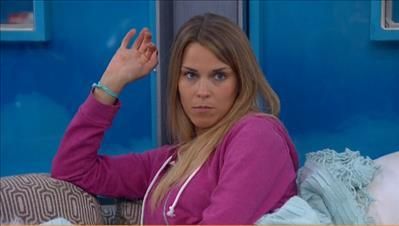 Shelli- I feel like we need to keep Austin another week.. and let Becky go home...

Vanessa- The only way we don't make huge amounts of enemies out of this is if James, Jason and Meg are on board

Shelli talks about how Jackie and Becky are close...

Liz- they are like this...




Shelli- I honestly feel like it's time to let Becky go.

Liz- I do too ..

Shelli- if Austin wins HOH .. he will continue to protect us.. if Becky wins HOH next week.. we are screwed...


At this point Vanessa wants to come clean with Austin telling him he's the house target. Shelli, on the other hand, wants her to wait.


Vanessa does talk to Austin and it's definitely Flashback worthy 6:37 PM BBT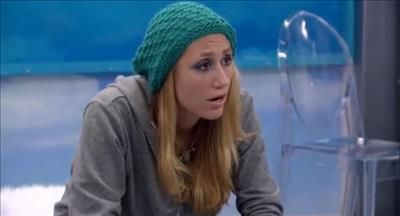 Austin to Vanessa- what's up

Vanessa- should I start or should you?




Austin comes clean about the lie he just told, telling Vanessa that he didn't want to say anything in front of Shelli, that he was scared, was only trying to help the group, didn't think it through .. etc.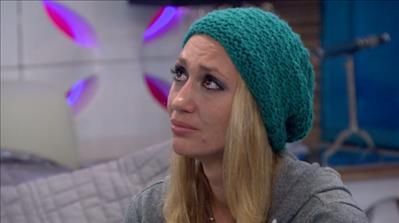 Vanessa- You and I had a Final 2 since Day 2 and you are disloyal...... You lied to me.

Austin- are you going to put me up

Vanessa - there's a real possibility

Austin- omg .. Vanessa .. PLEASE ... no....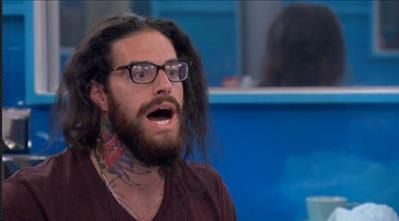 Vanessa - I gave my word. I am going to have to go back on my word to everyone

Austin- you can't do this to me.. I need to be here... for ... let them take me out next week.. please don't do this ..I have to make.. Oh My God...please don't do this.. I thought this would secure our alliance.. if I had any idea this would back fire.. I wouldn't have done any of this...




Austin- I fell in love with a girl. That's all it is... don't send me out like that

Vanessa tells him again and again that telling Jason about Julia was the worst thing he could do .. that it took Jason 2 seconds to tell everyone...

She tells him that Shelli and Clay are on board to keep him.. but she gave her word to everyone else.. because the house wanted him out ...

Austin- don't send me out.. if Shelli and Clay are willing to not .. then don't ...

Vanessa- I have been feeling sick about the whole thing for two days.... I wanted to tell you about it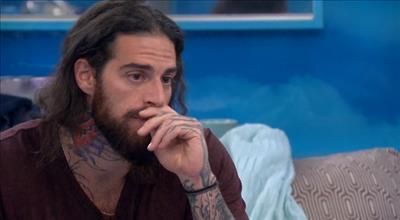 Austin- I would never do anything to hurt you ... if the whole house told me to take you out .. I would NEVER... I will make an enemy out of everyone in this game... don't do this to me ..please...I've made decisions in here that affect my life...... I need to be in jury. I need to let this happen with Liz..... Please Vanessa.I will do anything!

Vanessa- okay .. go down and campaign to Shelli, Clay and Liz and I will think about it ...
Austin- okay... because for me.. the people in here matter more to me than the game.. I want to help you .. Clay/Shelli and the twins.. that's all I want to do ... all I want to do is make this better for you guys .. I don't care about the money.. never did .. all I care about is the people in here.. and I met this girl and it's bringing out things in me.. that I thought had died...




Austin- I am a ****ing number for you .. I would never put you on the block.. now there would be 7 of us .. against the 5 of them... and I'm done.. I am telling you I am willing to take the bullet for you ...

Vanessa- I need another target...

Austin- Jason!!

Vanessa- just go figure it out with Shelli and Clay.. I need a solution and right now I don't have one... if you can get me a solution I will think about it..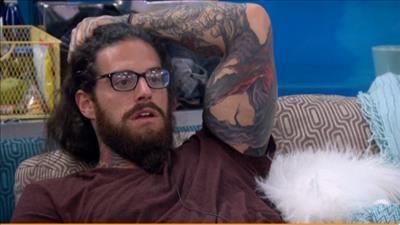 Austin- I'm an emotional person and I made decisions with my heart.. that's it.. I ****ed up. I'll do ANYTHING ... I started the fight with Jeff.. I will go blow Jason up right now ...

Vanessa- you have the right to.. go for it ... do whatever you need to do .. figure it out...

Austin- I can't believe this happened. I feel so sick.
Vanessa- Welcome to my last 24 hours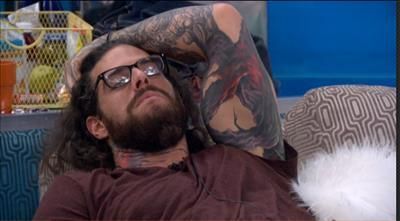 Austin- This is so ridiculous.
Vanessa- It's terrible but there is no reason to get mad at anyone but yourself. You made a mistake

7:38 PM BBT - Austin, does as he was told, and first talks to Shelli and Clay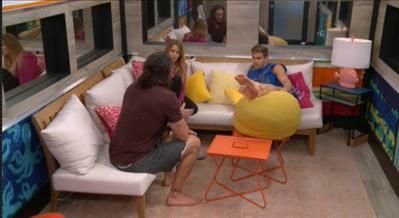 Who quickly talk him out of starting any fights with anyone, let alone Jason. Shelli advises him play the emotional card, talk about him falling in love with Liz, with Meg, Jason and James.



8:07 PM BBT Austin, once again, does as told and talks to Jason ....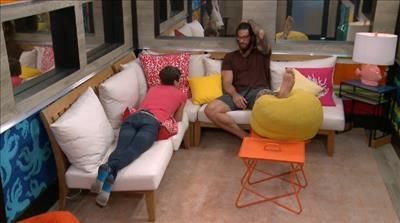 He later talks to Meg...




But both Meg and Jason tell him that they've already promised their vote to Becky. They do add that if something changes and he doesn't go on the block, they hold nothing against him.


As the night move on... the conversations continue ...

Johnny Mac- I think everyone knows I would vote for Becky

Meg- I told him ( Austin) that he's in a sticky situation and that I had promised my vote to Becky..

Jason - me too ....

They talk about how he said he's in LOVE with Liz ...

Meg- He ( Austin ) said Julia is not a fan of me and that the only person he has is Liz ..

Shelli- he thinks he's falling in love with Liz.. but she doesn't like him like that..

Jason- she ( Liz ) might want him to go ...

Meg- it has to be awkward for her ..

Jason - the whole thing is weird...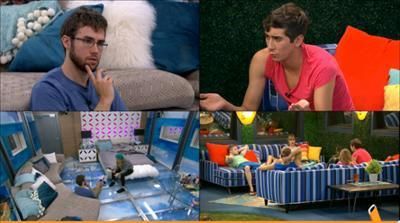 Vanessa talks to Steve, she tells him that the twins are coming in this week and that Austin is the target... of the house ...she also tells Steve that he was a target for Jackie...
Steve says he's surprised and hurt by that ...

Vanessa to Steve - the other side is terrified of you .. they think you are throwing comps and will be like Ian.. strong later on.
Steve says he hasn't thrown them all..
Vanessa tells Steve that Clay/Shelli are worried because they think there is a John/Becky/James/Jackie/James alliance and they are targeting Clay ...
Steve- isn't that common knowledge?
Vanessa- what?
Steve- just what you said... James, Jason, Meg, Becky and Jackie are an alliance

Steve- We would be shooting ourselves in the foot by sending Austin home.
He tells her the other side will be laughing at her... by getting a free week.. because they got Vanessa to take someone out on her side...


9:05 PM BBT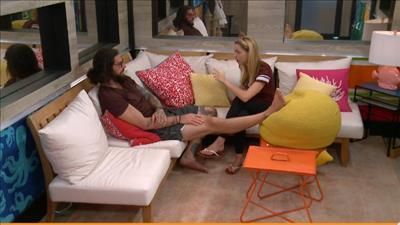 Liz - Vanessa is only worried about herself and that's the problem. .....She doesn't want to get more blood on her hands


But she will have to... the question is... whose blood will it be?

Meg's?




Jackie's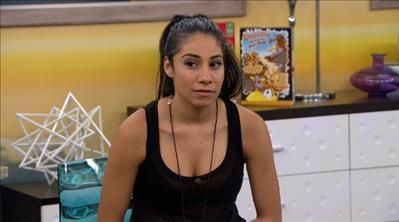 Jason's ?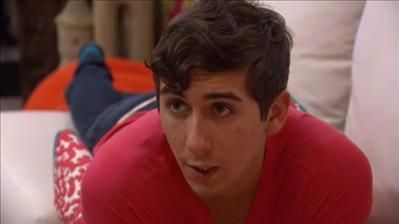 The Power of Veto Ceremony happens tomorrow, it should be a doozy or should I say "squirrelly" ; )
The drama continues on the live feeds...
Try them today FREE for one week!

How can you get the live feeds?
Just
CLICK HERE
or on any of the live feed banners you see here to get signed up and help support this website at the very same time.

Catch up with our Live Feed Updates HERE or join in on a Live Feed Discussion HERE
Another great way to help support this website is by making a donation via our PayPal button. It's just over there on the right! We truly appreciate any support and would not be able to do this without you! Be sure to add your BBU Nickname in the note section so I can add your new donator button!
Follow us on Twitter -
https://twitter.com/BB_Updates
and Facebook -
https://www.facebook.com/bigbrotherupdates
Check out one of our favorite places on the net - -
SirLinksAlot.net
Please note: If you are a returning member, you will need to register again.
*Your old BBU sign in and password will not work - you must Register again

.

For all ( returning or new ) registering:
There is a two step registration process...

1) Complete registration and you MUST include a valid email address you can check.
2) Upon completing step 1 - make sure you check your email address because you MUST click on the second step verification link to complete your registration process.
As always, thanks for reading ~~ Lexie