The
Big
Brother 17 Power of Veto Ceremony packed a punch this time around. After the meeting, Jackie is pissed, Jason is shocked, Meg is crying, James is paranoid, Shelli and Clay are quite but satisfied, Liz and Austin think it's another one for the 'good guys' and Vanessa is busy deflecting it all. It's been quite the day inside the Big Brother 17 house and after the initial shock and awe, things calm down just a bit, but the whispering, plotting and planning continue. Keep reading or click "see more" below for a sneak peek into what Jason's thinking, as his fate in the house settled in on him, and who he holds accountable for it. Watch all the crazy drama unfold on the
Live Feeds
!

You can try them -
one week for free! It's just not Big Brother without the
Live Feeds

,
you're sure to enjoy watching all the ins and outs that you miss by only watching the television episodes. This season the Live Feeds are only 5.99 per month, which is a great price for so much crazy entertainment! Plus, signing up for the live feeds by clicking on the banners and links here on our website, is a great way to help support all that we do here all summer long.
CLICK HERE
to get signed up today and help support this website at the very same time. We truly appreciate your support.
Catch upon all the action of the day with our Live Feed Updates HERE or join in on a Live Feed Discussion HERE
7/27 - 7:10 PM BBT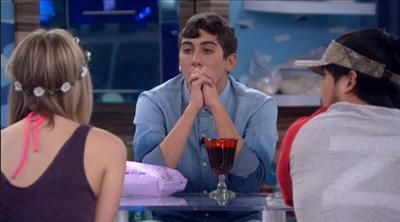 Jason - when you kick Shelli's ass to the curb, you say "it's for Jason"
Meg- omg.. I will.. I will .. I will
Jason - Shelli is evil personified. That's what Lucifer looks like. A big smile, some eyes that lie to you and you buy it all.
Meg- Shelli scares the crap out of me.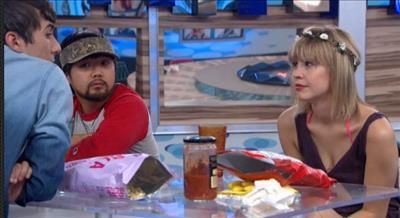 Jason- She is a demon. She is very good. You can tell she was in a sorority
James- oh yeah
Jason - she's a pro at **** like this ...
Meg- do you think Clay is brainwashed by her?
Jason- oh yeah ... he just follows her around like a puppy dog on a leash ...
Meg- if you take her out.. does he go for revenge or just ...
Jason - he'll probably hide... but you'll get more revenge from her, if you take out her main puppet.
Meg- oh yeah.
James- oh hell yeah.
Jason- that's her main puppet, that's who she is pulling all the strings for ...
Meg- oh I won't take him out first... are you kidding me?



Jason- yeah you have to take her ( Shelli ) out first... it's best not to have her in jury ... if she's in jury.. she's influencing the jury the entire time, she will just manipulate everyone, she will be in everyone's head .. so if you can get her out before jury, that would be the smartest decision. She's the scariest by far, but who knows, next week might be too early to take a shot at that. It might be a good idea to try to take at least one of them out during a double (eviction).
Meg- Lets say I win double eviction.... Put both of them (Cl
ay /Shelli) up?
Jason- Yes, so the other one cant use the veto on the other

Becky joins them...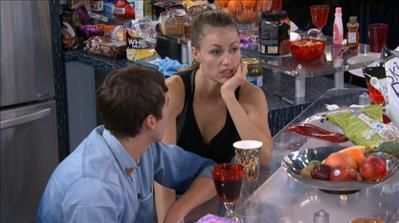 Becky tells Jason, James and Meg that she's not going to poke around too much, not go into too many rooms, not say too much because she knows that anything can change within the next 24 hours... and then she ( Vanessa) could change her mind...
Meg- it's not Vanessa.. it's Shelli ...
Jason - Everything is Shelli. Shelli is the house, Shelli decides what to do
Becky- what happened between you and Shelli?
Jason - I'm the residue of Day ( Da'Vonne)
Becky- what happened between her and Day?
Jason- Clay and Day had a fight,she had to protect her main puppet, she's hated me ever since, because she's knows I'm capable, or she thinks I'm going to revenge Day.
Meg- there are lies being told.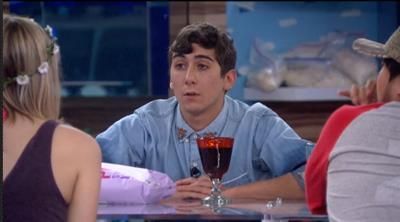 Jason - they ( Shelli/Clay ) are trying to cover their bases with people now.
Shelli acts like she is not the backdoor type.... but here she is orchestrating a backdoor under somebody else's reign


8:17 PM BBT

Shelli joins Meg and James in the bedroom ... she tells them that she Jason was going up, but it was at the last minute. She tells them she was in an awkward position, she's close to Vanessa, but didn't want Jason to be on the block, and she doesn't want them to think she's lying to them...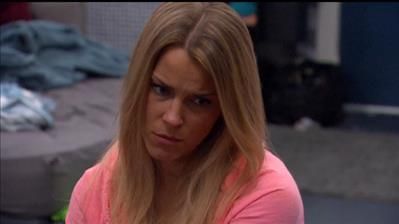 Shelli- it's not really ever over ... I mean I know you know that too, in this game.
Jason - I don't think there's anyway .. so I'm not even going to try .. I don't want to do that to Becky and mess her up. I'd rather just take it all on my shoulders, and go with my head held high.

Jason starts to cry ...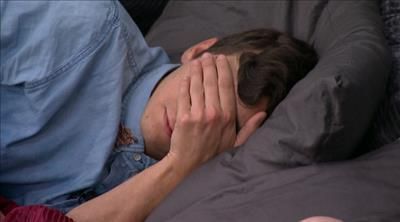 Jason - I just needed this so bad .. this was my opportunity to change my life, to get out of my mother's basement and to get out of that ****ing grocery store.




Meg- I'm telling you it's going to be different, you got here, you did this, now you can do whatever you want.




Shelli gives Jason a big speech about how going home won't be so bad ...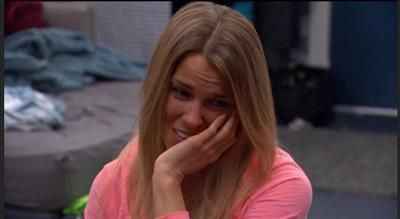 Shelli to Jason - You get to go home and watch Big Brother.
After Shell leaves...
Jason whispers to Meg- "damage control"...
Meg- yeah
Jason - doesn't Clay usually do that part?

And like clockwork... it's Clay's turn ...




After Clay leaves...

Jason - We've cried too much today. We need wine.
Meg- Vodka.


Shelli to Clay- Jason and Meg are in the bed crying.... wet pillows....it was so sad But, that's how I would be if it were you.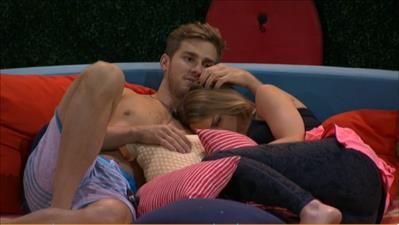 ( I bet there are a lot of you who can't wait to see that) ...
The drama continues on the live feeds...
Try them today FREE for one week!

How can you get the live feeds?
Just
CLICK HERE
or on any of the live feed banners you see here to get signed up and help support this website at the very same time.
Another great way to help support this website is by making a donation via our PayPal button. It's just over there on the right! We truly appreciate any support and would not be able to do this without you! Be sure to add your BBU Nickname in the note section so I can add your new donator button!
Follow us on Twitter -
https://twitter.com/BB_Updates
and Facebook -
https://www.facebook.com/bigbrotherupdates
Check out one of our favorite places on the net - -
SirLinksAlot.net
Please note: If you are a returning member, you will need to register again.
*Your old BBU sign in and password will not work - you must Register again

.

For all ( returning or new ) registering:
There is a two step registration process...

1) Complete registration and you MUST include a valid email address you can check.
2) Upon completing step 1 - make sure you check your email address because you MUST click on the second step verification link to complete your registration process.
As always, thanks for reading ~~ Lexie