Big
Brother 17 Jason Roy has one chance to stay in the Big Brother house this week, he needs to flip Shelli Poole and Clay Honeycutt. Jason sent Meg Maley out on a mission to try to flip votes. Did it work? Keep reading or click "see more" below for a sneak peek inside the Big Brother 17 house, including Becky's plan moving forward, if she stays. Watch all the crazy drama unfold on the
Live Feeds
!

You can try them -
one week for free! It's just not Big Brother without the
Live Feeds

,
you're sure to enjoy watching all the ins and outs that you miss by only watching the television episodes. This season the Live Feeds are only 5.99 per month, which is a great price for so much crazy entertainment! Plus, signing up for the live feeds by clicking on the banners and links here on our website, is a great way to help support all that we do here all summer long.
CLICK HERE
to get signed up today and help support this website at the very same time. We truly appreciate your support.
4:00 AM BBT - Meg gets to work on Clay to try to save Jason ...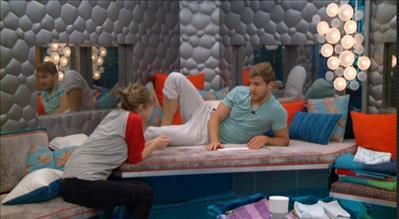 Meg- why are we all sending Jason home?
Clay- it's not a "we thing" .. it's a promise that was made to Becky before ..
Meg - but
Clay- but when I volunteered and Becky volunteered, me and Shelli promised her that she would not go home, and I can't go back on my word.
Meg- this is what scares me... what do you feel about Becky?
Clay- nothing. I don't know where she is.
Meg- exactly.
Meg goes on to tell Clay that Becky isn't close to Jackie...
Clay points out that if you want to talk about "power couples" look at Johnny Mac and Becky. They are an under the radar power couple.
Meg- we keep taking people from our side..
Clay- I don't feel like I'm a part of your side...
Meg - I think that's what screwing you up .. and I want to talk to Shelli about this too... Jackie and James came to me tonight and were trying to figure out what was wrong with the alliance that we all made, like she's trying to put it back together and her ( Jackie's ) target are not you and Shelli at all. I will tell you this and this can't be repeated... who you need to be worried about out of that group is Becky...
Meg continues to try to convince Clay that keeping Becky would not be in his favor and tells him that Vanessa has no blood on her hands, even after what she's done this week, because she's making it look like he and Shelli are behind it.
4:30 AM BBT - Clay wakes up Shelli telling him about his conversation with Meg
Clay- she's saying me and you are the swing votes.
Moments later ... Meg comes in
Clay leaves so that Meg and talk to Shelli ...
Meg- I'm just worried.. big picture.
BB makes them turn the lights on ...
Meg- I can't get over the fact that we're losing Jason, and it's freaking me out. I'm scared the house is going to be very different.
Shelli- I am too
Meg- I'm not even worried about myself right now. My ideal for who is here in the end is like you, Clay, Jason and Vanessa, that's who I feel like I've clicked with and I have no idea where Becky stands... and now we are voting out Jason, Becky stays and she could easily go with Johnny Mac and they could connect with Austin, Liz and Julia and that's it.
Meg continues her pitch that Jason would be more loyal that Becky.
Clay returns.
The 3 talk and Shelli tells Meg that she and Clay feel badly about Jason being in the position he's in. They assure her that they are looking out for her.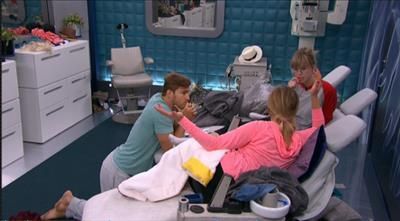 Meg- I don't know how you guys are not worried more about Becky than Jason.
Clay- we are worried about this week too
Meg- not gonna lie.. you should be..
5:02 AM BBT
Shelli to Clay - what do you think?
Clay- I don't like Jackie and James...don't trust them... but she made a lot of good points about Becky ...
Clay tells Shelli that he feels like the 4 ( him/her/Meg/Jason) would be strong, but doesn't think they could get them, without bringing in James and Jackie, and he doesn't trust them.
Shelli worries that if they voted out Becky, they would lose any connection with Johnny Mac
They decide they will play along with Meg, that they are thinking of keeping Jason, so when Jackie votes out Becky, they could use that to get Becky closer to their side.
7/29 - 10:56 AM BBT
Shelli tells Vanessa about her talk with Meg last night ...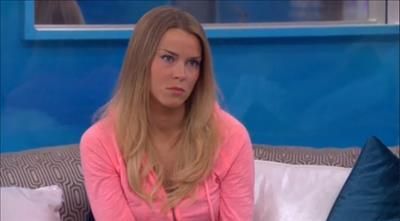 Shelli- she told us that Jason is loyal, and when he gives his word that he will fly with you, he will fly with you. And, he feels good with me, Clay and you.
Vanessa tells Shelli that by sending Jason home, they break the alliance between Jason, Meg, Jackie, James.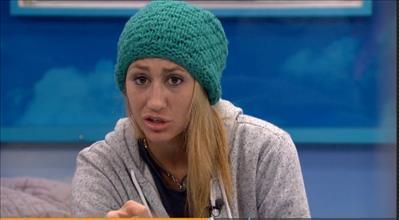 Vanessa- We can't undo what we've already done... we went into this move with Becky on our side. And no matter what deal we make, there will always be that seed of doubt in Jason's mind. No matter what deal we make, it's just a matter of time that he comes back at us, feeling justified to do so. Someone like Becky, doesn't have that and even though she ( Becky ) is more strategic than she lets on, she's not as strategic as the 3 of us combined. And, I'm not worried about it and the final nail in the coffin is... the things that Becky is good at, Clay is good at or better. The things that Jason is good at, none of are good at. Do you see that?
Shelli- umm hmmm
Vanessa- so if we leave him in he can win the comps that we can't win, so if we leave him in, that's scary. I think if the odds are ever in our favor (she laughs and says Hunger Games) but I think the odds are way better, if we keep Becky. We have the opportunity to get out someone that is the only person on that side that strategically scares me. With ( keeping ) Jason, we pick up Jason/ James/Meg .. and there are no targets left.
Shelli- exactly and if we sent Becky home... we lose John.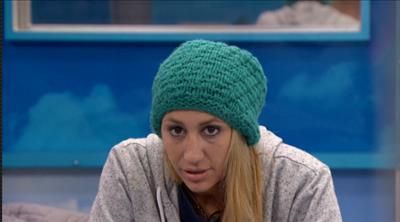 Vanessa- exactly and it's better to have a John, who is
easily
pliable. And, with James, he's easily pliable, but he's pissed, he will tell you what you want to hear, but deep down he's pissed .. and even though I don't think he has the ability to pull together an alliance that would need to be done, but there's something there that bothers me and I would rather have John in the house as an ally, than a target. I see why it's compelling and on a human level, I wish Jason wasn't as close to as many people as he is and that he's as good at this game as he is, but we are stupid if we take him to the F4. And, we have Steve, we can pick his brain and he has no where near the social game as Jason has.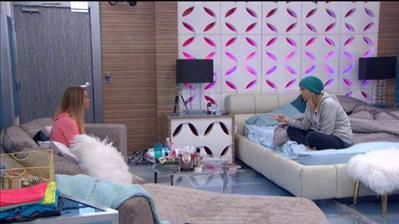 Shelli pitches her idea about letting Jackie, James and Meg think they are voting out Jason, so that Becky will turn on Jackie for voting her out.
Shelli plans on giving Steve, Liz and Austin a heads up, so they know what's going on, so no other votes would be flipped.
Clay joins the conversation


Clay - I think that if Becky wins ( HoH ) she would target the twins, Austin, and Steve.
Vanessa- she said James is her target.
Talk turns to double eviction ...
Vanessa saying that it might be better to target John over Becky ... because John/Steve could be together
Clay- if John left, I don't think Becky would hold that against us... because she would have no where else to go. I think it should go, Jackie, James, Becky, John.
Vanessa - Becky before John?
Clay- either way.
Shelli- Becky without John makes Becky weaker. John without Becky, doesn't affect John.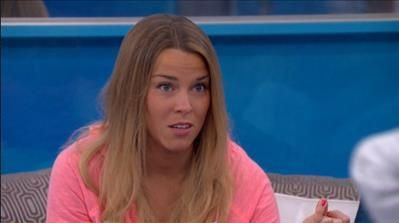 Shelli- how do you feel about Meg?
Vanessa- could I trust her? Probably. I think her strategy is to find strong players and ride beneath their wings.
Fast forward
7/29 - 8:59 PM BBT
Becky/Vanessa/Clay/Shelli in the HoH room


Becky- my ideal situation ( if she wins HoH) I would put up Austin and Steve. I would want the PoV to be won and I would back door James.
Shelli- wow.. there you go
Becky- because that weakens their group for double elimination and I'm not with him.. and I have personal stuff on James. Personal level, it makes sense and for for us, for our game, it's perfect.
Shelli- there you go .. then win tomorrow. I like the plan.
Becky- Oh I am.
Vanessa- what do you do if you are along side Steve?
Becky- I would probably use Meg. It's not the best case scenario, because they would be onto me, but Meg isn't going to come back with a
vengeance
.


So, there's a quick glance at Becky's plan of attack.

And, unfortunately despite any efforts that Meg made on Jason's behalf, unless something drastic happens, he will be leaving the Big Brother 17 house Thursday night...




Just as Julia comes in ...
The drama continues on the live feeds...
Try them today FREE for one week!

How can you get the live feeds?
Just
CLICK HERE
or on any of the live feed banners you see here to get signed up and help support this website at the very same time.
Another great way to help support this website is by making a donation via our PayPal button. It's just over there on the right! We truly appreciate any support and would not be able to do this without you! Be sure to add your BBU Nickname in the note section so I can add your new donator button!
Follow us on Twitter -
https://twitter.com/BB_Updates
and Facebook -
https://www.facebook.com/bigbrotherupdates
Check out one of our favorite places on the net - -
SirLinksAlot.net
Please note: If you are a returning member, you will need to register again.
*Your old BBU sign in and password will not work - you must Register again

.

For all ( returning or new ) registering:
There is a two step registration process...

1) Complete registration and you MUST include a valid email address you can check.
2) Upon completing step 1 - make sure you check your email address because you MUST click on the second step verification link to complete your registration process.
As always, thanks for reading ~~ Lexie