Big Brother 17 Power of Veto Competition is over and we have the results! Which house guest won the Power of Veto? Will the power be used to save one of the nominees? Keep reading or click "see more" below to find out! The drama continues
on the
Live Feeds
!
It's just not Big Brother without the
Live Feeds

,
you're sure to enjoy watching all the ins and outs that you miss by only watching the television episodes. This season the Live Feeds are only 5.99 per month, which is a great price for so much crazy entertainment! Plus, signing up for the live feeds by clicking on the banners and links here on our website, is a great way to help support all that we do here all summer long.
CLICK HERE
to get signed up today and help support this website at the very same time. We truly appreciate your support.
Today's Power of Veto Players were:

Head of Household - James Huling
Nominees - Shelli Poole and Clay Honeycutt
Picked Players: Jackie Ibarra, Becky Burgess, and Vanessa Rousso
Host - Julia Nolan
James won the Power of Veto



The competition was called "Game of Throws"
Becky won $5,000

Clay won a trip to Ireland

Jackie has to wear a costume for one week...


Vanessa has to " polish Jackie's armor and take care of Jackie" for the 24 hours.
Shelli has a punishment ... She has to do her 2400 knife routines over the next 24 hours, every 100 times, she has to run into the living room to ring a bell. If she does not complete the punishment, she cannot play in the next Power of Veto Competition.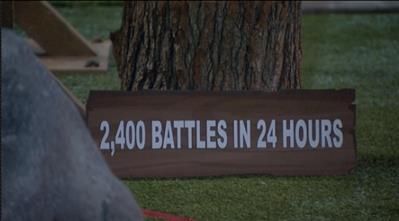 Shelli has to use her sword to hit 3 different targets...




She cannot go inside other than to get the bell to ring it after she finishes each 100 rounds..






Just after the POV competition ...


Clay to Johnny Mac ( who is visibly upset, almost in tears ) - Promise me if it's both of us on the block that you keep Shelli
Johnny Mac - You sure?
Clay - positive
Johnny Mac - Only cause you are telling me, I will.
Clay - she's a better player than me.. I need your word
They shake on it ..
Clay - thank you. I'm going to tell Austin and the twins and everyone else to keep her.
Johnny Mac- you're crazy man
Clay- look after her.

Clay/Vanessa

Clay to Vanessa- promise me that you'll vote me out, keep her. No matter what James says, you vote me out.




Vanessa- okay.

Vanessa/Julia




Vanessa- Clay is going to tell you to vote for Shelli. That' the most romantic thing, I've every seen. It's so sweet.
Julia - it's so sad.


Becky/James




Becky - we are splitting the money ( the $5,000 she won ) .that feels like dirty money for me... otherwise...

Jackie and James




Jackie- now we just have to vote Shelli out, we can't let Clay just give it up, otherwise this was all for nothing. Might as well of just given her the veto..





James- I'm going to tell everyone in the group, I bit the bullet for all of you, the least you can do, is vote the way I want.
Jackie- yeah otherwise, you could have just left her with the veto,
James- yeah and took the $5,000 .... and if Shelli stays, Vanessa is going to bond with her, and they will be tight.
The drama continues on the Live Feeds...
Try them now....
Just
CLICK HERE
or on any of the live feed banners you see here to get signed up and help support this website at the very same time.
Catch upon all the action of the day with our Live Feed Updates HERE
or join in on a Live Feed Discussion
HERE
Follow us on Twitter -
https://twitter.com/BB_Updates
and Facebook -
https://www.facebook.com/bigbrotherupdates
Check out one of our favorite places on the net - -
SirLinksAlot.net
Please note: If you are a returning member, you will need to register again.
*Your old BBU sign in and password will not work - you must Register again

.

For all ( returning or new ) registering:
There is a two step registration process...

1) Complete registration and you MUST include a valid email address you can check.
2) Upon completing step 1 - make sure you check your email address because you MUST click on the second step verification link to complete your registration process.
As always, thanks for reading ~~ Lexie