Big Brother 17 house has been back and forth all day on whether to evict Clay Honeycutt of Shelli Poole. One side of the house has no problem, as they are sure that Clay is going home, after all that's the plan. But, you know what they say about plans inside the Big Brother house. Will it be Clay or Shelli? Keep reading or click "see more" below for a sneak peek at all the topsy-turvy drama inside the Big Brother 17 house. The drama continues
on the
Live Feeds
!
It's just not Big Brother without the
Live Feeds

,
you're sure to enjoy watching all the ins and outs that you miss by only watching the television episodes. This season the Live Feeds are only 5.99 per month, which is a great price for so much crazy entertainment! Plus, signing up for the live feeds by clicking on the banners and links here on our website, is a great way to help support all that we do here all summer long.
CLICK HERE
to get signed up today and help support this website at the very same time. We truly appreciate your support.
1:40 PM BBT - Shelli and Vanessa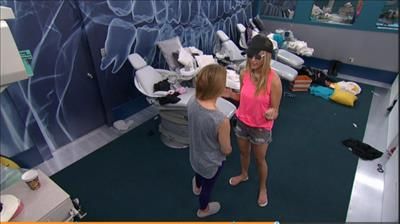 Shelli to Vanessa- I just don't want to campaign
Vanessa to Shelli - I have something important to tell you...
Shelli - you do?
Vanessa- but you have to give me your word, on your family..
Shelli -oh my god ...
Vanessa- that you're not going to tell what I'm about to tell you ...
Shelli- okay
Vanessa- give me your word
Shelli - Vanessa, you're scaring me..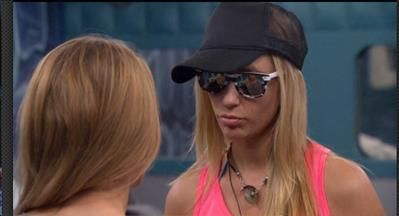 Vanessa- give me your word!!
Shelli- I do
Vanessa- the reason is, he if ( Clay ) stays and find out I told you this, it could ruin my game.
Shelli- oh, I won't tell anybody...

Vanessa- okay, so he came to me in the bathroom yesterday
Shelli- Steve did?
Vanessa - no Clay... and he said to me.. "it looks like Shelli has no shot, it's going to be unanimous " and I said .. "oh don't worry it won't be unanimous, I'll keep my promise to you" and he goes "oh, you don't; have to keep your promise, that would probably be bad for your game"




Shelli- I can already tell that he's switching, he was like "when you go home, can you contact my family and tell them that I miss them" .. and I was like .. well okay.... and I was thinking to myself.. I've helped him a lot in this game and does he really think that I'm just going to roll over and let people vote me out.. that I'm not going to try.

Vanessa- I'm telling you there's zero chance in hell... that Austin, the twins and me are voting you out... so you've got 4 right there.. like I'd bet my life on it.

Shelli -okay

Vanessa- Steve is the iffy one....he's going to do it .. after talking to me. He didn't want to initially ... it took a while for me to convince him.. it took me all night last night and today .. but he promised.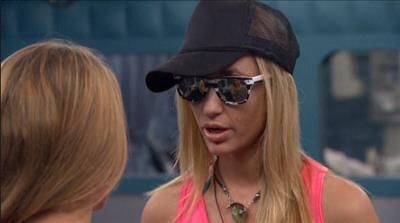 Vanessa tells Shelli that Steve sees her ( Shelli ) as the bigger threat in the house ( over Clay ) and that's why he wants to keep her in front of him.



1:52 PM BBT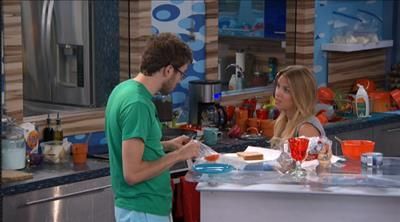 Shelli talks to Steve and tells him that she's been HoH twice and hasn't put him up and promises him that she will keep him safe in the game and would love to work with him.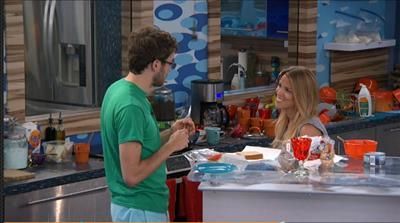 Shelli- I think we would be a good pair.
Steve - I do too
Shelli -I would be stupid not to say this... I would love your vote.
Steve- thank you.. I appreciate you telling me this ...
3:26 PM BBT

Liz, Julia and Austin talk about keeping Shelli over Clay... ( they all 3 have decided that they will keep Shelli over Clay, despite letting James, Meg and Jackie think they are voting out Shelli )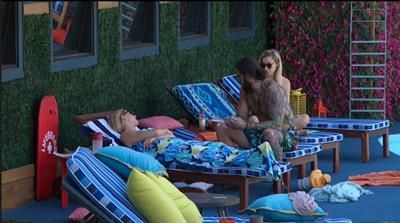 Julia - he ( Clay ) thinks his **** doesn't stink and I don't like that ...
Liz- well Clay never talks to Steve anyway .. so why would Steve want to keep Clay over Shelli?
Austin- he doesn't want to .. it's done... we have the votes.



3:52 PM BBT

Shelli is crying...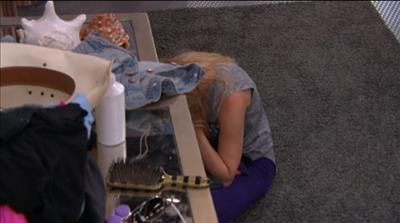 Clay comes along to comfort her...




Shelli - I'm just having a hard time.
Clay- I know, it's going to be okay.




5:10 PM BBT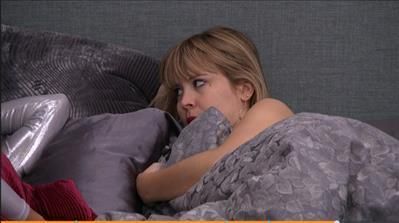 Jackie- I feel safer with Clay, than Vanessa...
Meg- I know .. me too
Jackie- it's so weird...
Meg - if I won HoH.. I wouldn't be able to put Clay up ... but.. we gotta play like we're going to .. because Austin and the twins are starting to second guess keeping him.
Jackie- they have to vote the way we want them to.. it's the plan...
Meg- but do you think that Austin and the twins will really keep to what they are saying?
Jackie - I don't know.. I wonder if they are just saying, what we want them to say right now ...
Meg- I wonder if they win HoH next week, if they would put one of us up?


James joins them...




James- they ( Clay/Shelli ) seem to be relying on Steve a lot... I mean .. they don't have a lot of options... because I know they aren't going to pull you ( Jackie ) or you ( Meg) or the twins or Austin
Later ...

Vanessa to Austin/Liz/Julia




Vanessa - Clay is the one person that will go for him (Austin)
Austin- Clay has to go
Vanessa- I have to be honest with you guys... It's very scary for me to work with you guys. I need to know you guys are being loyal.
Austin- Yes!... You are the one we always go to ...
Vanessa- I just want to get to the Final 4 .. and then whoever wins the comps .. wins the comps.. I'm okay with that ... but you guys swear that you are being loyal?
Julia/Liz/Austin - yes...
Vanessa- okay, because I've never done a disloyal thing...

Jackie walks in, so that conversation stops..

2 seconds later...

Vanessa in the Have Not Room with Jackie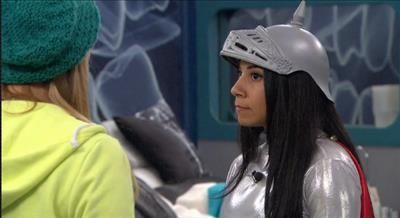 Vanessa- coming up on double eviction, so lets make a plan.. I have a plan, it's logical and I think everyone will be on board with it ... I'm thinking that we put up.. the remaining Clelli member... and a floater... someone that's also going to win comps, in the later stage of the game... let's have a meeting tonight ...


8:40 PM BBT

Jackie tells James about catching Vanessa whispering with Austin, Liz and Julia and how she wants to have a meeting with them, ( James/Jackie ) and Austin, Liz, Julia, James, Meg and Becky should meet up to make plans for the double later
James- you know when Vanessa comes up with a group, it's not solid... you know she will flip ...
Jackie- well obviously ...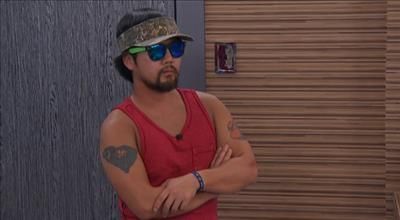 James- she knows Shelli is done and that Clay is a lost puppy without her...
Meanwhile...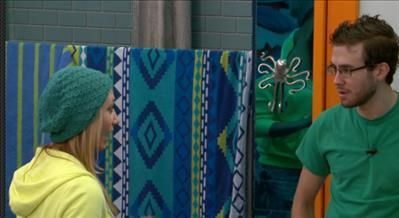 Vanessa telling Steve that next week, they will put up the "Clelli member" that stays, up against one of them ( Jackie/James/Meg ) and they have the votes .. so the "Chelli member stays"....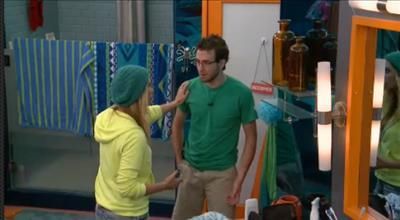 Vanessa - do you understand the genius of it .. we are going to put her ( Shelli ) up ( this is next week's plan according to Vanessa ) and Shelli is going to stay
Steve- what if one of them win HoH? I'm the target?
Vanessa- Noooo... she ( Shelli's ) the target...
Steve- next to me?
Vanessa- then she's going.. you're not going ... you're in Freaks and Geeks...
Steve- right, I have your votes...
Vanessa- 100%..... 100%.... listen to me... 1000%.... and they are not going to win.. they only have Meg
Steve- and Jackie ...
Vanessa- it doesn't matter.. you are at no risk...
Back to the HoH room ....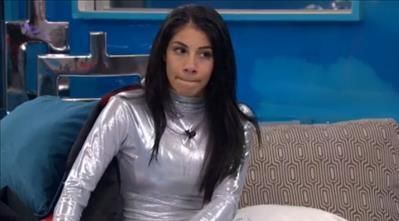 Jackie to James- Meg was feeling Austin and the twins were leaning towards sending Clay out..... but it's not their decision. They know the rules. They know whatever you say .... that was the agreement.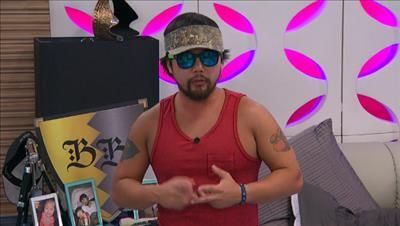 James- they know., because I kept their ass off the block, I saved them, didn't back door them... kept the twins safe...
Jackie- they will ( vote Shelli out ) they know better.... (than to vote Clay out )
( little do they know right? )


9:10 PM BBT - Meg/James/Jackie/Becky in the HoH room ...



Becky- Who do you guys think is the most immediate target?
Jackie- Vanessa.
Meg- I want to say Vanessa or Austin.
James- Vanessa
Meg- If you put her (Vanessa) up against Austin, she would go home.
Jackie- If you put her up against anyone, she would go home


Becky - If she (Vanessa) wins the Power of Veto, she makes a deal. She wins a second time, she makes a deal. Every person in this house has a deal with Vanessa to not put her up. If you walk in her HoH room, she makes a deal.

James- Take Vanessa out before Austin. Vanessa is going to win an HoH before Austin
Meg- You have points in that. You're right

They continue to talk about Vanessa and how she will be a target, then say the obvious .. that they can't let Vanessa know .... as the move on ...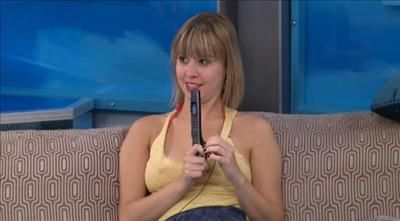 Meg- we have to keep Clay
Becky - I dunno.. I think the others ....
James ( pointing at each of them.. Meg/Becky/Jackie) vote for Shelli to go ...
Meg- then all we need is Steve or Johnny Mac... you ( Becky ) work on Johnny Mac...
James- we got the twins... they are going to vote Shelli out too...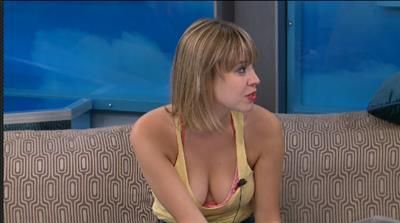 Meg- you don't know that... and I'm telling you .. if there is someone that can work Clay in this house.. I can work Clay.
I'm 150% sure that that (evicting Shelli) is the move that we have to make. Clay can't go.
Jackie- we didn't put them up to send Clay home... i
f they want to work with us and put an eight together...they better ****ing vote her (Shelli) out
9:30 PM BBT

Austin joins James/Meg/Jackie/Becky in the HoH room


James- The only thing I ask is we get Shelli out.
Austin- Okay
James- I hope Liz and Julia are on board as well.
Austin- yeah.
James- as long as Liz, Julia, you ( Austin) Meg, Jackie and Becky vote are on board.. that's all the votes we need. Johnny Mac and Steve can do whatever the hell they want to do.




Austin- yeah exactly... but the only thing I worry about is that he's coming after me..
James- who told you that?
Austin- Vanessa ...
Meg- it's just one person and Shelli will have the same game play
Austin- you think so? You don't think she will be wanting to make deals and stuff like that ...
Meg- no..you are totally underestimating her ...
Austin - well **** ... alright.



9:50 PM BBT - Vanessa joins .... as they talk about next week targets, she lets them think that she's fine with Shelli going home this week.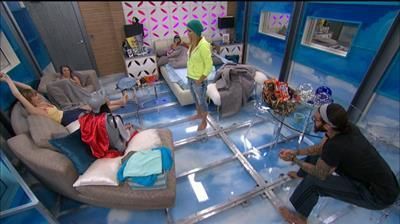 In fact... led by Vanessa ... t
he entire HoH room agrees that Shelli is going home Thursday and that they will all go after Clay next week.. and they all agree that they will not nominate each other or back door each other ... including the twins who join in ...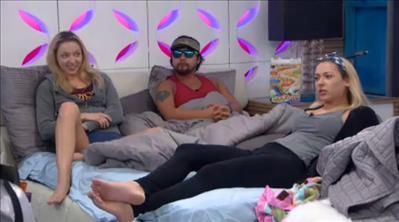 As they continue to talk ...
Jackie keeps pushing for everyone to agree on who they are voting out this week..
Vanessa tells them that Shelli has a better shot to win than Clay does, so you can take her out or keep her as a bigger target and shield.
She also talks about how Clay asked her to vote him out.
Meg and Jackie tell Vanessa that he's asked everyone... but should they really do that ...
James- If Clay wants to go home...send his ass home next week. What's one more week?

Jackie again pushes for everyone to agree on who they are voting out.

Vanessa again says that she promised Clay that she would vote him out ...



Meg to Vanessa- okay Vanessa, you can vote to keep Shelli ...
Vanessa-
I think everyone should do what's best for their individual games for the vote, I would hate for someone to feel pressured to vote for someone that's not good for them.
Meg- I agree with that, the only thing is... if we are going into this double eviction, we have to think who is going to be better at winning something like that...
James- Shelli will.
Vanessa- it's unfair to ask everyone to vote one way .. I'm a big believer in fairness...
Meg- I think they both have the same targets, same game play ...
Vanessa -
the best thing for everyone to do is vote for the one you think is less likely to put you on the block
Meg- I just see them both putting the same people on the block.
Vanessa - I think they have different targets..
Austin- well you know them best...
Jackie to Vanessa- so if Shelli stayed, you would put her on the block next week?
Vanessa- I would.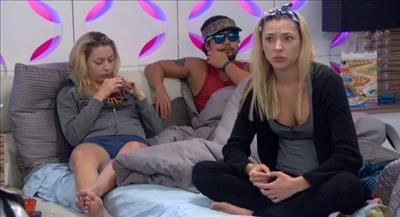 James- I have to go back to biblical terms .. "there's nothing more rathful than a scornful of a woman" ( yes I know that's not how it goes, but that's how he said it ) ... when you piss a woman off.. it's more reasonable to reason with a man than a woman ... a woman will be scornful.. but she will be more strategic about it, she will be good and smile and the next thing you know, your ass is backdoored... she will be like "you took my man out"..

Speaking of ... man and woman ...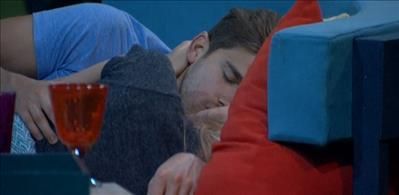 As the "meeting" ends in the HoH room and everyone leaves...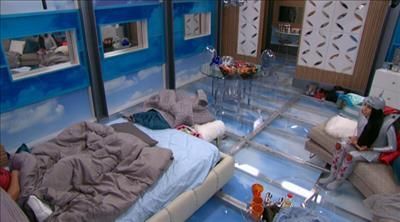 Jackie to James- I don't trust Vanessa.
James- I don't either
Jackie- what's up with that ****, you can't vote the way we want you to? Like right off the bat, she ( Vanessa's) like I don't know.. questioning it . **** that.. she ( Vanessa ) needs to go. Like who do you think you are .. you think you can vote for Shelli and be good with Clay moving forward. Like **** you, good for you, you're keeping yourself safe.
James- I think that's what she's doing, she's trying to go with Clay.
Jackie- she's like I think we should all vote the way we want.. like no, that's not the how it happens! We're all working together now.
She (Vanessa) is getting herself off everywhere. "I'm individual". **** you.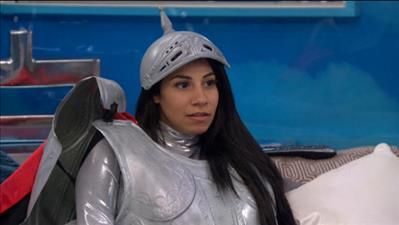 Jackie- and Meg is talking about keeping Clay, she can't put him up? What the **** is that ****?
And ...


Julia to Liz- As ****ed up as this is
, I wouldn't mind him (Clay) going after Austin.. and a
fter that convo, I kind of want to go with the house, Liz.
Liz- Me too
6 words... This House, These People, This Game.

Who will go home?
The drama continues on the Live Feeds...
Try them now....
Just
CLICK HERE
or on any of the live feed banners you see here to get signed up and help support this website at the very same time.
Catch upon all the action of the day with our Live Feed Updates HERE
or join in on a Live Feed Discussion
HERE
Follow us on Twitter -
https://twitter.com/BB_Updates
and Facebook -
https://www.facebook.com/bigbrotherupdates
Check out one of our favorite places on the net - -
SirLinksAlot.net
Please note: If you are a returning member, you will need to register again.
*Your old BBU sign in and password will not work - you must Register again

.

For all ( returning or new ) registering:
There is a two step registration process...

1) Complete registration and you MUST include a valid email address you can check.
2) Upon completing step 1 - make sure you check your email address because you MUST click on the second step verification link to complete your registration process.
As always, thanks for reading ~~ Lexie