Big Brother 17 Power of Veto Competition is playing out now, while we wait for the results. Keep reading or click "see more" below for a sneak peek at the discussions before the competition. The drama continues
on the
Live Feeds
!
It's just not Big Brother without the
Live Feeds

,
you're sure to enjoy watching all the ins and outs that you miss by only watching the television episodes. This season the Live Feeds are only 5.99 per month, which is a great price for so much crazy entertainment! Plus, signing up for the live feeds by clicking on the banners and links here on our website, is a great way to help support all that we do here all summer long.
CLICK HERE
to get signed up today and help support this website at the very same time. We truly appreciate your support.
Today's Power of Veto Players are:
Head of Household - Becky Burgess
Nominees - Shelli Poole and Steve Moses
Picked Players: Austin Matelson, Meg Maley and Vanessa Rousso
Host - Johnny Mac McGuire

Shelli pulled a HG Choice Chip and Picked Vanessa her apology to Johnny Mac is HERE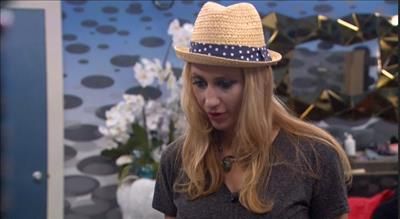 Vanessa to Shelli- I give you my word that if I win.... I'm taking you down and I'm trying very hard to win.
Shelli- awesome.
Vanessa- and so it if comes down between the 2 of us ... I'm telling you .. you should make an outlandish guess and let me win. I give my word on my mother, I'm taking you down, okay. That way we can save both of us, which is excellent. So, if it comes down to the 2 of us, it takes a lot of trust ..
Shelli- yeah it really does.. oh my god
Vanessa- yeah, I know .. but think about it. I would never give my word on my mother, and lie. My mother is literally everything to me.
Shelli- and on Mel
Vanessa- and on Mel . I give you my word on Mel
Shelli- and on your dogs....
Vanessa- on on Bear and Maverick
Shelli laughs and says "okay, I feel better about that now"
Vanessa- and I'm not a douche ... so there's that .. so yeah okay cool... so counting
Shelli- I hope it's the counting one ..
Vanessa- I've always wondered how I would do on this one ..
11:42 AM BBT

Becky talking to Meg, James and Jackie ..
Becky says she is going to tell them that she really likes Johnny Mac, doesn't want him to go home, wants Steve to go. And, she knows they all will promise to vote Steve out and she, with Vanessa in the room, I will say okay since everyone is promising to vote Steve out ... who wants to volunteer to go on the block.
Becky- If Vanessa's going to use it on Shelli, we've got to make sure Austin and the twins are ****ing pissed at her
11:47 AM BBT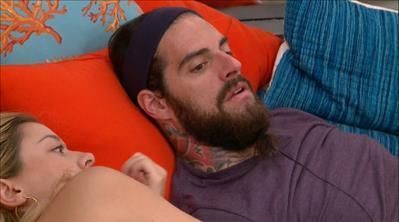 Austin to Liz- Vanessa is so excited she's playing.
Liz- why?
Austin- so she can control something again, she can't handle it when she doesn't have a say
Liz - she ( Vanessa) wants to win the veto so she can't get back doored
Austin - umm hmmm
Liz- if she wins it and uses it on Shelli, can Becky still back door her
Austin- no, she would be safe. Becky would either have to put up Johnny Mac or one of us. And, I don't think she would put up one of us, so she would probably put up Johnny Mac out of desperation... and we're all pissed at Vanessa, and everyone is gunning for Shelli and Vanessa. So, she ( Vanessa ) would make herself a target if she did that. And, separate from us, which is probably not a good idea.
Liz- she can't use it .. she will just have to keep it the same.
Austin- yeah.
Liz- screw that ... we can't do that for Shelli. She would never do that for any of us. All she cares about is herself and Clay and now that he's gone
Austin- she's totally alone, she's got no one in the game. I think she will
Austin- but it would be too risky to put one of us up against Steve, don't know where Johnny Mac is with his vote, and why would they want to go into double eviction with Shelli, Vanessa and us gunning for them... you know?
Liz- umm hmmm
Austin - I think we are okay.... good luck kiss?
Liz- good luck
Austin- thanks I'm going to need it. It's not like I have to win .. right?
Liz - umm hmmm

Meanwhile....
11:51 AM BBT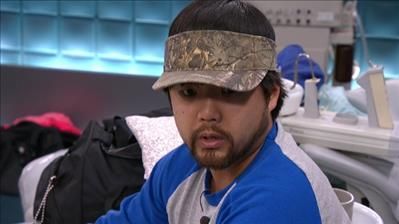 James to Meg- if Vanessa wins the POV... all Becky has to do is tell them (Austin/twins ) that if Vanessa uses the veto on Shelli... one of them is going up.... then they will be like "Vanessa don't use it"

Meg- If I win, it's like ****.
James- it's time to get your hands dirty.
Jackie- Be like "Shelli, if I take you down, you don't put me up"
Meg - if we keep noms the same, there's a risk Shelli would still stay. If I take her down, Vanessa goes up and we should be fine.
want to win
James- Meg, you have got to win. This might be the only comp you can win
Meg- We can be like Vanessa, we know you weren't going to follow the plan anyway, you bitch!

They all laugh ...
James- We already know she is planning to **** one of us as soon as one of them get power
We'll update you on the results of the Power of Veto Competition as soon as it plays out ...
For now .. t
he crazy drama continues on the Live Feeds...
Try them now....
Just
CLICK HERE
or on any of the live feed banners you see here to get signed up and help support this website at the very same time.
Follow us on Twitter -
https://twitter.com/BB_Updates
and Facebook -
https://www.facebook.com/bigbrotherupdates
Check out one of our favorite places on the net - -
SirLinksAlot.net
Please note: If you are a returning member, you will need to register again.
*Your old BBU sign in and password will not work - you must Register again

.

For all ( returning or new ) registering:
There is a two step registration process...

1) Complete registration and you MUST include a valid email address you can check.
2) Upon completing step 1 - make sure you check your email address because you MUST click on the second step verification link to complete your registration process.
As always, thanks for reading ~~ Lexie