Big Brother 17 Head of Household Becky Burgess has a mind of her own and a plan that will bring drama to the Big Brother 17 house like never before. She's not above looking her target squarely in the eye and telling them they are safe. She plans on remaining calm, cool and collected when the truth comes out. Keep reading or click "see more" below for a sneak peek inside the drama in the Big Brother 17 house this week. Why not catch all the drama LIVE on the CBS All Access
Live Feeds
!
It's just not Big Brother without the
Live Feeds

,
you're sure to enjoy watching all the ins and outs that you miss by only watching the television episodes. This season the Live Feeds are only 5.99 per month, which is a great price for so much crazy entertainment! Plus, signing up for the live feeds by clicking on the banners and links here on our website, is a great way to help support all that we do here all summer long.
CLICK HERE
to get signed up today and help support this website at the very same time. We truly appreciate your support.


There's been a lot of drama so far this week, with Steve's win in the PoV competition, Becky's quest for Vanessa as the replacement nominee is set.

However, even though Vanessa has a bad feeling, she's trying her best to get a feel for how the rest of the house and Becky are planning on playing out the rest of the week. We'll start with her talk with James last night...
7/8 11:20 PM BBT
Vanessa to James- Johnny Mac is not going home and we all know that. It is a no risk play. We all sat around and gave our word. There should be no discussion. It will cause a tremendous amount of distrust. It would make very little sense to stray from it. It would create a big target on yourself.

James- I totally agree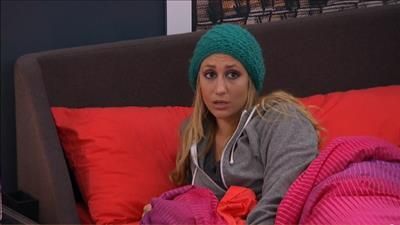 Vanessa- she hasn't said "I'm sticking to it"?
James- She hasn't talked to me.
Vanessa- Don't bull**** me
James- I'm not
Vanessa- you are ... you have a look on your face ... you are bull****ting me for the first time in this game
James- I'm not Vanessa...

Vanessa- I figured you of all people would want the deal stuck to.
James- Yeah, I do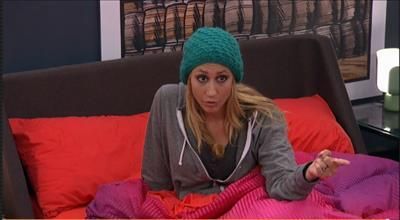 Vanessa - I've got so much blood on my hands to avoid her (Becky) going out that week when I had given my word to her. If she would break her word to me, I would find that that would be really ****ed up.

James- I don't think she will


Vanessa - should I have a conversation with her?
James- you should ...
You are pretty good at talking to
people.
I would talk to her and get a feel for her.. if you don't get a good feeling, then obviously something is going on...
Vanessa - I just hope she keeps her word to me. That's all I have got to say. I keep my word to people. If she breaks her word to me, I would not be happy jury member. I mean that's not cool.... why the **** make that deal if you are going to go back on it?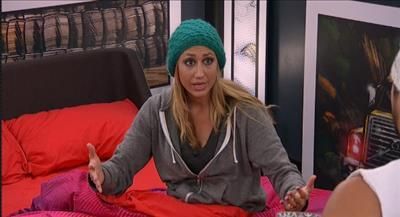 Vanessa - I want to make another deal through double eviction ( with Becky ) ... . To me, that's the smartest. The problem is I don't think Becky wants to make another deal like that, based on what she said to me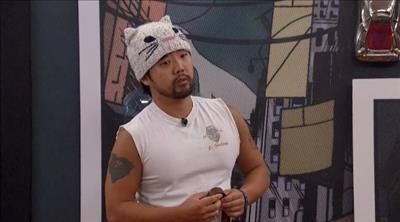 James - Obviously she has to put Johnny Mac up.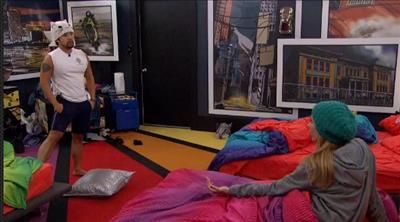 Vanessa- I don't even think he would care, he knows he's not going home... he
would be a pawn and he has been a pawn before. He is going to stay a million percent. I've even already given my word. I will vote for him to stay. I mean... if I go up.. I don't think that's right.. and I can make a point for myself. And, I will make a point for myself and everyone will hear about it.
James- yeah .. I don't see her changing plans, but if you feel like you have a bad feel
ing about it, I would go talk to her about it ... I'm just trying to stay out of everything this week. I'm on a need to know basis.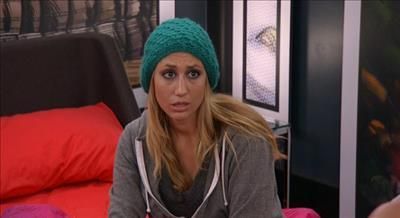 Vanessa -
If I did go up, I'm assuming I would have your vote?
James- Yeah, to stay? Over Shelli, yeah
Vanessa- it would be stupid to keep her.


Meanwhile ...


Shelli asks Becky where things stand ( with the nominations/eviction )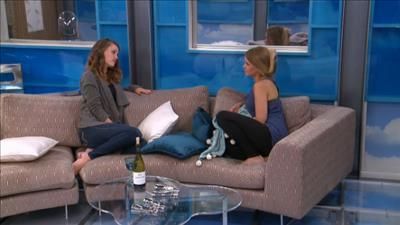 B
ecky - Exactly where I told you ... I know that I have more than the votes that I need to have
her (Vanessa) go. She will be going on my block, she will be sitting next to you.
We will let her be the crazy one woman show and we will see her leave the house on Thursday
​

11:58 AM BBT -( this is a long conversation, here are the highlights)
Vanessa to Becky- I understand Johnny Mac is a friend of yours. I'm sure it has probably got to be a tough spot for you. It's
between me and Johnny Mac. I am no dummy.
Becky- No, this week is easy... when you hold 3 of the votes... it's an easy decision ...
Vanessa - What you are saying is I am not going up?
Becky- No
Vanessa- well I want to say to you that I very much appreciate you keeping your word.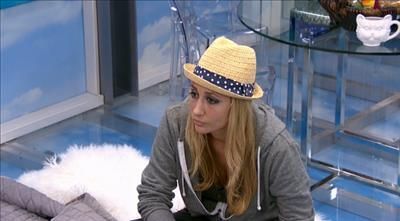 Vanessa - When I was HoH I got so much extra blood on my hands to keep my word to you. I'm asking the same in return.
Becky- You got it... this week I'm going to do what I want to do.

Vanessa- I'm assuming you are going to tell Johnny beforehand that he is just a pawn and he has the votes
Becky- Yeah
Vanessa - I give you my word, I am going to vote with the house.

Becky- yeah...

Vanessa - And, If you did put me up, the other reason why it's a bad idea is..... it's not a guarantee with the votes
Becky- You were paranoid last week, you are paranoid every week. I tell you this each week. Every week you get scared

Meanwhile..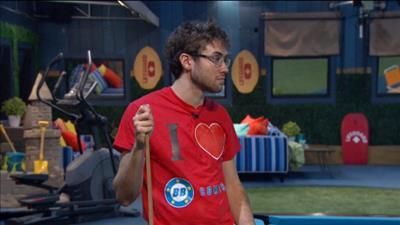 Steve- Is Vanessa being blindsided?
John- Yes and the rest of the week, we just act like we had no idea.

And then...2:09 AM BBT (again this is a long conversation, here is the meat of it )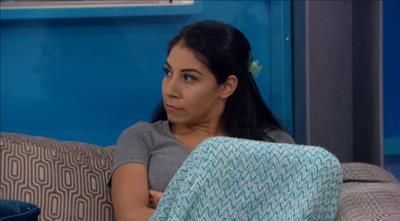 Jackie- if she ( Vanessa ) says anything to you .. I will throw down.
Becky - it sucks to lie... but I don't feel bad lying to her (Vanessa). At first I felt bad. This girl is bull****ting so many people in this game, You (Vanessa) put me on your block and made me feel like I owe you for the fact you saved me. **** you, mother****er. I will stoop down to your level, Vanessa. I will play how you play, to get you out

Meanwhile....

Vanessa to Shelli- She (Becky) told me that she is not putting me up. I think it is going to be Johnny Mac and that means you have hope. It comes down to Steve.
It's going to come down to a creative play later in the week. I'm going to have to make a creative play.. I think you and I and Steve can make a side alliance with James and Meg if you are open to it.
You are going to be the instant target again, unless we make this deal


Back to Jackie/Becky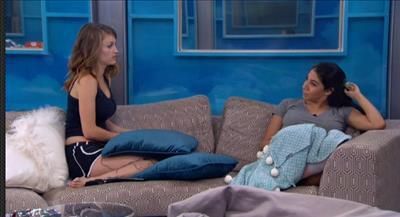 Becky - My whole plan is to put it out there and then just shut my lips through Thursday
Jackie-
I ****ing love it. Everyone is getting their dose of karma

The Power of Veto Ceremony happens on Monday...

Be ready for all the drama ...
Just
CLICK HERE
or on any of the live feed banners you see here to get signed up and help support this website at the very same time.
Join in on a Live Feed Discussion
HERE
Follow us on Twitter -
https://twitter.com/BB_Updates
and Facebook -
https://www.facebook.com/bigbrotherupdates
Check out one of our favorite places on the net - -
SirLinksAlot.net
Please note: If you are a returning member, you will need to register again.
*Your old BBU sign in and password will not work - you must Register again

.

For all ( returning or new ) registering:
There is a two step registration process...

1) Complete registration and you MUST include a valid email address you can check.
2) Upon completing step 1 - make sure you check your email address because you MUST click on the second step verification link to complete your registration process.
As always, thanks for reading ~~ Lexie