Big Brother 17 Vanessa Rousso has a battle on her hands.
Will she get the explanation that she's looking for?
Can she take control of the house one more time and keep herself safe? Keep reading or click "see more" below for a sneak peek inside the Big Brother 17 house. Why not catch all the drama LIVE with CBS All Access.
It's just not Big Brother without the
Live Feeds

,
you're sure to enjoy watching all the ins and outs that you miss by only watching the television episodes. This season the Live Feeds are only 5.99 per month, which is a great price for so much crazy entertainment! Plus, signing up for the live feeds by clicking on the banners and links here on our website, is a great way to help support all that we do here all summer long.
CLICK HERE
to get signed up today and help support this website at the very same time. We truly appreciate your support.
After the Veto Ceremony, Vanessa tells Shelli that she won't say anything bad about her and she "wished her well, but she's going to make one hell of a logical argument" for herself to stay.

Julia tells Vanessa that they will be voting to keep her and gives Vanessa hope that she might have the opportunity to stay this week over Shelli. She tells Julia that if she, Liz and Austin vote for her to stay, she thinks she can get Steve's vote too, but that won't be enough, as Becky breaks the tie this week, so she'll need one more. She thinks
that maybe she can get James to vote to keep her, since Shelli will be targeting him for evicting Clay.

What she doesn't know is that Austin and Steve have already agreed that "it's checkmate" for Vanessa. And, that Liz and Julia both have come to the conclusion that there's no way to save Vanessa. Liz tells Julia that Vanessa is "dead in the water" and not to hang out with her any more. So, moving forward, they are going to focus on being nice to Shelli and hanging out with the "minions".
Vanessa wants an explanation from Becky...
11:52 AM BBT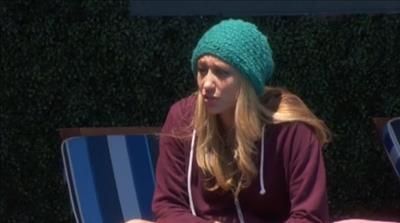 Vanessa - You can't vote, so I'm not here to campaign, but those were some pretty harsh words, especially for someone like me. I would love it if you could explain them.
Becky- Why were you so paranoid when I went up to be HoH?
Vanessa- I told you, because you're friends with Johnny Mac, I'm not dumb, I can do the math. And, we all made that deal, but you are close to Johnny Mac, and I couldn't see it happening. I told you straight up
Becky- hmm ummm
Vanessa- I came up and told you that I totally understand if you have a loyalty to him... then why make a deal, if you can't do it ... or why make a pissed of jury member, why not give me a hint that you were going to do it, you didn't give me an inkling, so if you want a pissed off jury member, you are going to have it. You had a chance to warn me, and I don't understand why you didn't do it..so I'm confused...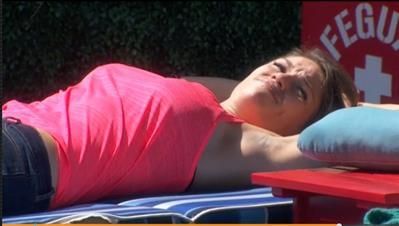 Becky- when you brought that idea to the room.. what was the reaction on my face?
Vanessa goes on and on about how she was the last one in the room, it wasn't her idea, etc.

Becky says okay... okay.. okay during Vanessa's rambling...
Vanessa tells Becky that she gave her word to stick to the plan...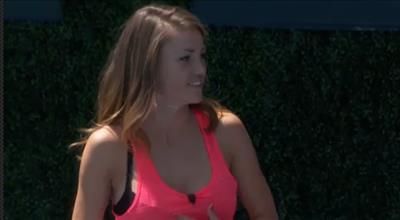 Becky- I was pissed in that meeting .. and you are all about your word, your word, your word, I did not give you my word. You forced my word. That pissed me off
Vanessa- okay.
Becky- you sat me down ..
Vanessa- we all gave our word in a room of a group of people...
Becky- you sat me down ...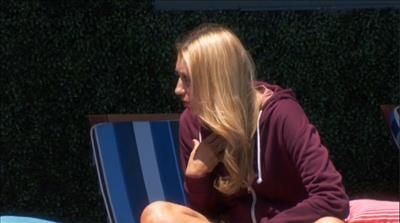 Vanessa- Me? Me? .. we all were there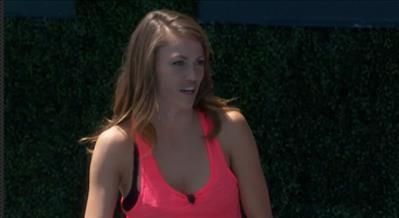 Becky- okay .. stop choosing words... THIS is how I feel...
Vanessa - we chose that to keep our safety ...
Becky- this is how I feel and I'm going to end it here. I didn't like a lot of that idea. I was not, in any way, shape or form, happy. I had headphones on... but when you pointed your finger at me...
Becky- and said "do I have your word?"...what the **** am I supposed to say? I felt like I my word was being forced from me.. not given.. if you had not pointed your finger at me..
Becky - in a group of people.. and made me promise.. that word thing.. it just gets me.. I felt like my word was being forced from me... in that second... that's what I think of you ..

Becky gets up and walks away...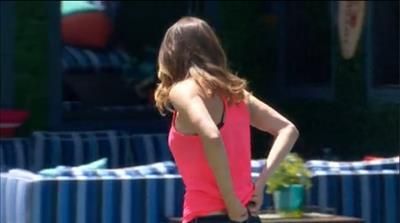 Vanessa- I don't understand why you are being so venomous with me.. I'm trying to understand.. and I respect you for that Becky, but

Becky still walking...

Vanessa- There's no reason to get upset. I am the one on the block.


Becky turns to look at her...
Vanessa- it's not you here.. you are in the HoH ...

Becky- I'm not upset...
Vanessa - You are a cold hearted person ( crying now ) .. I just don't understand...

Becky turns and goes inside..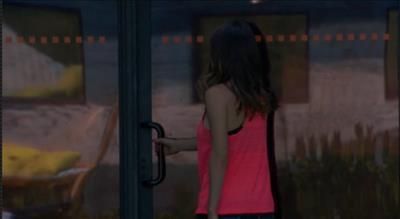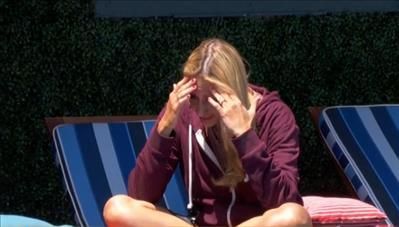 Vanessa to herself - whoa.. what the hell...what the hell I'm on the block and she's going to walk out on me.. I didn't even say anything...

Vanessa walks in the kitchen where Liz, Julia, Johnny Mac and Austin are and says - Never have I ever.. not a nice person.

Liz- what's wrong?
Vanessa- she's just being super mean.. I'm a nice person .. I'm literally being as sweet as possible.. I'm on the block... and she yells at me and runs inside.. ( crying more ) ..

Becky is upstairs looking down .. making hand signals to say "no" and "keep quiet" ...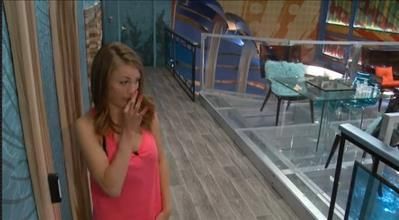 Vanessa stands for a moment ( I think she was trying to listen to Becky, as Becky came down after she left the kitchen )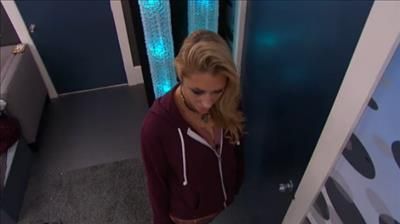 The she walks into the Have Not room, where James, Jackie and Meg are sleeping and says - James, can I talk to you. I would just like an explanation from someone who knows something... Becky just yelled at me and walked inside..
Jackie - Becky yelled at you?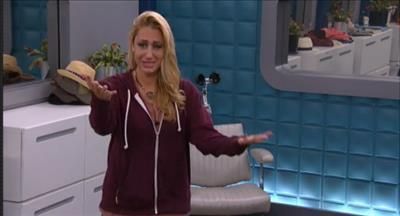 Vanessa- she's not a nice person..( crying now )... that's all I can say .. I'm on the block.. not her. And, I'm asking for an explanation and she literally yelled at me and didn't give me a chance to say anything.. stood up.. pointed her finger at me.. yelled at me and ran inside. And, I was like literally like ..."wait" .. "can we?" .. I just don't understand... I really don't understand...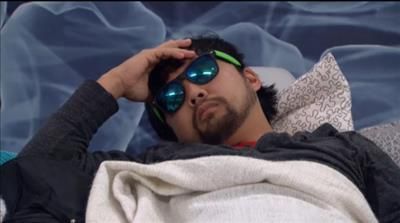 James- wow.
Meg- I'm sure Becky will have an explanation ..
Vanessa - no, her explanation is that I made her give her word and that pissed her off.
Vanessa - If anybody knows anything I have done personally, please tell me ... like .. I'm truly confused .. and like on my honor, I've kept secrets for her that are ridiculous and James, you are the first that's going to know about them.... you are the first person that's going to know about them.. and Jackie will be the next person that's going to know about them... it's so ridiculous..... she challenged my integrity publicly. Let me tell you, my integrity has been great ... even to her... the ironic part is.. so you know what .. I have no loyalty to her whatsoever ... and I'm going to give you the information I have.. if someone is that disrespectful to someone like that.. that in a moment of weakness... I've been in that spot.. I did that to Jason. You hear the person out .. you at least, have a conversation with them as equals. She's not my mom, to yell at me.. and run away .. like what is that?? Like I'm sitting there .. tears on my face and she's literally venomously yelling at me and running inside. I don't understand. I feel like I've personally attacked her and I've never personally attacked her.. I've protected her. I have information that could hurt her ... and that's what is so confusing.. does anyone know what I've done to upset her?
Jackie- I just think that whole week was not very good with Jason. She was not put in a good spot...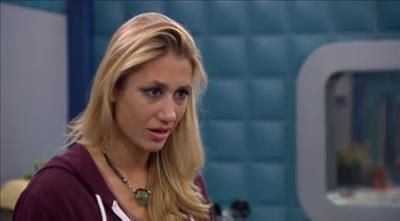 Vanessa- a lot of things went down that week.. lets just get it out right now ... that girl did not know an hour before, she was part of the plan... she knew the night before.
Meg- yeah she told us ...
Jackie- She wasn't a part of it but she knew it
Vanessa- yeah, she knew it and she asked me to not say that she did, she asked me to look out for her and for her ability to still have alliance in this house ...

Jackie- yeah we know.. she told us...
Vanessa- well, of course, she could see in advance that I would have that information on her.

Jackie- no, she already told me, I'm very close with her, we trust each other. okay?

Vanessa- yeah.. so much so that she would say about you ( Jackie ) in a room ..
Jackie ( cuts her off ) says - well you gave her reason not to trust me.. so.

Vanessa- no, no .. Jackie this was before that.. before that..

Jackie- I know and unfortunately you gave her doubt..

Vanessa- I'm talking about the night before Jason was put up. I never gave her any doubt not to trust you ..

Jackie- well that's how she felt.. so I dunno ..
Vanessa- well... umm.. okay ... I understand.

Jackie- we know about that. It was a big hot mess that week that lead to this ...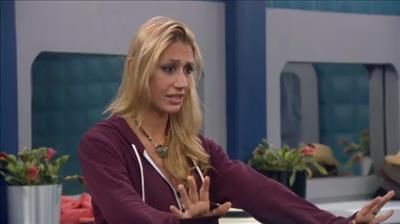 Vanessa - she was not the victim that week you guys

Jackie- I know ...

Vanessa goes on and on and on.. she tells them that Becky told her and Shelli that they were the only ones she trusted, she didn't trust Meg, James or Jackie and that she wanted to call their ( Becky/Vanessa/Shelli ) alliance "The Generals" ...
Vanessa- she is not the victim in this spot. If you think she is the victim, let me tell you she is a master manipulator. She was a part of it, she was the leader in it .. and that's that. And, last week James,if you hadn't of won, she was going to put you up on the block...

James- so she was the one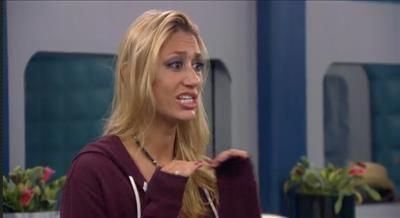 Vanessa- SHE was the one.. remember I told you I couldn't tell you who . .but someone did bring up your name.. SHE was the one... there's so much .. the irony of it.. it's ridiculous .. this whole thing is ridiculous ..
Vanessa storms out ...
Jackie explains to James, that Vanessa and the others convinced Becky that James didn't throw the PoV... and that's why Becky was skeptical of him... they convinced her of it ... they convinced her ( Becky ) that we were against her.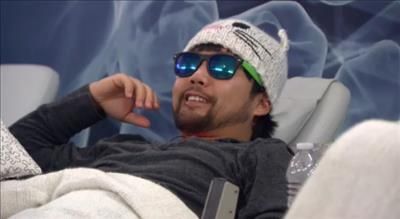 James- the Generals?

Meg and Jackie bust out laughing....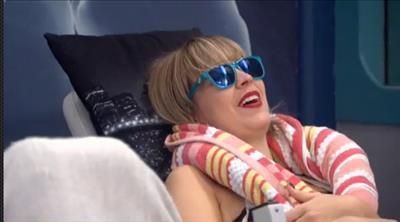 James- whoa.

For now, they all agree that they are taking what Vanessa said with a grain of salt. They say if there's something more to come out, it will. And, if Shelli and Becky were working together, then Shelli will target Becky, since she put her on the block this week, and that's something she ( Becky ) will have to deal with.

In other news...

Steve tells us that he's going to throw the next HOH and Johnny Mac is working on Shelli to work with him, Steve and James....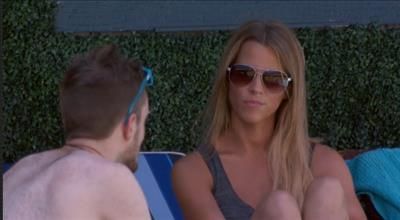 Shelli- do you think he will vote me out and keep Vanessa?
Johnny Mac- no way
Shelli- well that's a first step...

Johnny Mac asks if the twins would be upset to lose Austin?
Shelli tells him that she doesn't think so.
Johnny Mac tells her that they could put the twins up, tell them that they don't want them to go and back door Austin.
And then...

3:33 PM BBT
Vanessa to Austin-
Am I the target? Are they all going to vote for me?
Austin- That's what they said
Vanessa- I don't see why James would vote to keep Shelli. Makes no ****ing sense at all
Austin - I know ...
Vanessa- Can't you swing that vote?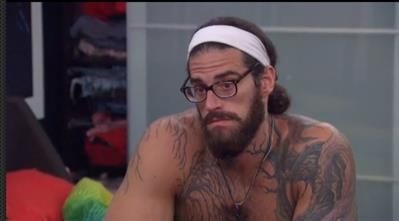 Austin- I can try.
Vanessa Why do they, just cause she (Becky) broke her word, have to break theirs?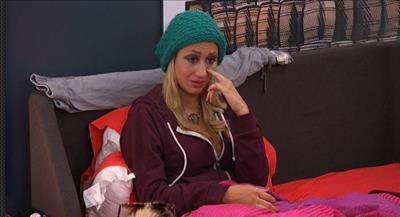 Vanessa- Austin, I made it happen for you, when your back was against the wall, I'm just asking for the same.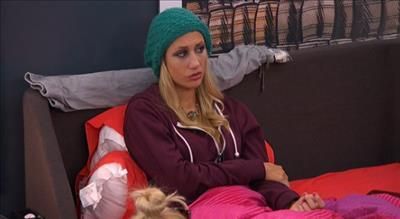 Vanessa to Austin- Mark my word on this one. You are next. It is 100%. You gotta win HoH. This was a hit at you three.


After their talk with Vanessa...
Liz to Austin - I'm not doing her dirty work for her. You ( Vanessa) need to campaign. You got yourself in this situation. She had a lot of blood on her hands. She cant say "Oh I didn't see this coming"

The drama continues on the Live Feeds..
Catch it all on the Live Feeds....
Try them now....
Just
CLICK HERE
or on any of the live feed banners you see here to get signed up and help support this website at the very same time.
Catch upon all the action of the day with our Live Feed Updates HERE
or join in on a Live Feed Discussion
HERE
Follow us on Twitter -
https://twitter.com/BB_Updates
and Facebook -
https://www.facebook.com/bigbrotherupdates
Check out one of our favorite places on the net - -
SirLinksAlot.net
Please note: If you are a returning member, you will need to register again.
*Your old BBU sign in and password will not work - you must Register again

.

For all ( returning or new ) registering:
There is a two step registration process...

1) Complete registration and you MUST include a valid email address you can check.
2) Upon completing step 1 - make sure you check your email address because you MUST click on the second step verification link to complete your registration process.
As always, thanks for reading ~~ Lexie