Big Brother 17 Becky Burgess firmly believes that she will have a successful reign as Head of Household. She's made the ultimate mistake of counting her chickens before they hatch, especially with Vanessa Rousso, being one of those chicks. The house has shifted dramatically and while it might shift back before Thursday night, for now keep reading or click "see more" below for a sneak peak inside the ever changing drama inside the Big Brother 17 house.
Catch all the drama LIVE with CBS All Access Big Brother Live Feeds!
It's just not Big Brother without the
Live Feeds

,
you're sure to enjoy watching all the ins and outs that you miss by only watching the television episodes. This season the Live Feeds are only 5.99 per month, which is a great price for so much crazy entertainment! Plus, signing up for the live feeds by clicking on the banners and links here on our website, is a great way to help support all that we do here all summer long.
CLICK HERE
to get signed up today and help support this website at the very same time. We truly appreciate your support.


This House. These People. This Game.

You can't turn your back on them for a hot minute! The target of the house has shifted once again, below is a quick look at some of the crazy drama...
8/11 1:40 AM BBT
Have Not Room ( this is a long conversation, below are the highlights, it's Flashback worthy to hear/watch it all )
James- this might be our only chance to get her ( Shelli ) out ... I mean
I don't want to go against Becky but the whole ****ing house went against me last week...
Meg- We need 5 votes.
James- We need them twins
Jackie- Austin and the twins will keep her (Vanessa)
James- Austin might but I don't know about the twins
Meg- but Steve likes Vanessa...
James- yeah that's 4 ..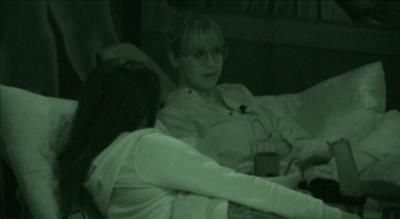 Meg- Becky has to know that her game is looking really good right now ... the only blood that Becky has on her hands is Vanessa...

James- If Shelli stays and wins ( HoH ) we are ****ed, point blank.
Jackie- one of us will be going
James- Shelli is a huge threat, that's why I wanted her out that week.
Meg- I also keep thinking that if the other side wants to do this, we could keep moving forward.
James- we would need to talk to Steve too
Meg- no Austin and the twins will vote, but we can talk to Steve last minute...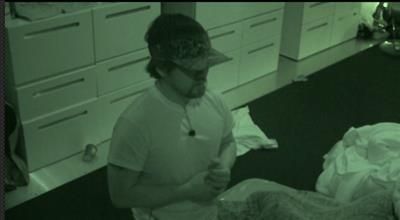 James- I say we go with it then...
Meg- I think there's more of a chance of getting Vanessa out during a double eviction that Shelli
Jackie- I just don't want to go against Becky
James- I think she will understand, I did. It's not like we are turning our back on her.
James - I don't think Vanessa can really do a lot more damage... everyone knows how she plays.
It all sounds good... it just depends on if we want to pull that trigger.. the gun is loaded.
Meg- The only thing is pissing off Becky
Jackie- Just sucks cause Becky is a sitting duck. She cant defend herself
Meg- You gotta think for the whole team right now.
James- Yeah, not just her (Becky)
James- Maybe we can let Vanessa do what she does best. Let her campaign for herself... she's good she can campaign ...
Meg- We need to be on her side
Jackie- Exactly, we have to talk to her
James- we just need to let her know ... if she can pull the votes, we are behind her to save her over Shelli ...
Meg- I just keep thinking about her sitting there.
James- who Shelli?
Meg - yeah
James- yeah she's just sitting pretty ...
8/11 - 12:10 PM BBT
Vanessa- I have your vote, right?
Steve- Yeah. I just need to find a way to cover it. Right now, John and Shelli think that I am with them, cause we are the three people and not the eight.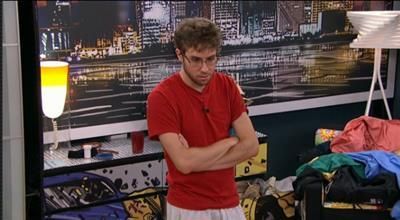 Vanessa- can I count on you?
Steve- The problem is I don't want to burn any bridges with Shelli and John

Vanessa- let me make you a deal... If within two hours of the vote I don't have the majority, you can vote the other way to protect yourself ..understand?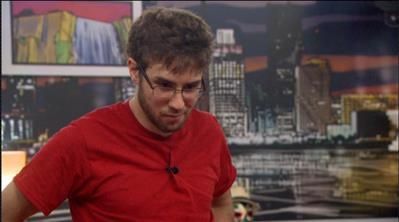 Steve- got it. What if I said I made a two week deal with you to keep you safe?

Vanessa- why do you need a reason, can't everyone just vote the way they want to vote, why do you need a reason?
Steve- I don't ... but I
Vanessa- So I can count on you then?
Steve- Can you give me until tonight?
Vanessa- Sure.
Steve- okay
Vanessa- I don't really have a choice, do I?
Steve - I don't want to lie to you
Vanessa- I don't want you to either
Steve- I respect you too much to do that ...
Vanessa- okay
Steve - You understand the pickle I am in
Vanessa- Not really
Steve- I do want to give it ( his vote ) to you .. I do
Vanessa- I've given you a lot of information
Steve- I know you have ... but there's a lot of people pulling me a lot of different directions and I want to do the right thing.
Vanessa- there's only been one person giving you the information, you wouldn't know **** about all that **** .. if it weren't for me
Steve- I know! You are right 100%...
I want you to stay. The problem is I don't see how it can happen.
Vanessa- I actually think it is really possible...
12:23 PM BBT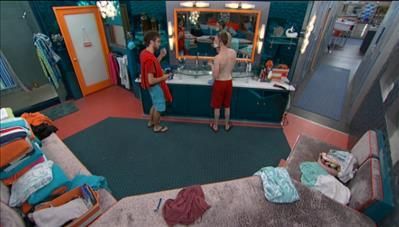 Steve- You're sure all of the Goblins are voting against Vanessa?
Johnny Mac - 100%.
Steve- we made a 2 week deal, when she was HoH for my safety... I kinda want to give her ( Vanessa) my vote, because I promised it to her.
Johnny Mac- she's coming after us, deals over
Steve- I know .. but my point is, it won't make a difference, if everyone else votes the way they are suppose to, it shouldn't matter. Like what you did for Jeff.
Johnny Mac - I hear ya... I wouldn't do it ..but yeah I have done it in the past...
Steve- how much would it piss Shelli off?
Johnny Mac- it might
Steve- but you understand why I'm struggling
Johnny Mac - I do.. and you would be the only one.. so it would be okay .. as long as you let every one know before hand...
Steve- that I'm keeping a promise...
Johnny Mac- it's not like you are trying to screw up the plan
Steve- no I'm not .. I will talk to Shelli about it .. and if it's going to upset her too much, I won't do it... but I kinda want to keep a promise.
Johnny Mac- it's just one vote... it's not going to matter...
Steve - can this stay between us?
Johnny Mac- I won't say anything.. this is on you man..
12:55 PM BBT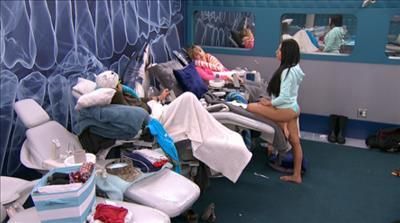 James, Meg and Jackie talk again about flipping their votes. They all agree that Becky won't change the target to Shelli, but they all still agree that this may be their only opportunity to get Shelli out, since she is stronger in competition that Vanessa.

James- Would she (Becky) hold a grudge afterwards?
Jackie- No.
Meg- I feel like she would understand
2:00 PM BBT - James/Meg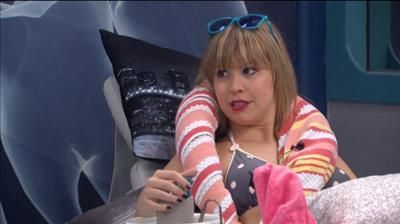 Meg- I love Becky but not enough to risk my game
James- Becky has been coming out too sweet on top lately. $10,000, a never not pass, HoH and no blood on her hands. Come on!
Meg- Dude, does she (Becky) know we know about The Generals yet?
James- No... but I'm 200% sure Becky tried to come up with that name when we were trying to come up with alliance names. Becky threw out that name... "The Generals" and I was like that's stupid
Meg- I believe what Vanessa is saying... and we're not betraying Becky. It's not like we are trying to vote her out or put her up
James- do you think Shelli and Becky are still really good friends?
Meg- 150%
Meg- the ideal game for us is that Shelli and Vanessa go Thursday ( double eviction)... then Liz, then Becky, then Austin, Johnny Mac and then Julia...
I'm going to win ( HoH ) soon
James- I want to pull the pin and let you roll it...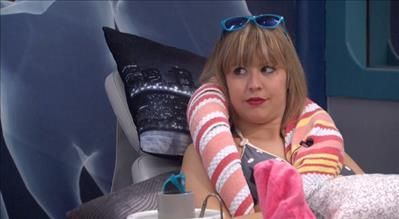 Meg-
we just have to watch what we say around her ( Jackie ) she gets it, but she has a lot of loyalty to Becky.
James- damn, what if Jackie decides to go on their side and **** us over ...
Meg- she's not going to do that, they don't like Jackie.
5:55 PM BBT
Vanessa to James - I'm not a rat, I'm not a phony...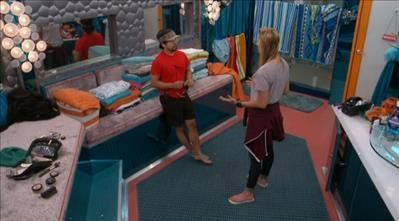 Vanessa tells James that Shell and Clay pulled Becky into the HoH room with her and that the first thing out of Becky's mouth, was that she had been waiting on them to pull her in...
They compare notes on the "Generals" alliance...
James- that's the name that came up before...
Vanessa - 100%... and we didn't accept it ... that's the irony of it ...
Vanessa explains how Becky switched sides... switched her sleeping patterns to hang out with them...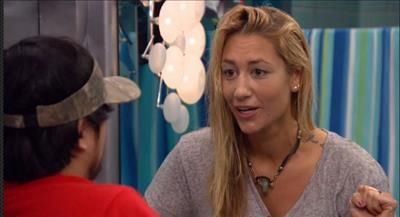 Vanessa- Her (Becky's) exact words "I'm shifting from night crew to day crew"
Vanessa tells James that he was Becky's target, that she was running to Clay and Shelli and telling them everything, when he was HoH, and that Becky said he is a
sexist, doesn't like him personally and she ( Becky ) said she bakes and plays a girly role when he is in power.
Vanessa- This is the **** that gets my blood boiling. This is rat ****. I didnt get to play both sides. Why does she get to?


6:08 PM BBT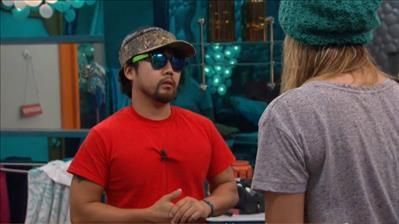 James - do you think you can get Austin and Liz and Julia on your side? That's the main factor.
Vanessa- 100%
James- because if me, Jackie and Meg vote ... then you would stay.
Vanessa- 100% ... they will, I've had their back. I've been loyal.
James- if you can have Austin talk to me..
Vanessa - I will. And, I'm going to give you the rest of the facts.
6:13 PM BBT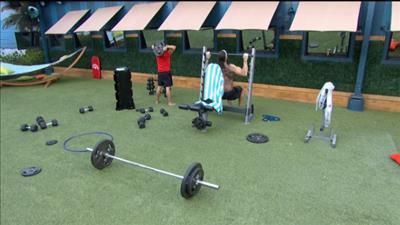 James- I told Vanessa that it doesn't really matter to me, that if you and the twins are on board... and if you talk to me about it.. we can come together as a group...
Austin- double eviction, stays the same.. then we are all good...I told Jackie, the 6 of us should make this decision together
James- I agree.
James to Austin - I found out I'm a sexist. Becky said I'm a sexist.
Austin- Did she?
James- Yeah...does that mean I'm a pig?
Austin- I think the term is sexist pig
6:25 PM BBT
Vanessa- I want to tell you what Steve told me when I asked him if he would vote for me. He said "I'm sorry Vanessa, as much as we are close and everything, if I keep you over Shelli, then there are only 2 of us left, that weren't in that alliance of 8... and I'm going to be the one to go up on the block, so the 3 of us need to work together, Shelli, Johnny Mac, and I" .. he's basically telling me that they are in an alliance... without saying those words..

Austin - Jesus ****...

Vanessa- so that's another reason why ...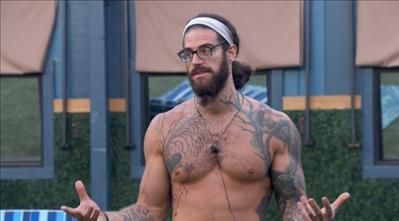 Austin - so it's 3/3/3 ...
that's what I was worried about.
Vanessa- it actually puts Becky at the top position pyramid of alliance.. .where she has ties to Austin and the twins, ties to you ( James ) three.. and ties to them 3 ...
James- that's what she was blaming you for ...
Austin- but her reasoning is really what she is doing ...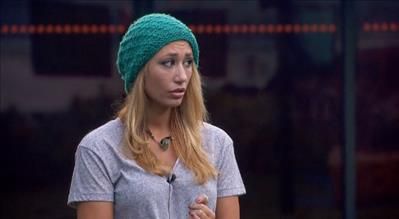 Vanessa - I'm literally the most loyal ****ing person. I won't compromise my integrity
James- yeah she ( Vanessa ) wouldn't tell me ( who said his name )
Vanessa- I wouldn't .. but now that Becky is on my **** list, I'll tell you anything you want to know ...She's just not the maid in the mouse slippers in the kitchen... she's not someone you can trust.. and I'm the fool that kept her in the game...

James- yeah she ( Vanessa ) risked her game for her ( Becky ) ... I could have put you ( Vanessa ) on the block ...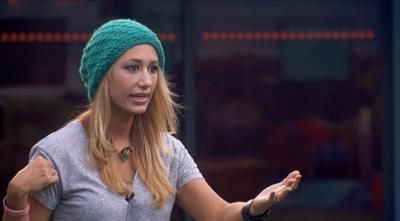 Vanessa- it was 100% her ( Becky ) had she won that HoH .. things would have been different... but you won and she sits up there.... and then runs to Clay and Shelli and tells them everything... that is an opportunist. She has ties to every single group. You keep me in the game, you know you have my word about the deal. I'm not going after you. I'm tell you she (Becky) is my target 100%. I won't even put up any of you 3 ( James/Meg/Jackie ) ... I will put up Steve or Johnny Mac

James- I'm on board... and I think that Jackie and Meg will be too...

Vanessa- I have never broken my word in this game. I told one lie in this game...to protect her (Becky) and she was never going to keep her word. It's not fair...

James- You got me sold. It didn't really take much to sell me.
Austin- That just sold me 100%
7:09 PM BBT

​
James- They (Austin and the twins) are totally on board with voting Shelli out.
Meg- I figured it
James to Meg- I got so much information. I knew Becky was a snake in the grass. She tried to show her allegiance to Clay/Shelli by telling them everything during my HOH. We can't trust Steve, if we tell him anything, he might go tell Shelli.

Meg - Becky knows that Shelli is going after us, she wants to keep Shelli to go after us. If Shelli stays then Shelli will target us 3 & Becky is safe.
James - yes, she ( Becky ) keeps Shelli to do her dirty work, , then there's no blood on her )hands...

Meg- this is a big game changer week

Austin joins...
Austin- we were just saying that if Becky and Vanessa are fighting it out, then we are safe, and so are you.
James- she ( Vanessa ) said that she's not coming after us or them ( Austin/twins)
Austin- she said she would put up Becky and Steve or Johnny Mac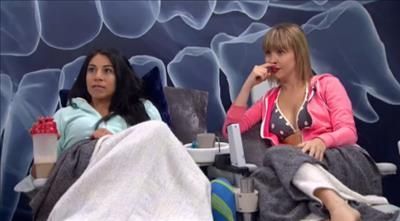 Meg- the decision needs to be made tomorrow night


Jackie- If you and the twins were to win HoH, who would you want to go after?


Austin- Very worried about Steve and Johnny Mac has been sketching me out all week... with all his 40 Diary's ( Diary Room)...the idea would be .. the 3/3 not touching each other at all.
James - at all
Austin- because everyone else in here wants that to happen ... we could be Final 6 if we wanted to.

Jackie- we could be solid with each other.

Meg- she ( Becky ) has no question in her mind, that we are voting her way.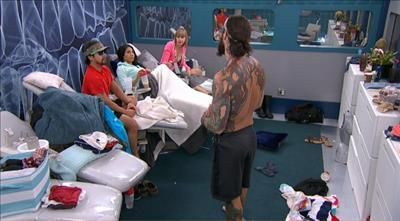 Austin- she told us ( him/twins ) that we can vote the way we want, because she knows that she has you guys .. and Steve... and Johnny Mac

James- we will never get her ( Shelli) back on the block like that. this is our time to stamp it.

Austin/Meg/Jackie agree

Austin - Becky things that she is safe, because she thinks that Vanessa is going home this week... and Shelli was never even upset about this week, because she knew.

James- If Shelli, Steve and Johnny Mac come together, we are ****ed

James, Meg, and Jackie all agree that they can trust Austin to come together and vote out Shelli on Thursday
8:32 PM BBT
Steve tells Shelli that he made a 2 week deal with Vanessa and that he doesn't want to break his word to her.
Shelli- If she didn't specify votes, then this isn't going against that
Steve- Right, it isn't ...
Steve tells her that she's staying no matter what, so his vote won't make a difference...
Steve - there's no doubt in my mind I need you here more than her.
Shelli- Then that should be all you go off of...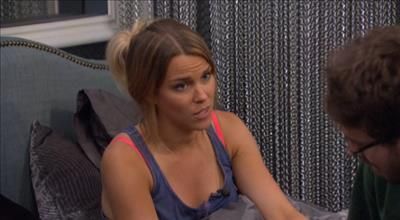 Steve- If you walk out that door
Shelli- You would be the first that they would flip on.
Steve- That is a very true statement.
He tells her again that he doesn't want to be someone that comes across as not keeping their word.
Shelli- You didn't give your word about votes
9:44 PM BBT
Becky - I don't think that James would ever swing ( his vote) he wants her out ...
Shelli- okay
Becky- So far, so good. You obviously know what I want. I want what you want.
[URL=http://s254.photobucket.com/user/LexieBigBrotherUpdates/media/BB17a/BB17b/ScreenShot3182.jpg.html]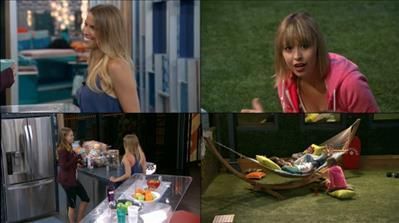 [/URL
Meanwhile in the back yard...

Meg, Austin, and Liz are plotting Shelli's eviction ... and talking about how Becky will be pissed about it.

Julia joins them...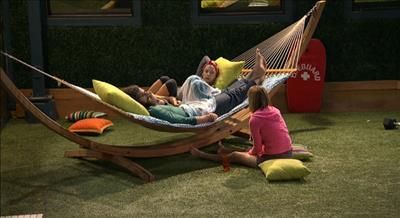 Meg- Vanessa should put up Becky and Johnny Mac. If either win veto, send the other one home.
Austin- all Becky has done is bring us closer.
Meg- yes!

They decide that the 6 ( Meg/James/Jackie/Austin/Liz/Julia) will come together after the 2nd HoH lockdown on Thursday, to decide which way they will vote.
After Meg leaves...
Austin to Liz and Julia - Both teams of three need to protect each other. As long as Becky and Vanessa are fighting, that's 2 people fighting ahead of us .. an they need us...
Austin- Shelli has to go
Julia - I know....
Liz- bye bitch

10:35 PM BBT
Vanessa laying it all on the live for the Goblins...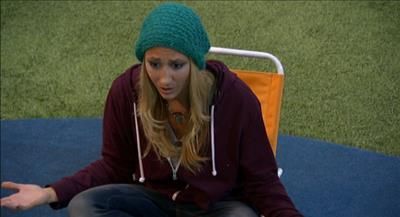 Vanessa tells them that Shelli, Clay, Steve and Johnny Mac all wanted Austin to stay and Jason to go up. She tells them that Becky said she knew she was the low man on the totem pole and she has been waiting for Vanessa, Shelli and Clay to come to her. She tells them about the switching between "night crew" and "day crew". and how Becky said "for me, I'm targeting James".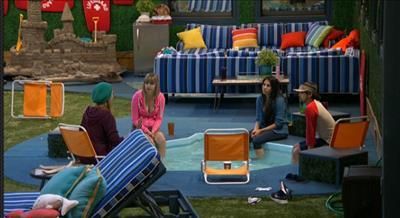 Vanessa- She flat out said it. I'll put my hand on a bible, she was playing that HoH to knock James out... And, hand on the bible, she said quote/unquote " Jackie has to go but I'm not the one to put her on the block"
( she's talking 100 miles a minute ... you can FLASHBACK for it all )
Will this help her or hurt her?
The drama continues on the Live Feeds..
Catch it all on the Live Feeds....
Try them now....
Just
CLICK HERE
or on any of the live feed banners you see here to get signed up and help support this website at the very same time.
Catch upon all the action of the day with our Live Feed Updates HERE
or join in on a Live Feed Discussion
HERE
Follow us on Twitter -
https://twitter.com/BB_Updates
and Facebook -
https://www.facebook.com/bigbrotherupdates
Check out one of our favorite places on the net - -
SirLinksAlot.net
Please note: If you are a returning member, you will need to register again.
*Your old BBU sign in and password will not work - you must Register again

.

For all ( returning or new ) registering:
There is a two step registration process...

1) Complete registration and you MUST include a valid email address you can check.
2) Upon completing step 1 - make sure you check your email address because you MUST click on the second step verification link to complete your registration process.
As always, thanks for reading ~~ Lexie