Big Brother 17 Double Eviction Night is over and we have all the results. Who was the first house guest evicted tonight? Who won Head of Household? Who was nominated? Who won the Power of Veto and was it used to save one of the two nominees? Which house guest is the second member of the Big Brother jury. It's probably NOT who you were thinking it would be! Keep reading or click "see more" below for ALL the SHOCKING results!
Catch all the drama LIVE with CBS All Access Big Brother Live Feeds!
It's just not Big Brother without the
Live Feeds

,
you're sure to enjoy watching all the ins and outs that you miss by only watching the television episodes. This season the Live Feeds are only 5.99 per month, which is a great price for so much crazy entertainment! Plus, signing up for the live feeds by clicking on the banners and links here on our website, is a great way to help support all that we do here all summer long.
CLICK HERE
to get signed up today and help support this website at the very same time. We truly appreciate your support.
The craziest night of the summer starts right now!
Live Votes:

Austin- Shelli
Steve- Shelli
James- Shelli
Meg- Shelli
Jackie - Shelli
Julia - Shelli
Johnny Mac- Shelli
Liz- Shelli

By a vote of 8 - 0 .... Shelli Poole has been evicted from the Big Brother House and becomes the 1st member of the Big Brother 17 Jury.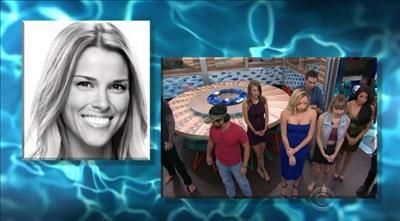 Julie to Shelli - Do you regret putting the target on your back, being in a showmance?
Shelli- Not at all
Shelli says - ( if she comes back in the house ) - I'm rooting for my boys Steve and Johnny. If they are there, I'll be riding with them
1st Head of Household Competition: "Getting Loopy" ( True/False questions based on the Video Loops they preview yesterday)
Question one - everyone correct
#2 - James, Liz, Meg, Jackie OUT
#3 - all correct
#4 - Julia and Vanessa OUT
#5 - all correct
#6 - Austin and Johnny Mac out
Steve is the new Head of Household
Steve Moses nominates Meg and Jackie for eviction
Power of Veto Competition
Players are - Steve, Jackie, Meg, Johnny Mac, James and Vanessa

Power of Veto: "Slippery Slope"
Roll ball down ski slope. Get one ball in to each of three holes and buzzes in. Must be in order or they get eliminated. They must be done in numerical order. After 3-1/2 minutes if noone has it the one that got the most balls in the least amount of time wins.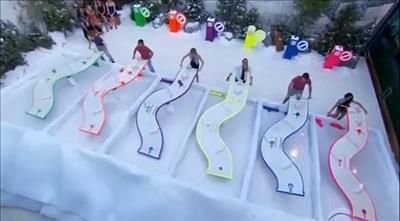 Johnny Mac won the Power of Veto Competition
Johnny Mac does NOT use the Power of Veto
Either Jackie or Meg will be evicted tonight....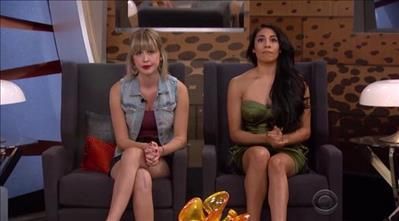 Live Votes:
Vanessa- Jackie
Becky- Meg
Johnny Mac- Jackie
Austin - Jackie
James- Jackie
Liz- Jackie
Julia -Jackie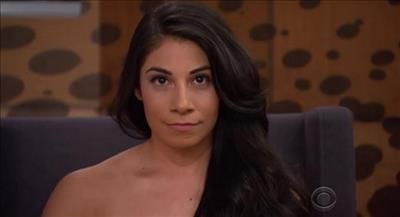 Jackie has been evicted from the Big Brother 17 house and becomes the 2nd Big Brother 17 Jury Member.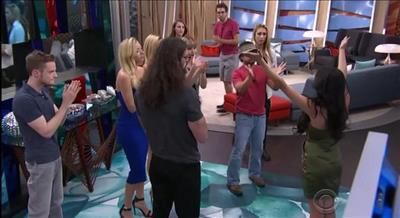 Jackie tells Julia Chen that there was a "mistake: because Steve "thought" that she was going to backdoor him, ( if she won HoH tonight ) but she wasn't she was going to back door Austin, and that Austin knew that. So, there was
miscommunication
to Steve and that's why she was on the block with Meg tonight.
Who will be the next Head of Household?
Which two house guest will they nominate?

The drama and the fallout continues on the Live Feeds!
Try them now....
Just
CLICK HERE
or on any of the live feed banners you see here to get signed up and help support this website at the very same time.
Catch upon all the action of the day with our Live Feed Updates HERE
or join in on a Live Feed Discussion
HERE
Follow us on Twitter -
https://twitter.com/BB_Updates
and Facebook -
https://www.facebook.com/bigbrotherupdates
Check out one of our favorite places on the net - -
SirLinksAlot.net
Please note: If you are a returning member, you will need to register again.
*Your old BBU sign in and password will not work - you must Register again

.

For all ( returning or new ) registering:
There is a two step registration process...

1) Complete registration and you MUST include a valid email address you can check.
2) Upon completing step 1 - make sure you check your email address because you MUST click on the second step verification link to complete your registration process.
As always, thanks for reading ~~ Lexie