Big Brother 17 Power of Veto Competition is over and we have the results! Who won the Power of Veto? Will it be used to save one of the nominees? Keep reading or click "see more" below to find out.
Catch all the drama LIVE with CBS All Access Big Brother Live Feeds!
It's just not Big Brother without the
Live Feeds

,
you're sure to enjoy watching all the ins and outs that you miss by only watching the television episodes. This season the Live Feeds are only 5.99 per month, which is a great price for so much crazy entertainment! Plus, signing up for the live feeds by clicking on the banners and links here on our website, is a great way to help support all that we do here all summer long.
CLICK HERE
to get signed up today and help support this website at the very same time. We truly appreciate your support.
Power of Veto Players were:

Head of Household - Liz Nolan
Nominees - Johnny Mac McGuire and Becky Burgess
Picked Players - Meg Maley, Steve Moses, and Austin Matelson
Host - James Huling
Liz won the Power of Veto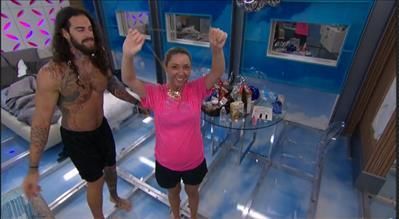 The PoV Competition was OTEV....
Austin, Julia and Liz talk about how aggressive Becky was.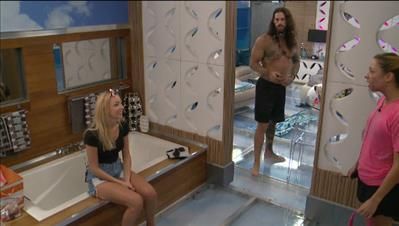 Liz- she's a freakin' dirty player.. I can't believe she did that to you ..
Austin- I know .. but hey that could be the reason we change our mind about her.. she should have trusted us, once Johnny Mac was out ( he went out Round 1 ) ... she should have trusted us...
Liz- I know
Austin -this is the thing we can tell her ( Becky ) or talking about .. because we need a reason right?
Liz- my reason is.. I don't want to get any more blood on my hands...
Austin- no, but why are we going to vote her out
Liz -oh
Austin- we are switching our vote because she basically knocked me over, which means that she didn't believe that we were all going to keep her.. Johnny Mac was already out ... she was fine.. everyone else was working for her, so for her to knock me over... must be like her thinking .. she's going to come after us next week...
Liz- honestly, you don't even need to make up a reason
Austin- we do ... because she's a jury vote... her and Jackie will be together .. that's 2 votes...
Liz - - ohhhh I forgot she's a jury vote
Austin- and she could come back.. so don't forget that ...
Liz- oh my god .. I forgot she's a jury vote.. we have to be nice to her now.. I feel so bad
Julia- doesn't matter if she's a jury vote.. she has to go ... she could win the next HoH and your ass is going up ..
Liz -and where's Vanessa, why doesn't she come up here?
Austin - because she's already started her "anti-us campaign" I guarantee you ... ( she's saying ) they are too powerful as a threesome, they need to broken up...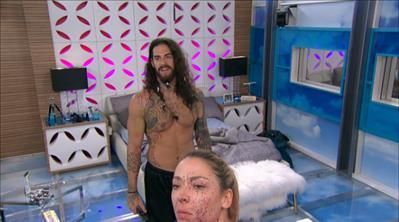 Austin - there she is ... look... just moping around thinking she's the back door target...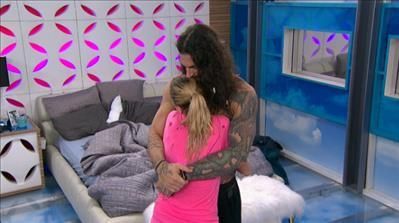 Austin- I'm so proud of you
Liz- I'm proud of you too
Austin- I told you we would do it ... you're turning into a little Janelle in her.. she won OTEV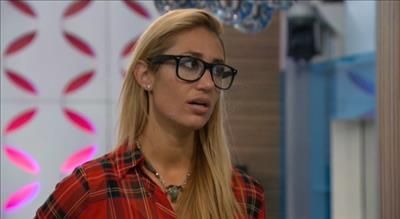 Vanessa to Austin/Liz- You have to send Becky out. If Jackie comes back, she can link up with Becky and John

Austin talks about how without Becky, Johnny Mac he's really lonely ... and that he's willing to work with them...
Vanessa- fine.. we'll work with him... it really sets things up nicely .. we have 2 duos .. ( Meg/James) ( Johnny Mac/Steve ) .. and we pit them against each other .. and then just back off.. and if one of us ever goes on the block... as a pawn ... because we have to .. we have the votes...
Austin - we have the votes from this point on ...
Vanessa- that's what I'm trying to explain to you .. we are actually really good.
Austin- yeah and all 4 of them are actually afraid to go after the middle... because we are the middle of this ... they are all trying to work with us...
Liz- it's perfect
Vanessa- it couldn't be any better...
Austin- we are set.
The drama continues on the Live Feeds!
Try them now....
Just
CLICK HERE
or on any of the live feed banners you see here to get signed up and help support this website at the very same time.
Catch upon all the action of the day with our Live Feed Updates HERE
or join in on a Live Feed Discussion
HERE
Follow us on Twitter -
https://twitter.com/BB_Updates
and Facebook -
https://www.facebook.com/bigbrotherupdates
Check out one of our favorite places on the net - -
SirLinksAlot.net
Please note: If you are a returning member, you will need to register again.
*Your old BBU sign in and password will not work - you must Register again

.

For all ( returning or new ) registering:
There is a two step registration process...

1) Complete registration and you MUST include a valid email address you can check.
2) Upon completing step 1 - make sure you check your email address because you MUST click on the second step verification link to complete your registration process.
As always, thanks for reading ~~ Lexie