CBS Big Brother Live Feeds are Live and filled with scheming and backstabbing from the word go. As we joined the houseguests, we find out that the Battle of the Block has been played, we have a new final Head of Household for the week, and 2 nominees, but there's a back door plan already in place depending, of course, on the outcome of the Power of Veto competition. Who is the new Head of Household? Who did they nominate? Who is the real target this week? We have all the results! Click "see more" below for all the updates. Try the Live Feeds Free for one week. Just click HERE to get started. You'll love watching all the drama play out right in front of you! And, it's a great way to help support all that we do here all summer long.
As a result of the Battle of the Block Competition, James is the new Head of Household as Jason was dethroned, making his nominees John and Becky safe from the threat of eviction.

James' nominees
Steve
and Jackie

remain on the chopping block for eviction.
However, there seems to be a plan in the works to back door Jace.
But, Jace and Austin have a plan in place...
9:30 PM BBT: Jace and Austin in photobooth room
The call their alliance "Jastin" and their
target for the week is to backdoor Jeff, though Jason appears to be their backup plan, if he doesn't win the Power of Veto.
They are looking to solidify alliance(s) with Clay, James, and Audrey; Audrey being optimal F3, and take out Shelli within a couple of weeks because of her "antics".
There's also talk of having Liz in a F3 alliance, as well. Calling her their "Janelle".
Update - 2:31 AM BBT - Jace/Liz/Austin
decide that Audrey isn't someone that can be trusted. Jace wants to set her up to leak misinformation so he can call her out about it. The plan now is to get closer to Becky, try to make sure that if she wins the Power of Veto, she doesn't use it and to continue to try to get Clay into their alliance, as well. They also feel "solid" with John.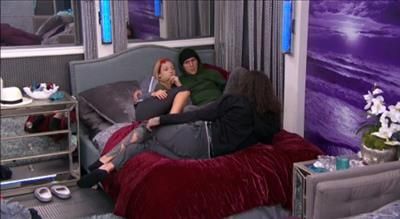 For now, they solidify their "Tres Amigos" alliance...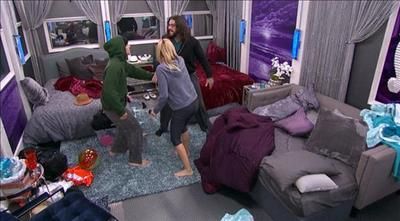 *It's unclear how/why but Vanessa seems to have given up her immunity that she won ( for sitting out in the first Head of Household Competition) to Austin.
9:49 PM BBT - Jackie/Shelli
Jackie- I don't want Steven to win ( POV )
Shelli- why?
Jackie- he would take himself off and then Jace would go up with me.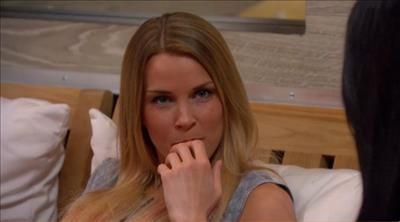 James joins Jackie and Shelli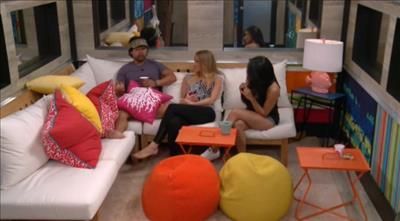 The girls ask James if "the plan is still on"?

James- unless people go against me and and keep Jace.

Jackie- everyone is going to use the POV on me.
James - He (Jace) is going to flip.

James tells Jackie and Shelli that he is nervous, but he will just pull Austin aside after and just explain it to him.
James- Jace is definitely trying to form an alliance, he was trying to form one with me, that's why it's going to be like a big slap in the face for him.
Jackie- as long as it's not me.
James- if I was HOH next week, I would not know who to chose to go home. It would be tough.
Jackie- especially when you can be dethroned.
James- that's why you always have to have a pawn and that one target.
10:50 PM BBT
Audrey, Meg and Clay discussing voting Jace out ( they are all on-board)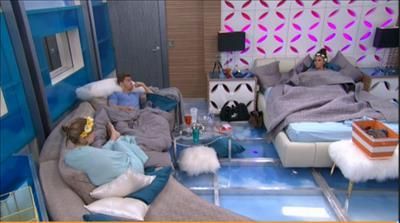 They are worried about Becky and want her out next week.
Audrey wants Clay to "flirt" with her. He says he will, if he has to.

Audrey- I just don't have anything in common with her. I'm sure she's a great person.
Clay- I don't know about Liz
Meg- she's the one that scares me the most if she wins.


Meanwhile ...

Vanessa can't keep it together. She's been emotional all night long.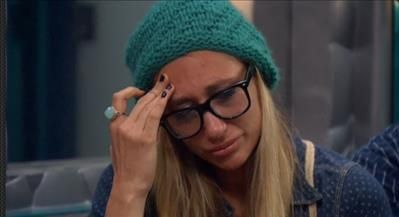 Vanessa - No amount of money is worth being this sad
There's much more to come...

Try the Live Feeds FREE for 1 week! CLICK HERE to get started and help support this website at the very same time.
Live Feeds not for you? Another great way to help support this website is by making a donation via our PayPal button. It's just over there on the right! We truly appreciate any support and would not be able to do this without you! Be sure to add your BBU Nickname in the note section so I can add your new donator button!
Join us on our Forums for great discussions and live feed updates, all summer long.

As always, thanks for reading ~~ Lexie

Check out one of our favorite places on the net - - SirLinksAlot.net

Follow us on Twitter - https://twitter.com/BB_Updates
and Facebook - https://www.facebook.com/bigbrotherupdates