Big Brother 17 Vanessa Rousso keeps the drama rolling this week and Johnny Mac McGuire tries to roll along with her. Will his efforts pay off? Keep reading or click "see more" below to find out!
Catch all the drama LIVE with CBS All Access Big Brother Live Feeds!
It's just not Big Brother without the
Live Feeds

,
you're sure to enjoy watching all the ins and outs that you miss by only watching the television episodes. This season the Live Feeds are only 5.99 per month, which is a great price for so much crazy entertainment! Plus, signing up for the live feeds by clicking on the banners and links here on our website, is a great way to help support all that we do here all summer long.
CLICK HERE
to get signed up today and help support this website at the very same time. We truly appreciate your support.
8/25 12:37 PM BBT
Johnny Mac to Vanessa- are you saying you want to move forward with me for a jury vote or if I come back?
Vanessa- dude, I've been saying it for weeks... ask Steve.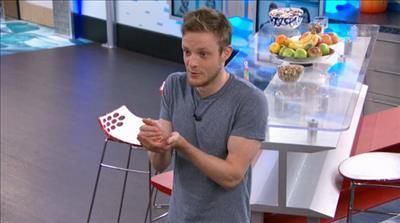 Johnny Mac- If I go as it is right now...you've got my jury vote and if I come back, I'm not coming after you, so if that's all you're worried about.
Vanessa- no it's not .. it's like you said, logically ... if you are the one that stays... Austin and the twins have each other ... James and Meg have each other... we would have to work together...
Johnny Mac- and they ( Austin/twins) have Steve, closer than you think... than either of us..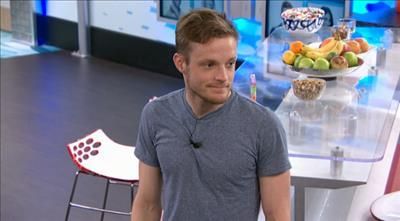 Johnny Mac- my whole argument for coming back is that I've been screwed over by everyone in this house at some point or another...
Vanessa tells him that she really does want to talk to him more...

At that point.. Liz storms in complaining about Austin ...
Austin follows asking "what is her problem" ...

( no worries it's just a tiff about taking a picture with the HoH camera)

Vanessa and Johnny Mac decided to talk again later...


1:50 PM BBT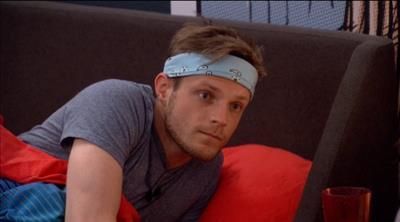 Johnny Mac tells Vanessa that he can work on getting James and Meg's votes. He will tell them that while he is upset with them and the Becky vote, he's mad at Vanessa... but more upset with Austin and the twins and will target them...

Johnny Mac- I think that will help get their votes...

He tells her that he will do everything.. she won't need to get blood on her hands...
Vanessa - The twins are going to want me to vote with them
Johnny Mac - It can be a last minute thing.... last minute I will make my move on Meg and James...
Vanessa- why not do the reserve?
Johnny Mac- with the twins..? You've lost a lot of klout with them.. I don't know what they are telling you ... but whatever relationship you think you have with them (Austin/Liz/Julia), it's not as good as you think it is...

Johnny Mac tells her that Austin only kept her off the block (as a first nominee) for fear of her flipping out ...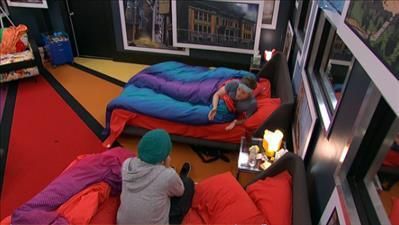 Johnny Mac- it was just a fear thing..

Vanessa- are they saying anything that makes you think they don't trust me...
Johnny Mac- to me .. yeah ... but the plan was for me to get the blood on my hands to take you out ... but James and Austin didn't throw the HoH .. the explanation for that was.. that they ( Austin/James) didn't trust each other..
Johnny Mac- at some point, Meg and James have to realize there is two of them and three of them (Austwins) and Meg is incapable of winning...
Johnny Mac explains what he knows about it.. how it involved the week that Austin was suppose to be back doored.. the 8 person alliance... her playing multiple sides... etc.

Johnny Mac- They were telling me veto was going to be used no matter what... you would go up. If you won, they would have you use it and James would go up .. and I know that once you won it ... they didn't want it used.. you are telling me that you could use it... but I know that they are up there telling Steve that he's safe...
Vanessa- It was 100% Austin's decision not use veto
Johnny Mac- - I believe you. I could tell by the looks on both of your faces which one was lying. I believe you are telling the truth.. but he ( Austin ) is trying to put it on you ...

Vanessa- I have an idea maybe... but I'll have to think it through ...
Johnny Mac- yeah .

Vanessa talks to Austin and Liz about her conversation with Johnny Mac, she spins it as she's going to let Johnny Mac "think" he has her vote to stay, so that he will talk with James and Meg to get their votes as well. She will use this as a test for Meg and James to see if they will tell Austin and Liz what Johnny Mac is up to. She says if they don't, they would have a reason to target them.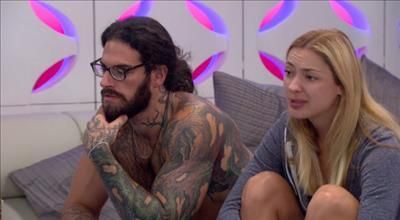 Vanessa - If he thinks I would ever trust him to be his #2, he fell on his damn dentist head

Moving forward... Vanessa talks to Johnny Mac again later in the evening asking him if he's tried to talk with James or Meg yet... ... 6:44 PM BBT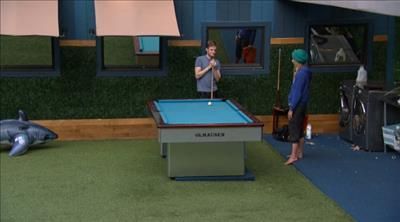 She's clever enough, to move forward with her plan to convince Johnny Mac that she wants to work with him, although she knows she can't do anything without the twins being on board with the idea, which they are not, but she tells him that he should talk to them.. offer to throw an HoH... be a pawn up against whoever returns to the game...
Vanessa to Johnny Mac- If you have the opportunity to take out a player like Steve I think it's something they (Austin/Liz/Julia) are open minded to
Johnny Mac tells her that if he goes with Meg/James, he's can put any of the 3 ( Austin/Liz/Julia) on the block .. but if he goes with Austin/Twins... it will be like "you have to do this, this and this" ( from them) ... y
ou, me and Steve are seen as three.. . James and Meg are one, because Meg isn't going to win anything, but they vote as two... but you would rather see me try to work something out with the twins?
Vanessa- It would be easier for me... but if it's impossible... we can do this ... why not let it be Plan A.. you try that .. and Plan B.. you do what you were going to do...
Johnny Mac asks her if he can't get the twins to switch their vote, is she willing to vote with Meg and James... if he secures their votes..
Vanessa- I can always fall back on that I don't want to keep Steve, but I would rather go with them.. (twins)
Johnny Mac- I will try your plan first...if that fails, at the last minute I will try to save myself... you really don't have to get involved in this anymore... it's all on me now.
Vanessa- they ( twins/Austin) really seem in the middle...
Johnny Mac- I'll try but... I think it's a no ( from the twins)

Throughout this entire conversation with Johnny Mac, Vanessa knows that Julia and Liz want Johnny Mac out. However, it doesn't stop her from trying to get any information out of him that she can, before he leaves the game, having an ally on the wild chance that he stays in the game and the hopes of securing a jury vote, if he leaves and doesn't get back in the game. Vanessa continues to play both sides against the middle as she
she even tells Steve later that the vote against Johnny Mac will be
unanimous.
8:00 PM BBT
Vanessa talks to Austin about the chance of keeping Johnny Mac over Steve... as she works it she tells Austin ..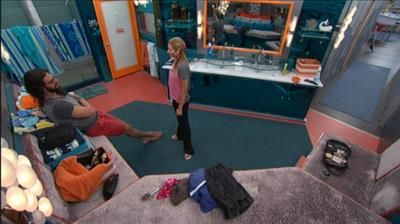 Vanessa- there is a little part of me that wants to stop having the most predictable show of all time...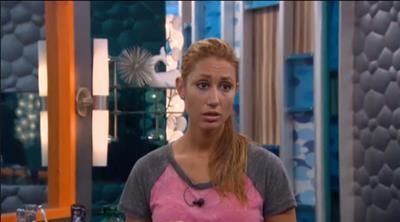 Vanessa- I think you should talk to Johnny.. you tell me what your instinct is .. we have options.
Austin - I like to keep options open until the last day, to keep him ( Steve ) from blowing us up...

Who will stay? Who will go?
The drama continues on the live feeds...
Try them now....
Just
CLICK HERE
or on any of the live feed banners you see here to get signed up and help support this website at the very same time.
Catch upon all the action of the day with our Live Feed Updates HERE
or join in on a Live Feed Discussion
HERE
Follow us on Twitter -
https://twitter.com/BB_Updates
and Facebook -
https://www.facebook.com/bigbrotherupdates
Check out one of our favorite places on the net - -
SirLinksAlot.net
Please note: If you are a returning member, you will need to register again.
*Your old BBU sign in and password will not work - you must Register again

.
For all ( returning or new ) registering:
There is a two step registration process...

1) Complete registration and you MUST include a valid email address you can check.
2) Upon completing step 1 - make sure you check your email address because you MUST click on the second step verification link to complete your registration process.
As always, thanks for reading ~~ Lexie