Big Brother 17 Power of Veto Competition is over and we have the results! Who won the Power of Veto? Will it be used to save one of the nominees from the threat of eviction? Keep reading or click "see more" to find out!
Catch all the drama inside the Big Brother 17 house, with the CBS All Access Big Brother Live Feeds!
It's just not Big Brother without the
Live Feeds
!
You're sure to enjoy watching all the ins and outs that you miss if you only watch the television episodes. This season the Live Feeds are only 5.99 per month, which is a great price for so much crazy entertainment! Plus, signing up for the live feeds by clicking on the banners and links here on our website, is a great way to help support all that we do here all summer long.
CLICK HERE to get signed up today and help support this website at the very same time. We truly appreciate your support.



Austin won the Power of Veto....
Vanessa is telling Liz and Julia that she doesn't trust Austin at all ...
Vanessa - I am this close to unloading everything on that man (Austin). I'm tired of him playing ME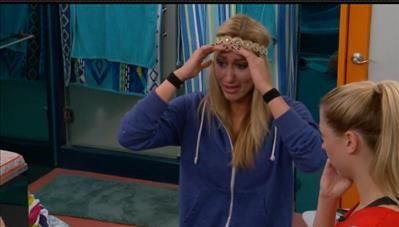 Vanessa tells them that Austin had a chance to throw to Julia, but he didn't ... even though he knew he wasn't the target this week... he KNEW that the target was Liz or Julia, he KNEW he was safe...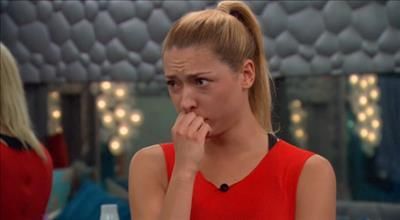 (Apparently, Vanessa was giving the twins advice on who to pick and take out each round and Austin wasn't happy about it, thinking that she ( Vanessa ) was scheming to flip the votes on him, if he didn't win the PoV. Of course, Vanessa is now telling the twins, that she ONLY had their best interest at heart, she's always true to her word, even if it hurts her own game. Austin let his emotions show, and said something when Jessie Godderz handed him the PoV necklace, which then set Vanessa's paranoia off, which is why the display of self-righteous behavior is happening )
Meanwhile... Austin and Johnny Mac celebrate Austin's win.....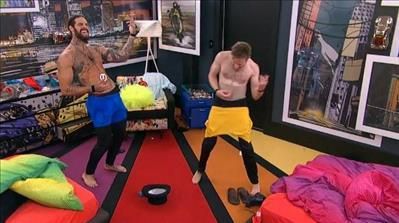 Austin to Johnny Mac - I think you need to keep Liz here. Us three can take Vanessa out of HoH. I think it's time that we bury the hatchet for real
Johnny Mac- let's do it

Then....
Vanessa tells Austin that she didn't like what he was insinuating that she would ever play the 3 of them...
Austin tells her he understands how she feels and he understands that she was looking out for her own game, in case she would be the replacement nominee...
Vanessa tells him to stop talking and listen to her... she tells him that whether he won or Johnny Mac won ( they were in the Final Round together ) had no relevance on her game... she was ONLY trying to help the twins, when they were asking for her advice...
Austin says he's had a "knee jerk" reaction and he apologizes.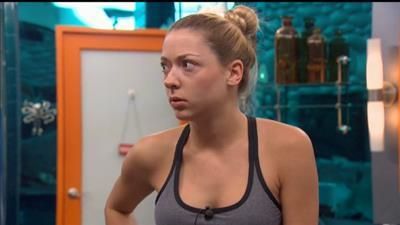 Meanwhile...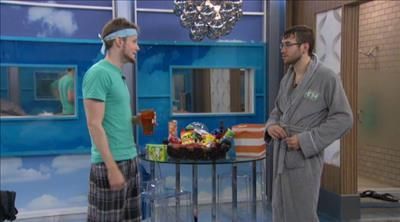 Johnny Mac tells Steve that Vanessa told him to take out Liz first before Julia...
Steve- Why did Vanessa want Liz out before Julia?
Johnny Mac- I don't know.. but it doesn't matter, the thing that matter is we are good with her, because I did what she wanted and we're good with Austin. Vanessa was setting herself up, so she would be good with the twins. So, Julia goes up? I think Julia should go, because we are good with Austin and Liz.
Steve tells Johnny Mac that he's not going to make any game decisions right now, because they will gain more information over the next few days...

Austin to the camera- Never mess with Judas...
Julia to Liz- why didn't he throw it to me?
Austin works to smooth things over with Vanessa.. telling her that he really didn't trust that he wasn't the target this week...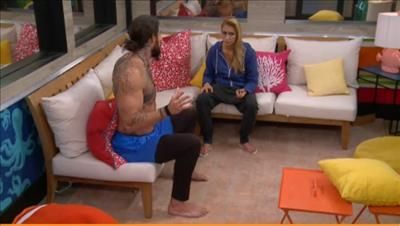 Liz to Julia- What do we do?
Julia- I'm going on the block and that's it. And, if it's me versus you .. I have a very bad feeling that..
Liz- it's me.
Julia- yeah
Liz- I don't trust Austin at all...
Julia- I know
Liz -I can't even look at him...
As Vanessa and Austin check on Liz ...

Liz to Austin- could you just leave me alone?
Austin - yeah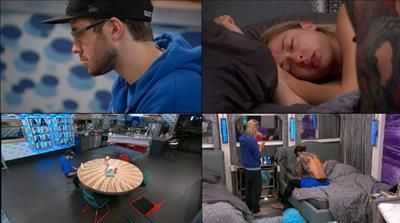 Steve to himself -
Why did you tell Johnny to pick Liz? Your story doesnt add up, Vanessa. I'm not going to tell you, but it doesn't.
What will Steve do now?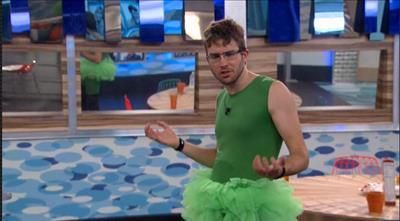 The drama continues on the live feeds....
CLICK HERE
or on any of the live feed banners you see here to get signed up and help support this website at the very same time.

Live Feeds not for you?
Like what we do here?
Like the Live Feed Updates?
Like the Live Feed Discussion?

Another great way to support this website is by making a donation via our PayPal link. It's safe, easy and secure to use. We appreciate any support!
Follow us on Twitter -
https://twitter.com/BB_Updates
and Facebook -
https://www.facebook.com/bigbrotherupdates
Check out one of our favorite places on the net - -
SirLinksAlot.net
Please note: If you are a returning member, you will need to register again.
*Your old BBU sign in and password will not work - you must Register again

.

For all ( returning or new ) registering:
There is a two step registration process...

1) Complete registration and you MUST include a valid email address you can check.
2) Upon completing step 1 - make sure you check your email address because you MUST click on the second step verification link to complete your registration process.
As always, thanks for reading ~~ Lexie