Big Brother 17 Vanessa Rousso continues to try to steer that game in her best interest, but with only 5 other people in the house, the walls are closing in. Can she continue to roll with the punches, or do the others finally have her number? Keep reading or click "see more" for a sneak peek inside the Big Brother 17 house.
Catch all the drama inside the Big Brother 17 house, with the CBS All Access Big Brother Live Feeds!
It's just not Big Brother without the
Live Feeds
!
You're sure to enjoy watching all the ins and outs that you miss if you only watch the television episodes. This season the Live Feeds are only 5.99 per month, which is a great price for so much crazy entertainment! Plus, signing up for the live feeds by clicking on the banners and links here on our website, is a great way to help support all that we do here all summer long.
CLICK HERE to get signed up today and help support this website at the very same time. We truly appreciate your support.




There's been much speculation between Liz, Austin and Julia that Vanessa is wheeling and dealing her way through the house, by making Final 2 deals with everyone. They've also come to the conclusion that it's best it Liz stays over Julia.
( although that's not how Vanessa wanted it to play out )


1:42 PM BBT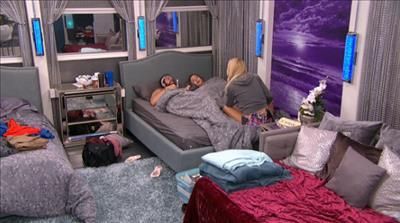 Julia to Austin - Do you have a Final 2 with Vanessa?
Austin- Of course.
Julia- Okay, so do I... she has a F2 deal with everyone.
Austin - I know...

Julia - I know I'm an idiot for trusting her.
Austin - I know... She (Vanessa) knew this was going to be done this week and she was not going to be the one to do it.
Julia- I don't trust her at all...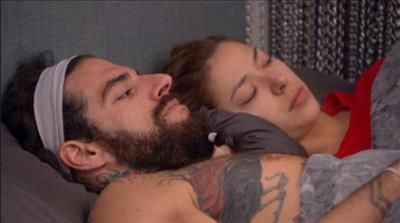 Austin- I don't know why she does this.... it's so dumb... I think it's going to backfire on her no matter what.... But, everyone is afraid to talk cause if it gets back to her (Vanessa), she goes nuts in public... she sets all these things up and no one wants to cause any waves...
Austin - she ( Vanessa ) says all the right things at the right times, all the right fights, all the right blow ups, all the right things said, she plays a perfect manipulation game, it's good. it's really good and she's going to use all that to make her case in the Final 2 on why she should win, and it's convincing, for someone that just wants to vote, based on no personal feelings. And, if she has the right person sitting next to her, she could win. But, she needs me and Liz to go out... at least Liz to go out right now, because Liz is the linchpin to all her **** .. the one thing she can't control is Liz.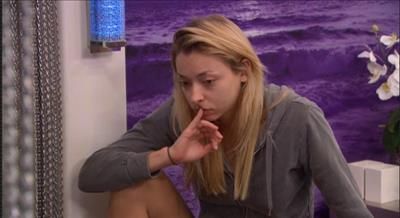 Julia - you gotta stay Liz... I'm ready it's my time. There's only 2 weeks left, you gotta fight, I know you can, you and Austin can make it to the F2.
Austin - we can do it, or die trying.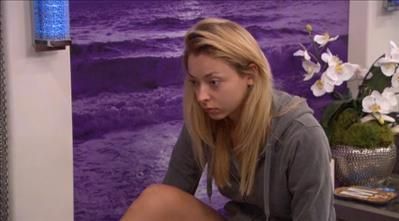 Julia - I did what I came to do. I won a veto. I won something. I'm not Victoria.
We are doing exactly what they want if you go. We're not doing it
Austin to Julia- Maybe when you are walking out the door, you blow **** up

Meanwhile...
Vanessa tells Steve that if he's on the block next week, and she wins PoV, she'll use it on him.
Later...

8:30 PM BBT
Vanessa tells Liz and Austin that she'll vote to keep Liz.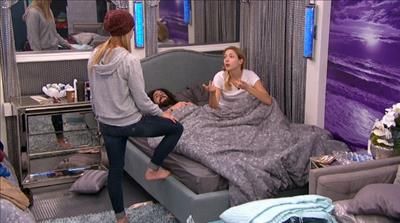 Vanessa to Austin and Liz -
a
s long as I have your word, that F3, even if Johnny Mac is in the game, you take me as your 3rd. I'm willing to do it, just as long as you guys realize what a big show of loyalty it is from me, and I know that I have that from you in return.
Austin- yeah you have it, we'll promise you
Liz- trust me, you know who I'm going after.
Vanessa- and the deal is, Johnny Mac's ass will be next to him ( Steve ) on the block
Austin - yes.. yes.
Vanessa- and if Steve wins the veto and I end up on the block against Johnny Mac
Austin - it doesn't matter...
Vanessa- I have your votes... ?
Austin - yes.
Vanessa- okay, I trust you guys.
Austin- they ( Steve/Johnny Mac ) have to go, they cannot be in Final 4 together. Them in the F4 together is terrible. It means they are probably in the F3 together, which means they are probably in the F2 together.
Vanessa- totally.

9:14 PM BBT -
Johnny Mac lets Steve know that Vanessa said that the twins are leaning towards keeping Liz
Johnny Mac-
I would have to put Austin and the twin up, right?
Steve- Cause they would stick together no matter what.
Johnny Mac- I bet I know what you are thinking. ....."How long will Vanessa stay loyal to us?
The drama continues on the live feeds....
CLICK HERE
or on any of the live feed banners you see here to get signed up and help support this website at the very same time.

Live Feeds not for you?
Like what we do here?
Like the Live Feed Updates?
Like the Live Feed Discussion?

Another great way to support this website is by making a donation via our PayPal link. It's safe, easy and secure to use. We appreciate any support!
Follow us on Twitter -
https://twitter.com/BB_Updates
and Facebook -
https://www.facebook.com/bigbrotherupdates
Check out one of our favorite places on the net - -
SirLinksAlot.net
Please note: If you are a returning member, you will need to register again.
*Your old BBU sign in and password will not work - you must Register again

.

For all ( returning or new ) registering:
There is a two step registration process...

1) Complete registration and you MUST include a valid email address you can check.
2) Upon completing step 1 - make sure you check your email address because you MUST click on the second step verification link to complete your registration process.
As always, thanks for reading ~~ Lexie