Big Brother 17 Power of Veto Competition is over and we have the results! Who won the Power of Veto? Will it be used to save one of the nominees?
Keep reading or click "see more" to find out!
Catch all the drama inside the Big Brother 17 house, with the CBS All Access Big Brother Live Feeds! By signing up for the live feeds, you get an inside look at all the drama that takes place inside the CBS Big Brother house AND with CBS All Access, you get just that "access to a ton of CBS content with just a few simple clicks.
You're sure to enjoy watching the all the ins and outs on the LIVE FEEDS that you miss if you only watch the television episodes. This season the Live Feeds are only 5.99 per month, which is a great price for so much crazy entertainment! Plus, signing up for the live feeds by clicking on the banners and links here on our website, is a great way to help support all that we do here all summer long.
CLICK HERE to get signed up today and help support this website at the very same time. We truly appreciate your support.



Johnny Mac McGuire won the Power of Veto
Austin and Liz are stressing out about what decision Vanessa will make....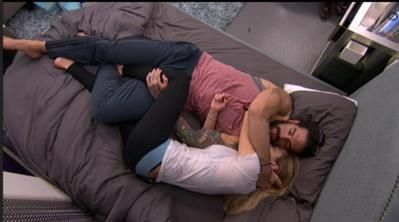 Remember "just last night, Vanessa promised Steve that he would not be going home this week, no matter what" ...
What will she do?
The drama continues on the Live Feeds...

It's never too late to try them.. ( plus you get tons of other CBS content, over 6,500 episodes on demand from currents seasons to complete past seasons. Catch up on your favorite shows or discover something completely new! ) and it's a great way to help support this website.
CLICK HERE
or on any of the live feed banners you see here to get signed up and help support this website at the very same time.

Live Feeds not for you?
Like what we do here?
Like the Live Feed Updates?
Like the Live Feed Discussion?

Another great way to support this website is by making a donation via our PayPal link. It's safe, easy and secure to use. We appreciate any support!
Join in on a Live Feed Discussion
HERE
check out our Live Feed Updates HERE
Follow us on Twitter -
https://twitter.com/BB_Updates
and Facebook -
https://www.facebook.com/bigbrotherupdates
Check out one of our favorite places on the net - -
SirLinksAlot.net
Please note: If you are a returning member, you will need to register again.
*Your old BBU sign in and password will not work - you must Register again

.

For all ( returning or new ) registering:
There is a two step registration process...

1) Complete registration and you MUST include a valid email address you can check.
2) Upon completing step 1 - make sure you check your email address because you MUST click on the second step verification link to complete your registration process.
As always, thanks for reading ~~ Lexie