Big Brother 17 Endurance Head of Household Round One is over and we have the results! Which houseguest endured? Keep reading or click "see more" to find out! It's never too late subscribe to
CBS All Access , not only do you get an inside look at the Big Brother house, you gain access to a ton of CBS content with just a few simple clicks.
You're sure to enjoy watching the all the ins and outs on the LIVE FEEDS that you miss if you only watch the television episodes. This season the CBS All Access is only 5.99 per month, which is a great price for so much crazy entertainment! Plus, signing up by clicking on the banners and links here on our website, is a great way to help support all that we do here, during the Big Brother season and beyond.
CLICK HERE
to get signed up today and help support this website at the very same time. We truly appreciate your support.


The Live Feeds went to Jeff Highlights at 8:01 PM BBT ... as the houseguest begin to prepare to play in Part One of the Three Part Head of Household Competition tonight...


This is what last season's Final 3 had to endure...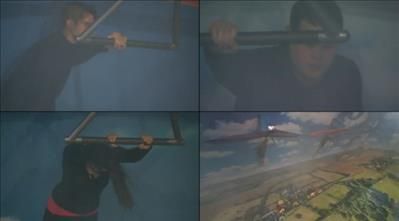 What will Big Brother dish out this time around?
8:43 PM BBT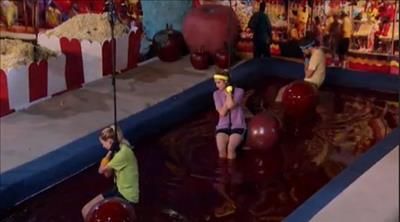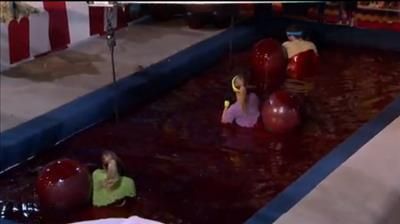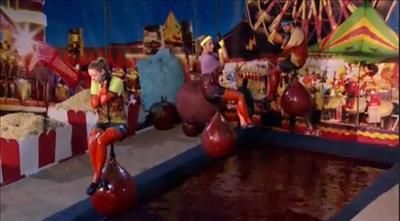 and then wham.. into the wall..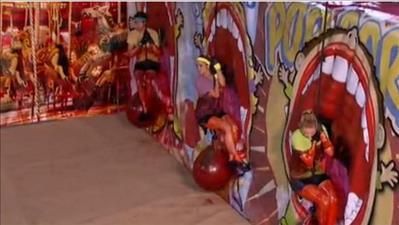 Followed by a BLAST of "cotton candy"...
As they continue to get slammed, dipped and blasted.. everyone hanging on just fine.

Vanessa- how is your package?
Steve- hanging to the left. How is your package?
Vanessa- I don't have a package
Steve- it's smaller but you have one...
Vanessa- I'm too old for this ****.
Liz - this is fun!

Steve doing a lot of talking.. cracks a joke and then says "I'm here until Wednesday" ...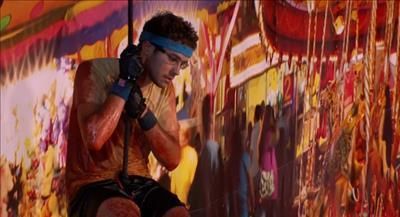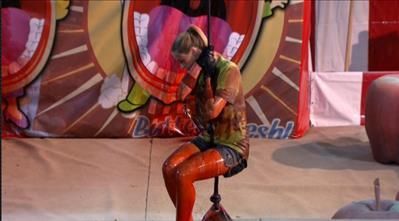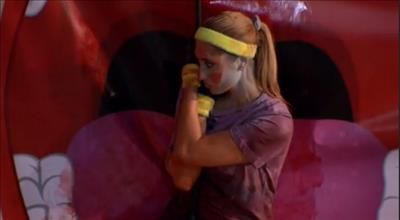 9:15 PM BBT

Steve says this is the competition he's been waiting for..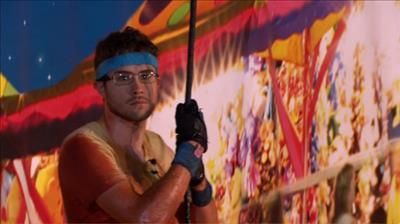 Liz- my package is hurting, I know yours ( Steve ) has to be...
Steve - I don't use my package so I'm great
Liz- ohh Steve...
9:24 PM BBT

After the last wall hit....

Steve off the disc.. sitting on the "apple" ...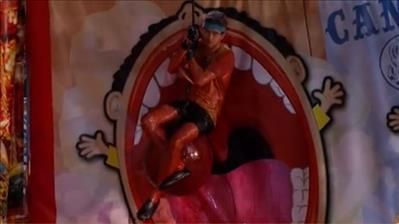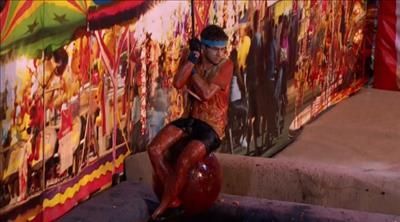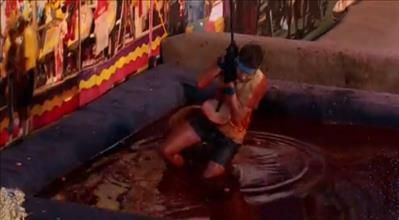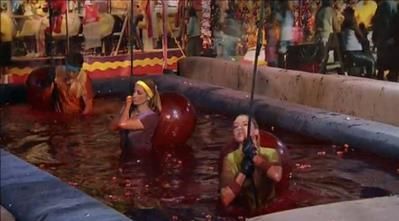 Vanessa to Steve- how did that happen?

Steve - I think when I hit the wall..I landed on the apple.. so when I got dipped.. I got back on the disc...
After a blast of confetti...
Liz asks- does my hair still look good?
9:36 PM BBT - All still hanging on ..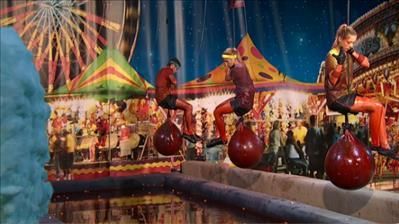 One hour mark...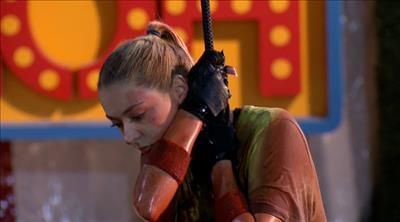 10:00 PM

Liz - I wonder how long it's been.. jeez.. it seems like forever...

Vanessa guesses 50 minutes...

Liz- I think an hour ...

Steve- there's a lot more hours where that one came from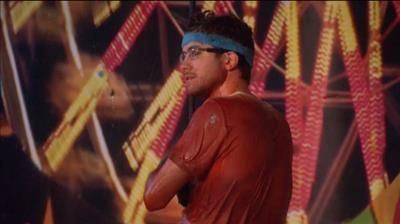 Liz- oh god.. this part hurts my va jay jay
Steve- what Liz .. one more time .. I didn't hear you ..
Liz- THIS PART HURTS MY VA JAY JAY

And BB dips them again ... and again ...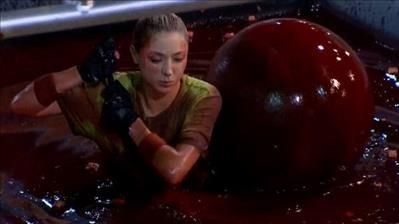 Liz- they heard me say it hurts.. that's why they are doing this...
Steve- this is finally the kind of endurance competition I can do ... it's not muscular.. it's just sitting here and taking it..
Liz - me too Steve.
Although .. she's grimacing a bit... here and there...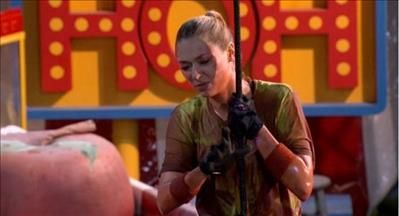 10:20 PM BBT

Liz struggles with each dip...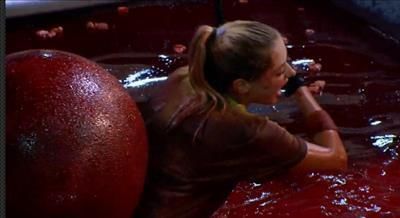 But hangs on ...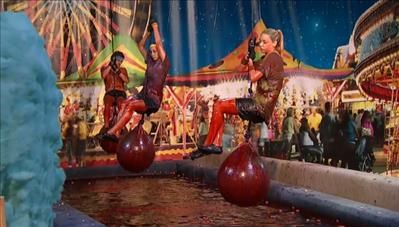 10:28 PM BBT

As the dipping ended.. the constant wall slams began...

Vanessa now laughing saying this is crazy...

Liz - I can't feel my hands....






More dips now...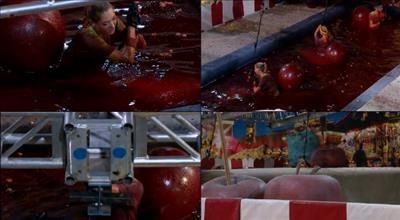 10:38 PM BBT

They are blasted ...






Then slammed... The dipped.. then Slammed again ... and so it goes as we reach the 2 hour mark...
Liz - I literally feel like I'm never going to have babies after this.. I can't imagine having balls..
Steve- my balls are hanging to the left... they are just fine..
All still hanging in...
Liz - they are like damn.... they're not sucking as much as we thought they would


11:11 PM BBT

Liz- I almost fell.
( She didn't fall ) ... all still there hanging on ...
After a few more wall slams..

Liz hits the last one hard... yells owww.....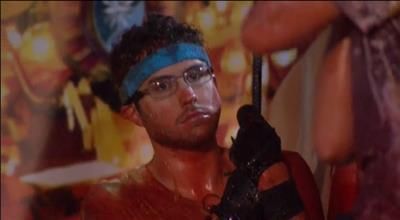 Liz - we are all going to be bed ridden tomorrow
Vanessa- tomorrow?
Steve - we all owe each other back rubs after this
Vanessa- back rubs? You're not even going to be able to touch me... I'll be bruised so bad...
I have to win this.. because if I don't .. I'm ****ed.. it will take me a week to recover from this...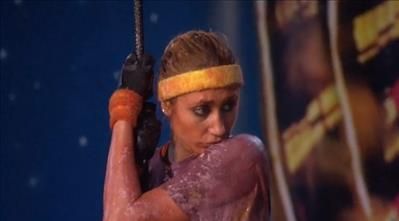 11:32 PM BBT
Vanessa now suddenly giddy.. saying Yippee when she hits the wall.. and saying she can last 6 more hours.
Liz- I feel like I'm on a rotten carnival ride right now.. it's like do you want to be an angel or go into the pit of hell...

Vanessa to Steve- you're shivering..
Steve- yeah.
Vanessa- you gotta get your fun somewhere.. just go with it...

She says there are hot showers inside.. a bed... food..
Steve- bribery? Are you really playing that game right now Vanessa?
Vanessa- I am just reminding you ... can't blame a girl for reminding you ...

Which takes us to the 3 hour mark...
11:58 PM BBT
Back.. from Jeff Highlights .. all 3 are still all up .. HOWEVER.. they are all only sitting on the "apple" ( ball ) now ...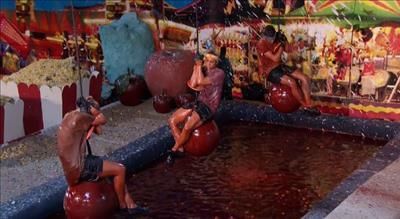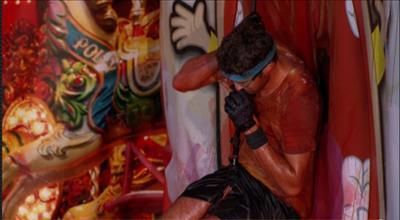 12:22 AM BBT

Steve is out ..
.
12:30 AM BBT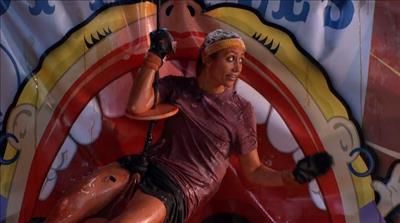 Vanessa to Liz -
I got 10 hours in me, I got a rush of adrenaline
... You want to ruin yourself for round 2.. you stick around.. but I am telling you I'm not falling off this mother ****er...
Liz- okay ..
Vanessa- I've got no shot at that other one.. I'm not ****ing falling...
Liz- okay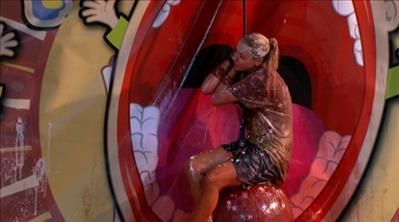 After the slam into the wall again ..
Vanessa- okay you want 10 hours or are you going to drop?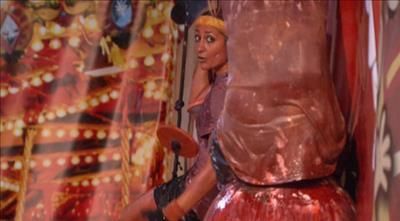 Liz- okay

As Steve gets Popcorn...
Liz- whispers look at me..
Vanessa (mouths) " I promise"

After 3 hour and 45 minutes...

Liz lets go ...
Vanessa wins Round One... and advances to Round 3 ....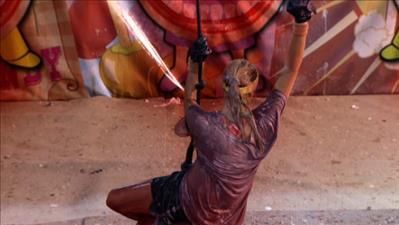 Vanessa- thanks Liz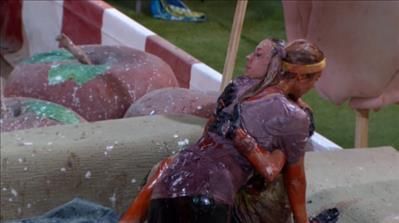 Steve and Liz will face off in Round 2...
CLICK HERE to watch all the drama inside the Big Brother 17 house ... it's a great way to support this website : )
Like what we do here?
Like the Live Feed Updates?
Like the Live Feed Discussion?

Another great way to support this website is by making a donation via our PayPal link. It's safe, easy and secure to use. We appreciate any support!
Join in on a Live Feed Discussion
HERE
check out our Live Feed Updates HERE
Follow us on Twitter -
https://twitter.com/BB_Updates
and Facebook -
https://www.facebook.com/bigbrotherupdates
Check out one of our favorite places on the net - -
SirLinksAlot.net
Please note: If you are a returning member, you will need to register again.
*Your old BBU sign in and password will not work - you must Register again

.

For all ( returning or new ) registering:
There is a two step registration process...

1) Complete registration and you MUST include a valid email address you can check.
2) Upon completing step 1 - make sure you check your email address because you MUST click on the second step verification link to complete your registration process.
As always, thanks for reading ~~ Lexie