Big Brother 17 Austin Matelson and Jace Agolli are becoming increasingly more aware that Jace may be in trouble this week. The drama inside the Big Brother house continues to mount. You can click "see more" below to find out how they plan on dealing with the target on Jace's back.
The Live Feeds are are only $5.99 per month. You can t
ry them FREE for one week. Just click
HERE
to get started. This season, not only do you get the Big Brother 17 Live Feeds, you als
o
watch every episode of every Big Brother Season, along with other CBS shows like Survivor and more! And, New this season - Subscribers with a Roku device can access the Feeds this summer using the CBS All Access app from Roku.
You'll love watching all the drama play out right in front of you! And, it's a great way to help support all that we do here all summer long.
Austin and Jace started off the week feeling like they had nothing to worry about, now they are beginning to feel the pinch of a big bulls eye that's on Jace's back. Austin feels like their only option is try to convince James, that Jeff needs to go on the block, as the replacement nominee, once Steve used it Power of Veto to remove himself.

Their plan ( for now ) is if Jace goes on the block, he will out the "Five Alive" alliance that they made and show the house that the others are untrustworthy, and should keep him so he can target them.




Jace tells Austin that Audrey told him this morning that she has no idea what James will do
Austin-That's bull****, cause it's either you or Jeff
Jace - If I go up, I can't go home, it would be embarrassing to be the first to go.
Austin- if you get put up, you have to do a Dan ****ing sob story to everyone.

Jace- They may think I'm a *****.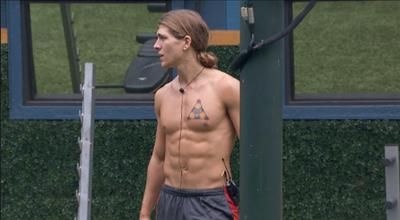 Austin- doesn't matter… you have to use the emotion on this people. I think you just have to pull a Dan, tell them that you've got nothing to go back to, and all that you wanted to do was just get to jury. You have to tell them that James is your target, if you stay, that he stabbed you in the back, shook your hand. Tell them that James is your target 100%, just James, don't mention anyone else, because Audrey might have them in an alliance, we don't know.

Jace- I think that I might can get some tears out …




There's more to come... Stay with us : )

Better yet...
Try the Live Feeds FREE for 1 week! CLICK HERE to get started and help support this website at the very same time.
​
Live Feeds not for you? Another great way to help support this website is by making a donation via our PayPal button. It's just over there on the right! We truly appreciate any support and would not be able to do this without you! Be sure to add your BBU Nickname in the note section so I can add your new donator button!
Join us on our Forums for great discussions and live feed updates, all summer long.

As always, thanks for reading ~~ Lexie

Check out one of our favorite places on the net - - SirLinksAlot.net

Follow us on Twitter - https://twitter.com/BB_Updates
and Facebook - https://www.facebook.com/bigbrotherupdates