Big Brother 18 premieres Wednesday, June 22nd and there's a brand new look to the house, the pool and much, much more! In an interview with the Hollywood Reporter, Executive Producers Allison Grodner and Rich Meehan did not hold back on all the twists and turns that are set for this new season of Big Brother. If you missed the Big Brother 18 house tour with Julie Chen, you can check it out below, along with a few of the new surprises that are in store for the Big Brother 18 house guests this season. Be ready for everything that Big Brother 18 has to offer - click on any of the Big Brother 18 Live Feed Banners to sign up for the CBS All Access Live Feeds ~ Get signed up today and help support this website at the very same time! For only $5.99 per month, you get raw, behind-the-scenes access to the alliances, betrayals, romances and meltdowns -- all available on your desktop, mobile and streaming devices! Plus by clicking on the banners right here and starting your sign up process, you help support all that we do here all summer long! We look forward to another great season right here at BigBrotherUpdates.com and hope that you will enjoy the ride with us!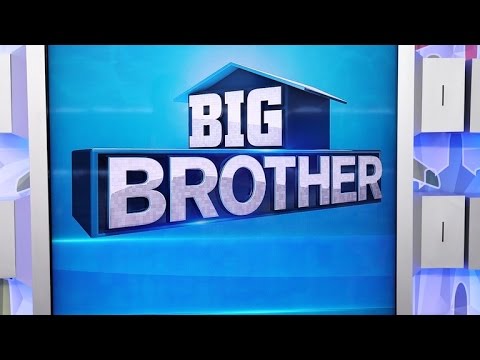 The wall might say "departure' but for one lucky house guest they won't depart for 99 days!

Yes- 99 Days!

Good thing there's a phone in the house this season .... kinda... ; )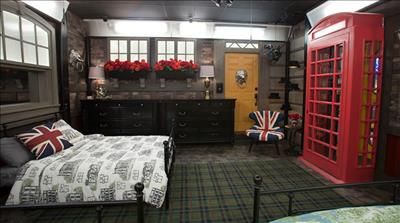 Grodner - Here we have a phone booth and you open it up and it goes to the next room. It's a working phone. The Head of Household will be able to call down. That's a first and it's a first to have this kind of door way.


There's a new pool...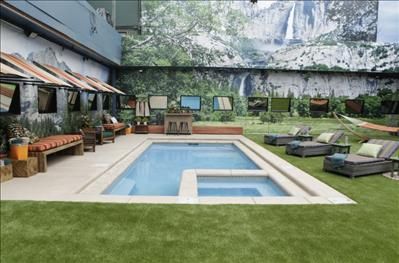 And, they gave the old - no one wanted to sit in the sky bridge - a new more cozy look for this season ....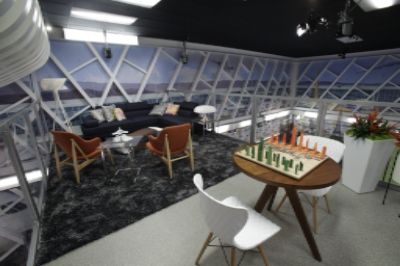 And, although we didn't get a look, here's what Grodner and Meehan had to say about the new Have Not Room.

Grodner - We have the craziest Have Not room you've ever seen.
Meehan - You're not going to want to be a Have Not. It's going to be pretty miserable.

And, for those of you who hated the Battle of the Block... here's what they had to say about that....
Is "Battle of the Block" coming back?

Grodner: No.

Meehan: No battle of the block!

Grodner: A new, Sunday competition is coming into play that will ----

Meehan: Twist up the game! It's going to be fun, something we've never done before.

Grodner: Who knows though maybe sometime in the future it will come back.

Meehan: We need to keep the stakes high in the Sunday show because we didn't want to go back to Have Not competitions.

Grodner: You want competitions that have stakes, that really mean something. This new competition really does that. So the nominations falls somewhere in the middle and then this competition and then, you'll see.

Meehan: A new ceremony at the end.

Grodner: A new ceremony!

You can check out the full interview and see more great pictures of the Big Brother 18 house at the Hollywood Reporter
Join in on a discussion in our
forums
! Tell us what you think!
Get a FREE 1-week free trial of the Big Brother 18 Live Feeds! After the free trial, CBS ALL ACCESS will cost $5.99 / month. Signing up for the monthly subscription is a great way to help support all that we do here all summer long!
Ongoing subscription benefits include:
Big Brother Live Feeds - the full Big Brother experience with 24/7** live footage of what's going on in the Big Brother house as it happens in HD across all devices and streaming platforms (Apple TV, Roku Players, Chromecast, Android TV, Fire TV, and Xbox 360)
Live Feed exclusives: full episodes from previous seasons, 4 cameras plus a quad view, rewind and highlight capabilities, and community and VIP chat rooms

New episodes of hit CBS shows on demand the next day across devices

Access to over 7,500 full episodes of current shows and fan favorites on-demand (including all past 17 seasons of Big Brother)

Live TV across desktop, mobile, and streaming devices
If you click on the links right here at BBU you get a 1-week free trial - After the free trial, CBS ALL ACCESS will cost $5.99 / month.
Fans will have the opportunity to watch all the action inside the BIG BROTHER house when the Live Feeds begin on Thursday, June 23, at 10:00 PM, PT/Friday, June 24, at 1:00 AM, ET.
CBS All Access subscribers can watch the Live Feeds online at CBS.com, on their smartphones and tablets through their mobile browser or the CBS App for iOS, Android and Windows 10, and on connected devices, including Roku players, Chromecast, Apple TV, Android TV, Amazon Fire TV, Xbox 360 and more. Feeds will be available through the CBS All Access subscription service on a monthly basis.
Plus the - "BIG BROTHER After Show" Series: A weekly "BIG BROTHER After Show" web series hosted by Jeff Schroeder will air exclusively on CBS All Access every Friday beginning July 1. Schroeder will take questions directly from fans via social media, interview Houseguests and feature surprise guests.
Upcoming Key Dates:
June 22nd: Big Brother 18 season premiere

June 23rd: Live Feeds start at 10p PT
As always, thanks for reading!

~ Lexie