C
BS Big Brother Julie Chen promised four competitions, three twists, two nights and one house guest going home before the summer has barely even begun. And, the premiere episode certainly delivered all that and more! The first twist revealed Nicole Franzel, James Huling, Da'Vonne Rogers and Frank Eudy are back in the game! Paulie Calafiore couldn't keep his secret. quickly revealing that he is Cody Calafiore's brother.Big Brother Veteran Da'Vonne Rogers quickly had Vanessa Rousso's sister, Tiffany Rousso figured out and so did new Big Brother 18 house guest Michelle Meyer. Julie Chen revealed twist number two, as she informed the house guests that they would be playing in teams of four, with each team having one of the returning house guest on it. The winning team in the first competition will have safety for the first TWO evictions! And, that's not all, one house guest will be going home tomorrow night. There's much more drama to reveal, keep reading or click "see more" below to find out the teams and how the competitions played out tonight. Don't forget that tomorrow night the LIVE FEEDS go live. Get a Free Trial by clicking HERE or on any of the live feed banners that you see right here on our website. It's a great way to help support all that we do here all summer long!


A LOT happened this episode, lets just jump right in....

After the #stowaways joined the house ...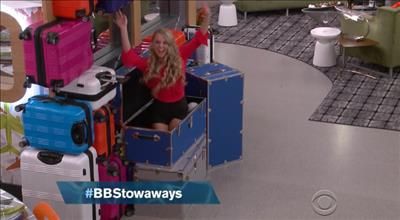 Paulie tells his secret...




Da'Vonne figures out that Tiffany is Vanessa's sister...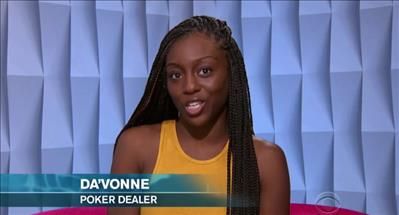 For now, Da'Vonne is keep that little tidbit to herself...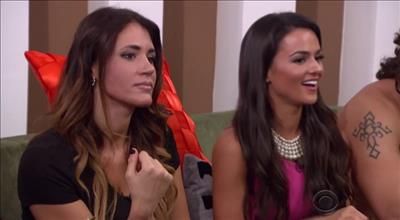 Michelle confronts Tiffany....




Tiffany comes clean to Michelle confirming she's Vanessa's sister.




Michelle "pinky swears" not to tell anyone.

Julie Chen reveals the house guests will be playing together in teams of 4...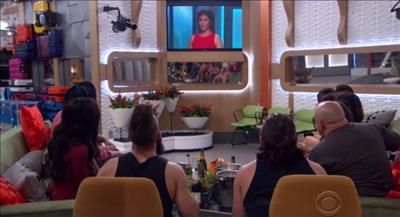 The teams brainstormed ( and I use that word loosely ) and named their teams ...

Team Category 4 - Frank, Michelle, Paulie, Bridgette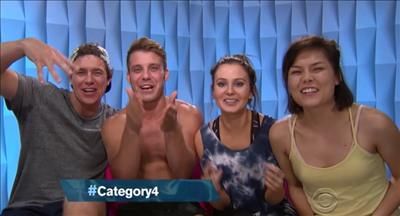 Team BigSister - Da'Vonne, Paul, Zakiyah, Jozea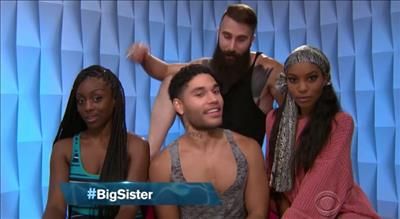 Team Freakazoids - Nicole, Corey, Tiffany, Glenn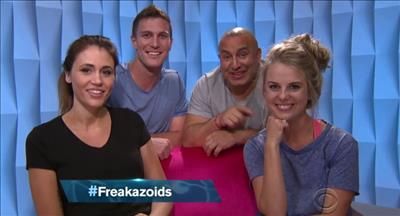 And finally ... after much "thought" ... James, Natalie, Victor, Bronte come up with ....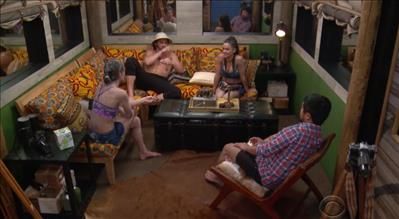 Team Unicorn ( I kid you not! )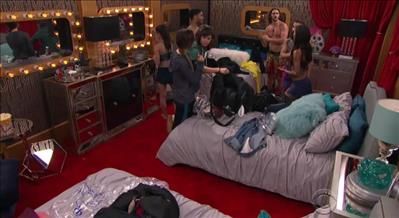 There's a lot of talk about how the veterans need to be the "first to go".
First Endurance Competition of the summer
...
Again, first place has safety for TWO evictions. Second place team gets $10K to split among them. Third place team lands in "Mystery Land" which will bring them a "mystery punishment" at some point, and fourth place team are the Have Not's for the week.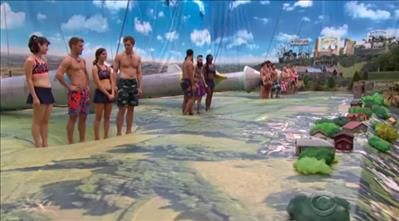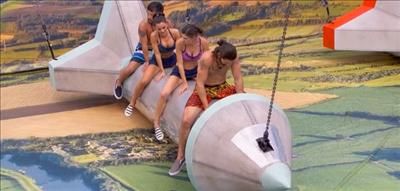 #TeamBigSister -
Da'Vonne, Paul, Zakiyah, Jozea can't hold on and become the Have Nots for the week...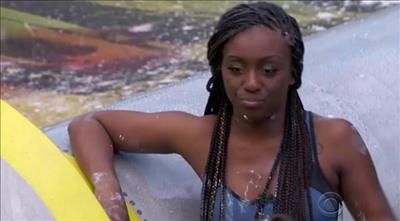 As house guest after house guest fall from the slippery rocket, Victor, Corey, and Paulie remain representing each of their teams.
Paulie falls leaving Victor and Cody to battle it out ....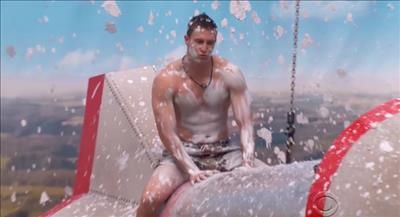 Victor hangs on making #TeamUnicorn safe for the first two evictions of the season!
Julie Chen explains Twist #3 to the house guests...
(This is how I felt trying to understand it )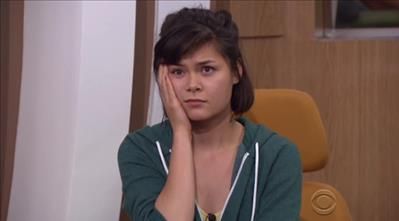 Twist #3 - Losing team of the previous 3 losing teams have to compete against each other ... build a 15 piece pyramid - one by one they take turns building then rotate spots. The first team to build it, hold it, and ring buzzer wins and is safe from eviction...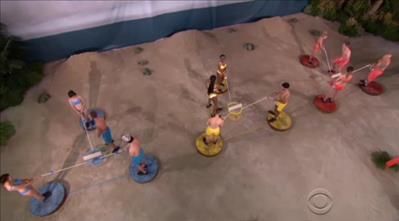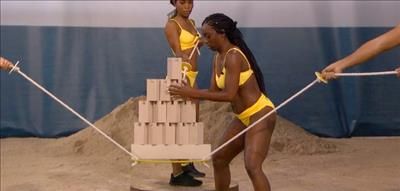 Everyone having trouble....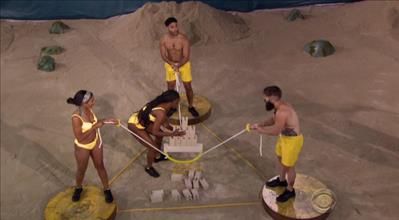 But... Team Category4 - Frank,
Michelle, Paulie, Bridgette win





Leaving
Team Big Sister and Team Freakazoids to face off in Round 2... building a sand castle...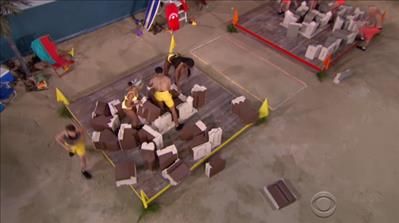 After a tight race.... Team Big Sister wins...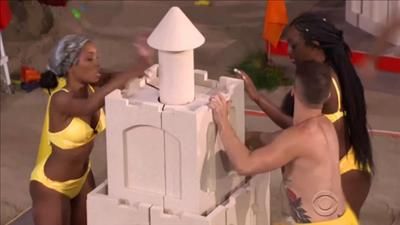 Leaving Team Freakazoids -
Nicole, Corey, Tiffany,and Glenn to go Head to head to avoid being the first Big Brother 18 house guest voted out.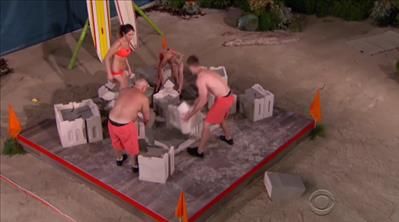 Tomorrow at 9 PM ET the first Head of Household is crowned and the first eviction takes place.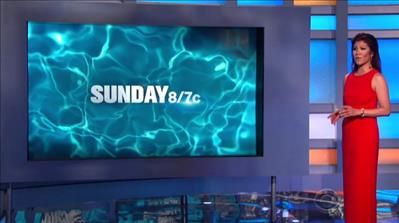 Then on Sunday a NEW competition will take place and the winner will have "unprecedented power"
Don't forget the LIVE FEEDS go LIVE tomorrow night after the show airs on the west coast 10 PT - 1 AM ET
Get a FREE 1-week free trial of the Big Brother 18 Live Feeds! After the free trial, CBS ALL ACCESS will cost $5.99 / month. Signing up for the monthly subscription is a great way to help support all that we do here all summer long!
Join in on a discussion in our forums! Tell us what you think of tonight's episode, the new house guests, the twists and more!
Like what we do here?
Like the Live Feed Updates?
Like the Live Feed Discussion?

Another great way to support this website is by making a donation via our PayPal link. It's safe, easy and secure to use. We appreciate any support!
Follow us on Twitter -
https://twitter.com/BB_Updates
As always,Thanks for reading!

~ Lexie