CBS Big Brother 18 is headed for it's first blindside of the season. It will be shocking for some, poetic for others, but that satisfying feeling will only last for a moment. The newbies will need to pick their jaws off the floor, the veterans will need to maintain control, alliances will be tested, and the targets will quickly shift in the house. After, a long week of one side knowing their target was going home and the other side, totally sure that he wasn't, the game becomes fluid once again. What trouble is brewing? Keep reading or click 'see more' for a sneak peek inside the Big Brother 18 house.
Why not enhance your Big Brother experience by trying the
Live Feeds.
Grab a FREE TRIAL and enjoy the full Big Brother experience! It's a great deal for you, one week FREE and then just $5.99 per month
See what CBS can't show you on television. catch all the fights, showmances, and everything in between on the live feeds, watch it live or use the flashback feature to watch what you missed. It's all caught on camera for your viewing pleasure! The only way to see the unedited version is with the Big Brother LIVE FEEDS. No where else will you get this much drama and fun for such a low, low price! Spend your summer right here with us watching the Live Feeds! By clicking on any of our links or the banner right here to get signed up, you help support all that we do here all summer long! You know it's just not Big Brother without the Live Feeds and us!
It's been an interesting "almost" first week watching the live feeds. One side so sure they rule the house, the other side making sure they don't - at least for now. It will be a rude awaking for those living in denial and first up ...
The Revolution
Victor tells Jozea that he thinks that it makes it much easier when people are not on board with them.... because those people are next to go
Jozea - this is a ****ing revolution.
Victor- We're just popping them off one by one..... we're going to find a way to do it
Jozea- we run the house! We are ****ing strong and they know that
Paul- All we need to worry about is winning that HoH this week
Jozea - We've got James' vote
Victor- yeah .. even if he wasn't on our side..... he saw how many people we had on our side yesterday
Da'Vonne talks to Jozea and he tells her that the next target is "Nicole"

Or, maybe it's Tiffany....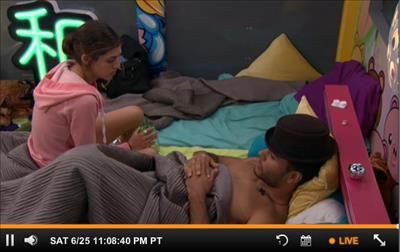 Jozea to Bronte - I'm waiting for the day she (Tiffany) gets the **** out of this house... she has to go.... backstabbing people... that's what I can't take. She was telling me that we should stick together because we are both gay... I see what she's doing.
Jozea- I really feel like I am here to keep people together, I am the glue. If there were still Kings and Queens, I would be a King. I would rule the kingdom by giving the people what they want. Like if I got HOH, we would need to put 2 people up, so I would like you guys decided. That's what I would do. I've never heard of a season, where that's what they do. That's what I would do. That's love. That's great. When that person leaves, they say "that's great", we had a battle, you won, that's great. I would say .. do you wan to go up, do you? And, whoever raises there hand, then that person would go up. That's what is fair. I think I have a great rule.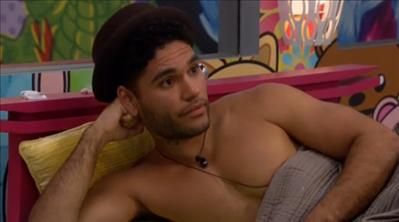 Jozea - To lose a person like me in this house, that would not be fair. Because I am the glue.
Jozea - We will set a record for the best, sexiest team, I mean cast, and that we took out all of them, by sticking together, and that's NEVER happened before on Big Brother, not EVER. I'm really hoping that's how this plays out.
An alliance within an alliance meets in the HoH room ....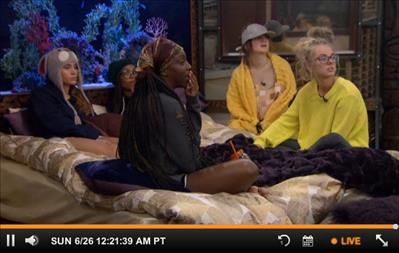 The Fatal Five meet up...
Nicole - Jozea is going home.
Da'Vonne - First blindside of the summer. It's going to be amazing!
They don't trust Bridgette, tired of her "I'm being bullied" story. They say neither does Paulie. They want Victor, Natalie and Bronte out.
They meeting was cut short by Paulie, who appeared in there not long after it started. But, not before this reaction from Tiffany, when Da'Vonne told the group that the other side has Tiffany as their target. ( and she didn't do it in any way of malice, just in a way of letting the group know, to be aware, but Tiffany, ( kinda like Vanessa ) didn't take it well....
Tiffany- wait, what? Me? How do you know that?
Da'Vonne- because they said it
Tiffany- but how do you know it's me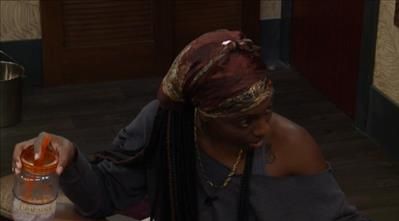 Da'Vonne- because it's what they said
Tiffany keeps asking, Da'Vonne tells her not to worry, be cool, they have the numbers to keep her safe, so chill....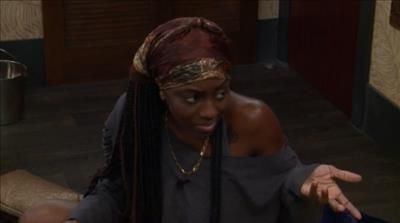 Later...
Nicole teells Zakiyah told Da'Vonne that they cant tell Tiffany anything,,, because of the way she flipped out when told the other side is targeting her
Zakiyah- She is too sensitive
Nicole- If you tell me that I am somebody's target..... I'm like thanks telling me
They agree
Nicole tells them to - pretend that she ( Nicole ) is way above her on everybody's list
Da'Vonne - I'm not telling her ****! I don't give a damn if an ice cream truck pulls up in the backyard. Y'all tell her!
Zakiyah - Her emotions are too erratic
Nicole- We have to protect her by not telling her unless it's immediate danger
Zakiya - but I'm so concerned about her emotions when she stops trusting us
Nicole- There's nowhere for her to go right now
Da'Vonne - I've got to go to work tomorrow and do damage control cause this is how alliances get ****ty
After the Veto Ceremony, where Bridgette became the replacement nominee...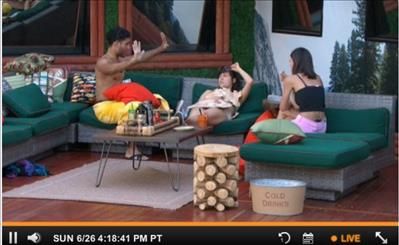 Jozea to Bridgette - I'm secure and confident to know that I am not leaving anywhere. You should be too
Paul and Bronte also talk to Bridgette....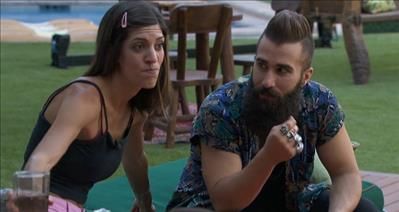 Paul to Bridgette ( re votes to save Jozea ) ... me, Natalie, Victor, Bronte, Zakiyah, Da:Vonne and possibly Frank. We have six. They know we have the upper hand right now. And, as soon as next week rolls around and one of us mother****ers win HoH.... you will really see them ****ting their pants
Later Paul tells Bronte how he really feels about Tiffany ... and Michelle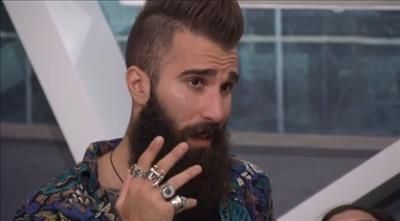 Paul - I literally ****ing hate her (Tiffany)....with every ounce of my being....from day 1 I knew I hated her. Such a dumb bitch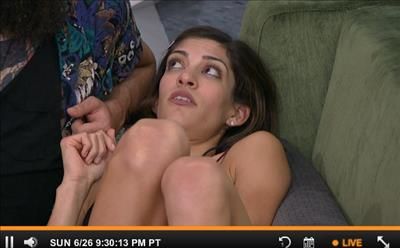 Paul to Bronte - what do you think about Natalie?
Bronte- I think Natalie is good...... I think she is a really strong competitor., I think she will take a lot of HoH's ... that girl is fierce... she's a good number to have
Paul- me and the boys have agreed that you two ( Bronte/Natalie ) are our favorites... like Zakiyah isn't the brightest bulb in the pack ...
Bronte- she ( Zakiyah ) sleeps too much
Paul tells her again that she ( Bronte ) and Natalie are the smartest and most liked girls in the house ...
Paul- like if Tiffany won this game. I would kill myself. I would ****ing cut my nuts off and throw them in the river. I hate that girl.
Bronte - She comes off as so incompetent, like why would you wanna come after me?
They both continue to talk about how stupid they think Tiffany is ..
Now they move onto to how stupid they think Michelle is ...
Bronte - when she (Michelle) smirked... ( when Paul was nominated ) it took everything in me not to go and just ****ing punch the bitch in the face
Bronte - I think she's secretly a man or something. It's weird.
Pau - She's actually ****ing stupid
This morning ...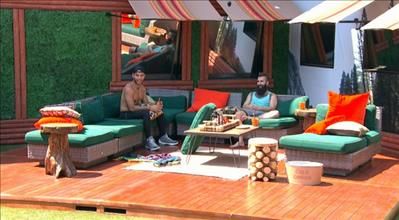 Jozea talks with Paul telling him that he spoke with Da'Vonne and she said that he doesn't have to worry, because the vote is going to be a landslide. He tells Paul, that he has faith that everyone will walk into the Diary Room on Thursday night and say the same name. Paul tells Jozea, if he wins HoH he will nominate James and Tiffany, with James as the #1 target. Michelle would be his backup nominee and he would really like to have all 3 on the block next Thursday night, Corey would be his pick as a replacement nominee.
Da'Vonne and Frank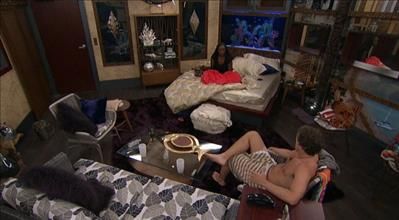 Da'Vonne tells Frank that she's getting concerned about the Paulie/Zakiyah budding showmance.
( Zakiyah and Paulie last night )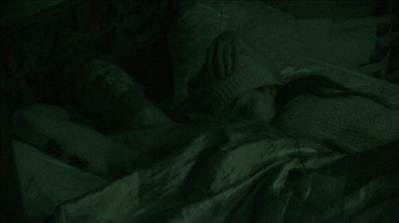 Da'Vonne and Frank continue to talk about Zakiyah and Paulie. Frank agrees that it could be concerning.
Frank - The only reason I wouldn't want to keep him around a bit is because of that situation.
Da'Vonne - My fear is the longer we keep him in here, the more attached she gets to him
Da'Vonne tells Frank that she will stick her neck out for Zakiyah, but "not for a showmance".
Frank - If one of us wins the Road Kill challenge next week... we could throw him (Paulie) up ( in the 3rd spot ) with Victor and Bronte.
And, back to fantasy land....
Paul to Jozea- are you going to pack your bags or no?
Jozea -
I mean, I'm confident enough I feel that I am staying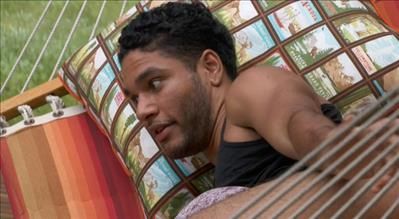 Paul- yeah, but I would, just so it doesn't look ****ty
Jozea- Bitch, I swear, it somebody act up ( meaning if the votes don't go the way he thinks and he's evicted )
Bronte- I'm going to lose my ****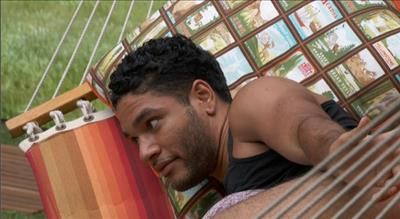 Jozea - I'm going to get up on that thing and go ham. I'm going to be like Julie, I know you are about to say something but hold on, Before I go anywhere, I will say... "**** you, **** you and especially **** you". But I doubt that will happen.
Paul- I think Day is totally cool and Frank is too.
Are you ready for a blindside?!?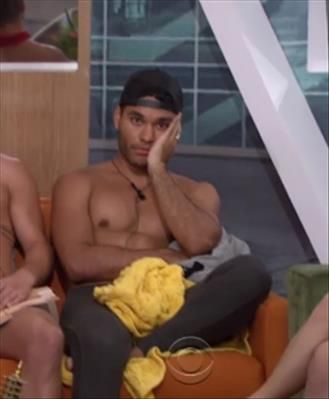 On Thursday, Jozea's impending eviction will be said and done. But, his exit only opens the door to more drama, more paranoia, as a new Head of Household takes control.
For now, the drama continues on the Live Feeds...
CLICK HERE
or on any of the live feed banners you see here to get signed up and help support this website at the very same time.
Like what we do here?
Like the Live Feed Updates?
Like the Live Feed Discussion?

Another great way to support this website is by making a donation via our PayPal link. It's safe, easy and secure to use. We appreciate any support!
Follow us on Twitter

-
https://twitter.com/BB_Updates
Join in on a discussion in our forums and check out our Live Feed Updates
As always, thanks for reading!

~ Lexie