Big Brother 18 new Head of Household takes control. Who is the news HoH? Which house guests are the targets this week? Keep reading or click "see more" below for all the details. The Head of Household Competition has begun and will play out on the Live Feeds. Not watching the Live Feeds yet? Be ready to watch all the crazy antics of the season for the low, low price of only $5.99 per month. You get one week free to try them out! It's just not Big Brother without the
Live Feeds
, you're sure to enjoy watching all the ins and outs that you miss by only watching the television episodes. Plus, signing up for the live feeds by clicking on our banners and links is a great way to help support all that we do here all summer long.
Watch All The Drama On The Live Feeds!
Head of Household Competition: Berry Balanced
Teams will race across balance beam grab a berry ( one berry at a time ) and return to the start if you fall you're out. If one of the team falls, their berry basket empties, They need 4 berries to win. Head of Household will be decided by the winning team and that person will retrieve the final berry giving them the HoH.

Natalie is out.
Once the Live Feeds return, we find out that Team Category 4 ( Frank Eudy's team ) won the HoH Competition and that Paulie Calafiore is the new Head of Household.






Frank, Michelle and Bridgette as members of Team Category 4 are safe for the week.





Victor and Paul not happy that James' threw the competition.

James ( alone ) to the camera says - Sorry America, I had to throw that competition .. have to get rid of Victor and have to get rid of Bronte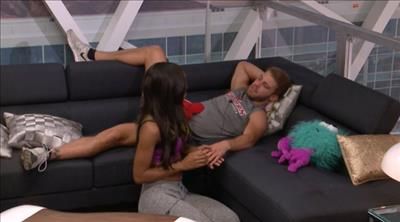 Paulie tells Zakiyah that he's trying to avoid Victor and Paul, who keep following him around wanting to talk to him.



Frank/Paul and Victor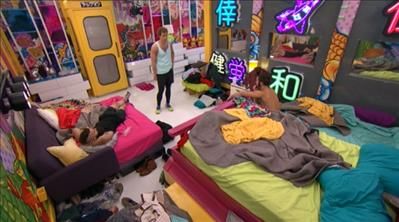 Victor- I wouldn't be surprised if I see myself up there even if I talk to him
Frank tells them that he will talk to Paulie for them






Nicole tells Paulie that she's so happy for him and that Cody must be too. She also apologizes to him for all that he had to go through this week, because she put him on the block.






Paulie to Nicole- I'm definitely putting


Meanwhile...





Bronte to Natalie - You are the only person I am playing this game with. I am putting my entire trust in you
Natalie to Bronte - They are going to take out Victor and Paul




Bronte- Then they are going to take us out. We just have to talk to Paulie and get him to keep us off the block. Tell him that we are loyal and that we are stronger than any of the other girls in this house. Tell him we have his back, if he will have ours.

They both agree that they will need to talk to James more. Switch sides.
Bronte says she will "swallow her pride and switch sides"



Victor/Paul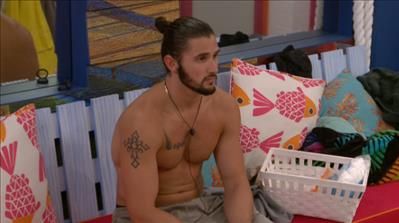 Victor- everybody swayed the other way .. Day and Z...
Paul - people are ****ing pussies man.
Victor- we just gotta....
Paul- at the end of the day, you and me are probably going on the block
Victor- then we just have to win Veto and put someone up with the BB Roadkill.


Bronte and Victor

Victor to Bronte- I don' t know if James is the target or if I am.
Bronte- James threw the comp, that means you are the target.. there's no way that James is the target.
Victor - we could have won that comp, I should have just pushed him ( James ) off.
Bronte- they said that you couldn't do that. We would have all been eliminated.
Victor- ****ing piece of ****.
Bronte - I really believe Zakiyah and Da'Vonne
Victor- yeah .. they flipped... they are ****ing scumbags...we didn't lie to anybody. ****ing pisses me off.
Bronte- someone needs to talk to Paulie.. and we need to pray that these team competitions stop. Because James will keep throwing them .. there's nothing we can do.
Victor- if me and Paul are on the block and one of us gets off, then the other one is gone. That is going to keep happening.
Bronte- yeah and we will never make it to jury.
Victor - yeah. I can see that happening...

Meanwhile....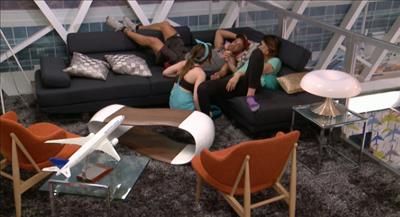 Paulie to Tiffany/Michelle - They (Victor/Paul,Bronte) should be scared. I'm not going to be mean to them, but I am going after them.


The drama continues on the Live Feeds.....
CLICK HERE
or on any of the live feed banners you see here to get signed up and help support this website at the very same time.
Like what we do here?
Like the Live Feed Updates?
Like the Live Feed Discussion?

Another great way to support this website is by making a donation via our PayPal link. It's safe, easy and secure to use. We appreciate any support!
Follow us on Twitter

-
https://twitter.com/BB_Updates
Join in on a discussion in our forums and check out our Live Feed Updates
As always, thanks for reading!

~ Lexie