Big Brother 18 Power of Veto Ceremony is over and we have the results! Was the power used? Is there a replacement nominee? Will Head of Househould Paulie Calafiore follow through with his back door plan? Keep reading or click "see more" to find out! See what CBS can't show you on television. catch all the fights, showmances, and everything in between on the live feeds, watch it live or use the flashback feature to watch what you missed. It's all caught on camera for your viewing pleasure! The only way to see the unedited version is with the Big Brother
LIVE FEEDS
. Grab a
FREE TRIAL
and enjoy the
full
Big Brother experience! It's a great deal for you, one week FREE and then just $5.99 per month. No where else will you get this much drama and fun for such a low, low price! Spend your summer right here with us watching the Live Feeds! By clicking on any of our links or the banner right here to get signed up, you help support all that we do here all summer long! You know it's just not Big Brother without the
Live Feeds
and us!
Head of Household Paulie Calafiore won the Power of Veto.

Paulie used that power to remove Paul from the threat of eviction and name Victor as the replacement nominee.

Victor, Bronte and Tiffany face the threat of eviction Thursday night.

However, if things go as planned...

Victor will find himself as the first "back door " of the summer.


At 10:06 PM BBT last night, Paul tried to give Victor a heads up last night ... but Victor was still in denial about the true possibility that Paulie would do just as he did.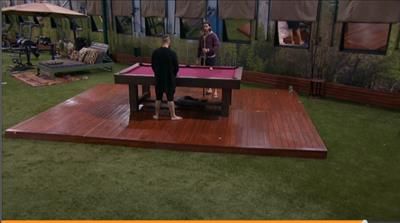 Victor- if he ( Paulie ) uses it tomorrow night...

Paul - so then what?

Victor- he can't take Tiffany down...

Paul- I think he'll take Bronte down ...

Victor - no .. I think that's who he wants to go home...

Victor- it's bad for you guys if he takes Tiffany down... good for me.. but bad for you .. because I'm not putting myself up.. I don't know why he would take anyone down.. he would just get more blood on his hands...

Victor- I see it playing out that he doesn't use it tomorrow and Tiffany leaves...

Paul- I seriously think that he's going to pull Bronte down and have you go up and have one of us go home.
The drama continues on the Live Feeds! Try them for the low price of $5.99 - one week free!


Join in on a discussion in our forums and check out our Live Feed Updates


After the Veto Ceremony ...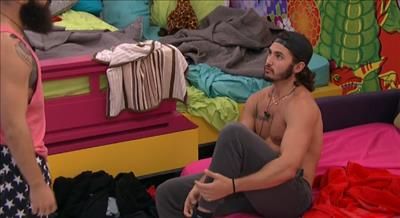 Victor to Paul - I called it. ****ing back door.
Paul- just come up with a plan and let me know.
Victor- we just gotta vote Tiffany out.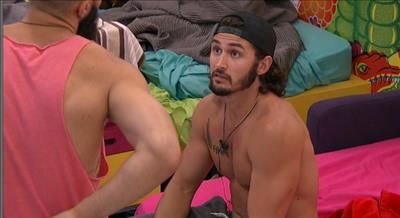 Victor to Paul- you just gotta do some work for me because I can't do it all on my own
Paul- what do you want me to do?
Victor- just get people to vote for Tiffany
Paul- I don't know, it might be a stretch, I told you to be careful
Victor - there's nothing else I could have done.... like literally what else could I have done?
Paul- we got this
Victor- we'll see
Paul - if not .. then I'll see you next week.




Paul heads outside and tells Paulie "thanks"





Paulie- I told you I had you bro
Paul- thanks for trusting me.
Paulie- I told you what I was going to do, now if Victor wants to come talk to me he can. I will tell him it's personal for me, he tried to get me out of the house.
Paul- I respect you man, like the way you do things.
Paulie- I appreciate that. Thanks bro, I think you are a good guy too


Bronte and Natalie

Bronte- c'ya Victor...



Bronte- Paul, you're next!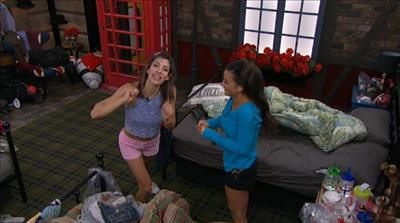 The drama continues on the Live Feeds...
CLICK HERE
or on any of the live feed banners you see here to get signed up and help support this website at the very same time.
Like what we do here?
Like the Live Feed Updates?
Like the Live Feed Discussion?

Another great way to support this website is by making a donation via our PayPal link. It's safe, easy and secure to use. We appreciate any support!
Follow us on Twitter

-
https://twitter.com/BB_Updates
As always, thanks for reading!

~ Lexie