Big Brother 18 Live Feeds revealed yet another new alliance, shocking secrets and that the diabolical plan for girl power in the house is back on. I hope you read that with a sarcastic inflection that was intended. But, it is Big Brother so who knows, the girls "could" take over, a new alliance that was formed "could make it to the end, and the secrets "could" shock you. This house, these people, this game! Keep reading or click "see more" below for a sneak peek inside the Big Brother 18 house last night. Not watching the Live Feeds yet? Sign up today and watch all the drama inside the Big Brother 18 house anytime on the
Live Feeds
!
Try them one week for Free and then they are only $5.99 per month. It's just not Big Brother without the
Live Feeds
, you're sure to enjoy watching all the ins and outs that you miss by only watching the television episodes. Plus, signing up for the live feeds by clicking on our banners and links is a great way to help support all that we do here all summer long.
CLICK HERE
to get signed up today and help support this website at the very same time. We truly appreciate your support.
8:00 PM BBT - Paulie and James make an alliance





James- you would never have to worry about me putting you up, if I'm HoH, or any sneaky **** like that. And, if I ever hear anything, of course I'll try to deflect, but I'll also let you know, just in case someone is like "dude, I'm putting him up".
Paulie- yeah and I'll be able to do the same.
James- sounds good man...





Paulie- Cody and Derrick never spoke, unless everyone else was asleep or if they were at the pool table. You know what I mean?
James- yeah .. well okay.. we're gonna have to ...

Paulie - strength and honor
James- strength and honor man
James- you can be the strength, I'll be the honor





Paulie- I think we'll be able to see a very clear picture too
James- are we going to work the angles of the house or what .. I mean we can keep each other safe, but we need numbers.





Paulie- you know who I would consider working with, because he has a good relationship with the girls...
James- who?
Paulie- Corey



8:25 PM BBT - Bridgette and Bronte in the HoH Room. Bouncing ideas of who Bridgett can put up, if the PoV is won by Paul or Tiffany, Their target - possibly Corey.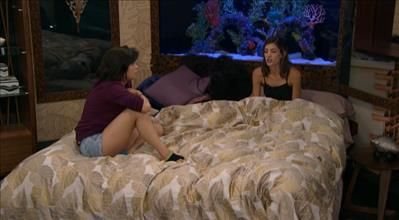 Bridgette - I just don't want to be played by Frank and Paulie... If I somehow got Corey up on the block, do you think he'd go home?
Bronte - How many do you need to go home?
Bridgette- 5
Bronte- If you put him up and he didn't go out, I don't think there would be any bad blood

Bronte- our best bet is to rally the girls
Bridgette- they don't like me, I'm the wrong HoH to be rallying the girls
Bronte- I'll try ...

Bridgette- wait, this is assuming that Paul pulls himself off
Bronte- yes,

Bridgette- what if they just vote you out?
Bronte- then I went home trying... there is no one you could replace Tiffany or Paul with, that I would win against. So, it has to be a boy.
Bridgette- then it has to be a boy.


As they continue to talk.. Bronte tells Bridgette that if she can... she should keep the nominations the same, because she thinks the girls are are more likely to send Paul home over Corey


Bronte - I'd rather go home trying to work with a female than go home hiding under a rock with a penis. Girl power!
Bridgette - We're on a game show. Let's just rock this as proud women until we can't rock it anymore
Bronte- I'm not here to hide behind a boy like Zakiyah. I'm not doing it


9:36 PM BBT - Bridgette, Bronte and Natalie in the HoH room, they tell Natalie that they are going to "flip the script"




Bronte to Natalie- Our goal is for Paul to stay on the block with me.
Bridgett- what do I do if Paul pulls himself off? What do I do.
Bronte- the only card we have to play is girls girl... I would say just put Corey up.
Bridgette - I don't want to put another girl up, because then I lose half the house.




Bridgette says that she can't defend Frank anymore after what he's done. She says that she regrets putting Tiffany up.

Bridgette ( about Frank) stop ****ing up my HoH, don't send my best friend home on MY HoH. \

Bridgette tells Natalie that she is going to talk to Paulie about keeping Bronte. She goes onto say that she thinks Paulie is the one that has been spreading all the **** about Bronte.

They tell Natalie that they think next week, the house is going after Frank.


** earlier in the day, Bronte told Natalie that she had a BIG secret to reveal to her, BUT she had to promise that she would not reveal it to anyone in the house, even if Bronte left. The "secret" didn't get revealed at that time, because Zakiyah waked in.

9:48 PM BBT Bronte reveals her BIG SECRET that she didn't want them to tell EVER ...

Warning, if you FLASHBACK to watch it, there was a LOT of squealing, crying and yeah.. squealing and crying...

Bronte- My secret is I'm the "Secret Nerd",






Bronte cries telling Bridgett and Natalie that she hasn't been able to tell anyone about her true passion - Math.




Natalie- you are mad smart! You are hot. You're like Tomb Raider!

At that point, Natalie tells them she too has a secret, she's a former NFL Cheerleader. And, she was one of the top 5 or 15 ( she can't remember which.. really? ) out of all the cheer teams.




Bridgette reveals that her boyfriend is a doctor, and she didn't want to reveal it, if she was down to the F3 and someone vote her out because she was going to "wifey up with a doctor". She says she's "not one of those women".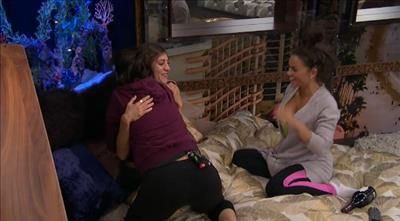 Natalie has "one more secret" her parents are really smart...




Natalie- and I'm not.

Girls- YOU are smart!!


Moving on ...

11:35 PM BBT - James and Natalie talk on the phone...James tells Natalie that Frank won the RoadKill Challenge.





Natalie- I just don't want Brotne to go home
James- I don't want her to go home either.. she's not going to go home. The best thing to do is tell Bronte to be calm, don't freak out, don't tell anything she knows to anybody




Natalie- How do we get Bridgette to see Frank's true colors?
James- When we lock him in next week, everybody's going to blow him up

Natalie- Is everyone going to vote Tiffany?
James- Yes, ...everybody. Everybody is voting Tiffany. The house is fine right now with getting Tiffany out. I'm telling you this in confidence


1:53 AM BBT - Bronte tells Paul that he's safe, that either she or Tiffany are the target this week.





Bronte to Paul- but this stays between us, if anyone asks you anything, just say that all I told you is that I want to make it to jury, if they think I am any more of a threat, I'm toast
Paul- I don't talk to anyone.
Bronte- at the end of the day, no one has your back like I do.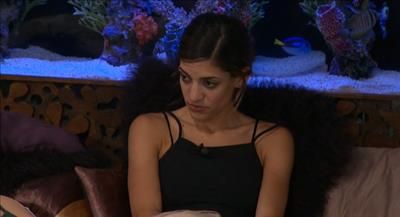 Bridgette- I will be damn if someone ****s up my HoH.
Paul- what?
Bronte- she doesn't want her best friend to go home on her HoH.


Later...

Natalie tells Bronte that Bridgette that for right now they have to keep trusting Frank and James...




And, that Tiffany is the house target


2:14 AM BBT - Natalie to Bridgette- I'm letting you know just do whatever Frank says for now. Let's stick to the original plan. ( getting Tiffany out )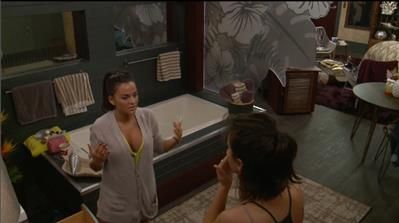 Natalie- I'm not trying to flip flop on you .. Bronte is safe this week, that's what I'm hearing.
Bridgette -okay
Natalie- it's not me changing my mind, it's me hearing things, that's it.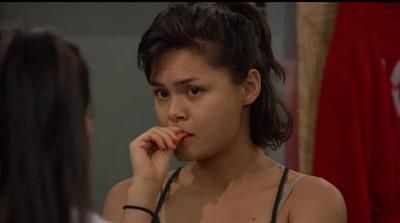 2:25 AM BBT - Bronte to Natalie and Bridgett- - Paulie is the one running the game. He's the Head Honcho. And, like on Season 16 with Cody, those boys used the girls, they plucked them out, not a single girl stood up to them,




Bronte- I would give up a half million dollars, to take down a player like Paulie. to show America that a woman can have the balls go after a player like that.
Bridgette- we can do it.
Bronte- we are going to make a comeback


2:36 AM BBT - Paulie tells Paul that even if everything stays the same, he's safe.




Paulie- I told you sitting up there against Tiffany, you would be okay, and we have Bronte up there, just in case.


The Power of Veto plays out later today!

For now ...
t
he drama continues on the Live Feeds....
.
CLICK HERE
or on any of the live feed banners you see here to get signed up and help support this website at the very same time.
If you missed our coverage of the drama just after Victor's win .. you can check them out
HERE on our News Page
or for more updates
HERE in our Live Feed Updates Forum
.
Like what we do here?
Like the Live Feed Updates?
Like the Live Feed Discussion?

Another great way to support this website is by making a donation via our PayPal link. It's safe, easy and secure to use. We appreciate any support!
Follow us on Twitter

-
https://twitter.com/BB_Updates
Join in on a discussion in our forums and check out our Live Feed Updates
As always, thanks for reading!

~ Lexie