Big Brother 18 Tiffany Rousso, Frank Eudy and Da'Vonne Rogers stirred the drama last night in the Big Brother 18 house. Where did the pieces land after last night's eviction of Bronte? You might be surprised. Keep reading or click "see more" below to find out! Not watching the Live Feeds yet? Be ready to watch all the crazy antics of the season with a Free 7 day trial and once you're hooked, you can keep watching for the low, low price of only $5.99 per month. Like Julie Chen says "it's not summer without Big Brother" and we're telling you it's just not Big Brother without the
Live Feeds!

Get signed up today by clicking on any of the Live Feed banners you see right here. You'll love the inside look and signing up for the live feeds by clicking on our banners is a great way to help support all that we do here all summer long.
Watch All The Drama On The Live Feeds!
The Live Feeds delivered the after the eviction drama that live feeders hope for. Here's just a sneak peek of some of the drama that unfolded after Bronte's eviction ...


7:08 PM BBT - Frank and Da'Vonne go at it ..






Tiffany breaks down to Natalie...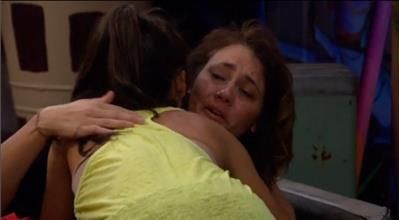 Then ... Tiffany breaks it all down to Frank ...






Frank and Tiffany made an agreement to work together. Will it stick?





Tiffany and Da'Vonne had their "moment"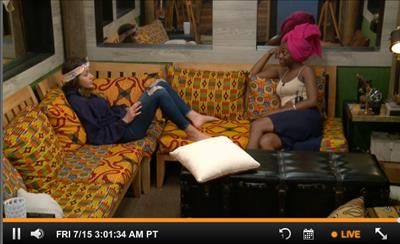 Tiffany - I should have seen it. You did the same thing with my sister..... The all girls alliance bull****
Tiffany - I'm so ****ing silly. I am a silly girl .....to think that the girls had my back.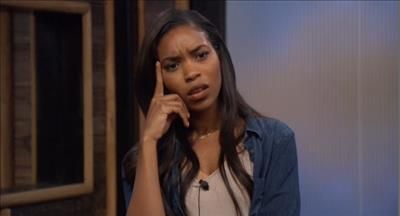 Tiffany - I'm ****ing over you guys. Seriously.... just go. I hope you feel good about yourselves after this... The way you ****ing treated me all ****ing two weeks. Nobody deserves that
Da'Vonne and Zakiyah laugh as Tiffany cries...


Tiffany- I'm glad you think it's funny.
Da'Vonne- You need to pull it together
Tiffany- No, I don't give a ****!
Da'Vonne asks Zakiyah to let her talk to Tiffany alone...



Frank checks in on Tiffany

Frank - 3 girls ( Da'Vonne, Zakiyah and Nicole ) not crying and one girl crying it seemed like a Mean Girl situation...
When I opened the door, it looked liked somebody was getting teamed up on.

Da'Vonne- Get your life Frank!



Da'Vonne asks Nicole if Corey said he wanted her out of the house ( information that she got from Tiffany )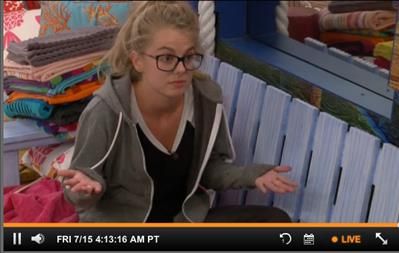 Nicole- Not that I know of Day, I don't think Corey would do that ...
Paulie- we will tag him ( Frank ) .. we will tag Tiffany this week.. and Frank the next.. and if not Frank.. then Bridgette.. and then Natalie...
Paulie - she ( Tiffany ) is her sister to a tee... it's time to strike her now .. when she's down....let's get a Road Kill win ...
Catch up with ALL the drama - Check out our Live Feed Updates

Nominations and the BB Road Kill Competition takes place today!

For now, the drama continues on the Live Feeds ...




CLICK HERE

or on any of the live feed banners you see here to get signed up and help support this website at the very same time.

Watching the Live Feeds not for you?

Like what we do here?

Like the Live Feed Updates?
Like the Live Feed Discussion?

Another great way to support this website is by making a donation via our PayPal link. It's safe, easy and secure to use. We appreciate any support!



Follow us on Twitter -

https://twitter.com/BB_Updates

Join in on a discussion in our forums and check out our Live Feed Updates

As always, thanks for reading!

~ Lexie