CBS Big Brother Battle Back week will bring evicted house guest Glenn Garcia, Jozea Flores, Victor Arroyo, Bronte D'Acquisto or this week's evictee either Tiffany Rousso, Natalie Negrotti or Da'Vonne Rogers back into the game. The Battle Back episode will air on a special Big Brother episode Friday, July 22 at 8 pm ET. Keep reading or click "see more" for more information on the LiVe Feeds, as well as a sneak peek inside some of the drama inside the Big Brother 18 house today! CBS announced on the scroll above the Live Feeds that the "Live Feeds will be down "for longer than usual later this week." We can't say that we're surprised, as any Live Feeds shown before the special Friday episode would most likely spoil exactly who won the "Battle Back", so we'll have to endure a bit of down time, but that's okay! You can still join in on a discussion in the forums and speculate exactly who will be coming back and what impact it will have on the game. We're definitely sure that any one of the evicted house guests coming back into the game, will bring more drama, more paranoia, along with a big target on their back. This House, These People, This Game! It's not too late to grab a FREE trial of the Live Feeds, so that you can be ready to watch all the drama inside the Big Brother 18 house right now and be ready for the drama once the Live Feeds return with a player back in the game! Plus, by clicking HERE or on any of the Live Feed banners right here at BBU, and signing up you help to support everything we do here all summer long.






For now, it's the hurry up and wait game, as the Big Brother 18 house guests are already locked down inside for the week. They suspect something is going on and have even mentioned the "what if someone comes back in the game" but for now, they have no real idea what drama is coming their way this week. The target ( Tiffany Rousso ) is pretty much set in the minds of "most" of the house guests, even though Frank Eudy has been trying to save her this week. ( ironic right?)

Da'Vonne Rogers is busy looking ahead in trying to break up the "showmances" Nicole/Corey and Paulie/Zakiya, she's not really counting James and Natalie as a "showmance" or not at least on that has that much power.

7/19 11:48 AM BBT Cam 4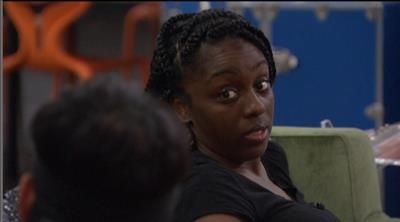 Da'Vonne - we gotta cut those showmances!
James- I'm in a showmance!
Da'Vonne- not you, the 4 .. it's bad.. bad! It's horrible! And, Paulie.. he's running this house.
James- I can see that
Da'Vonne- I'm just trusting that you've got my back, like I've got yours.
James- all I can do this week is ..
Da'Vonne- I'm not talking about this week...
James- If I win HoH, I'm not putting you up
Da'Vonne- I'm not worries about this week, I'm thinking ahead in the game...

And, Da'Vonne's right to be worried about being that "fifth wheel" ... especially in Nicole's mind...

Earlier today - 4:13 PM BBT Cam 3/4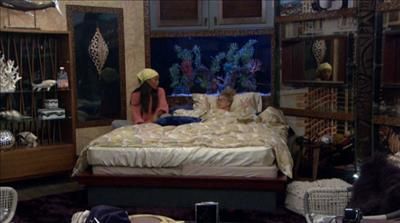 Nicole to Zakiyah - They ( Corey and Paulie ) are going to protect us in this game.

Truth is, Corey and Paulie will carry Nicole and Zakiyah as far as they want and then ( at least Paulie ) will kick them to the curb.

If one of the girls would actually stop thinking they are on the Bachelor or the Dating Game, and win something, then maybe they could carry themselves to the end. Stranger things have happened, but we'll see.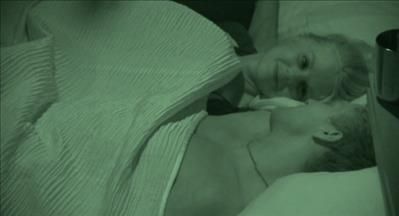 Yes, Nicole, we're watching... 7/19 4:23 AM BBT Cam 1





What do you think?

Stop by our forums and start a discussion, we'd love to hear your point of view!
CLICK HERE
or on any of the live feed banners you see here to get signed up and help support this website at the very same time.

Watching the Live Feeds not for you, but you want to know what's happening inside the Big Brother 18 house?

We'll watch and update for you!
Like the Live Feed Updates?

Like the Live Feed Discussion?

Another great way to support this website is by making a donation via our PayPal link. It's safe, easy and secure to use. We appreciate any support!
Follow us on Twitter

-
https://twitter.com/BB_Updates
As always, thanks for reading!

~ Lexie