Big Brother 18 Secret Room discovered! The Big Brother 18 house guests were given a clue this afternoon. Head of Household James Huling was the first to read "the clues to the secret are all around you, you may want to keep it to yourself". Did he? Keep reading or click "go to post" to find out! Not watching the Live Feeds yet? Be ready to watch all the crazy antics of the season with a Free 7 day trial and once you're hooked, you can keep watching for the low, low price of only $5.99 per month. Like Julie Chen says "it's not summer without Big Brother" and we're telling you it's just not Big Brother without the Live Feeds!

Get signed up today by clicking on any of the Live Feed banners you see right here. You'll love the inside look and signing up for the live feeds by clicking on our banners is a great way to help support all that we do here all summer long.



Watch All The Drama On The Live Feeds!
7/25 - 4:17 PM BBT .....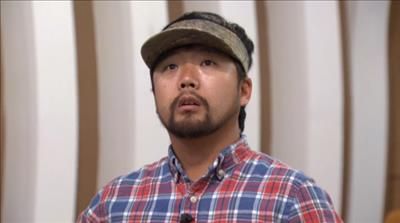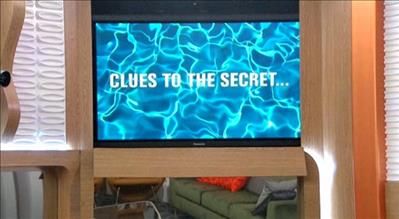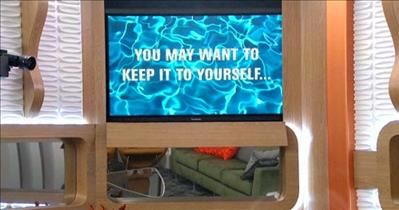 As James reads the clues ( including the "you may want to keep it to yourself" over and over he yells...
"HEY GUYS COME TO THE TV
( most of the others were sleeping at the time )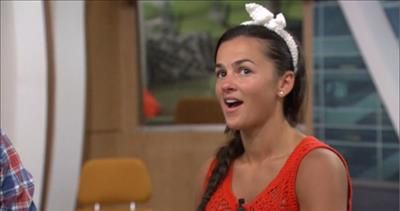 And, the search is on... high and low...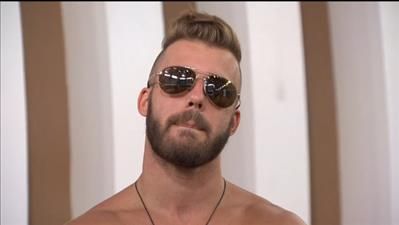 At one point, Michelle lifts a corner and can see a red room, she tells Zakiayh and Da'Vonne, once Da'vonne looks and gets a "Da'Vonne Stop That' from Big Brother, at that point, Michelle writes the "red room" off to "just production"....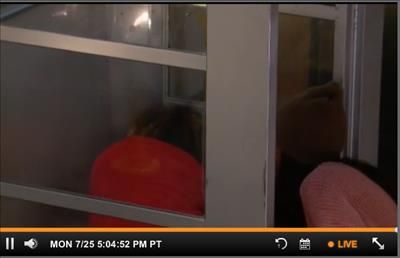 As Paul continues to search and search ...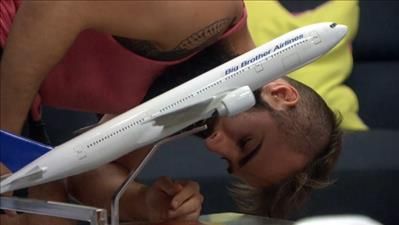 Zakiyah is complaining to Nicole that she's mad because the others didn't wake her up right away...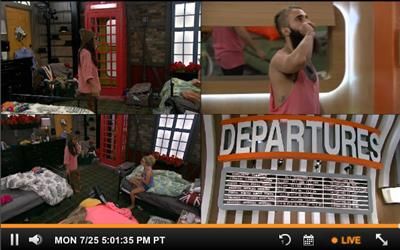 Frank gives it a try...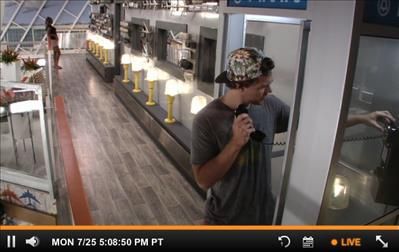 Natalie is very close, earlier she figured out about the 211 and Paris, but she can't quite put the pieces together...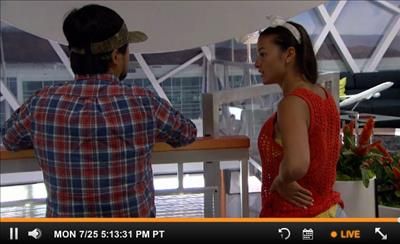 5:14 PM BBT - Paul gets a message on the phone: Stay Calm. Don't panic. You are about to be given information top secret information. Congratulations, you have just discovered the secret destination. By your feet, a door will unlatch to a tunnel. Once inside, use the rope to close the door behind you. Crawl through the tunnel, to the secret destination. It may be in your best interest to keep this a secret for now. If you are ready to enter the tunnel, the door will open in 5 seconds. If you are not ready, leave the phone booth now. Return when the coast is clear, and call "Paris" again.
Paul immediately hangs up the phone and runs from the phone booth. At that point, he tries his best to distract Frank, who is hanging close by ....
Paul to James and Corey - I think I have it. What I need everyone to do is disperse. Cool it out. I think I have it. The situation needs to calm down and I need to stay up here alone.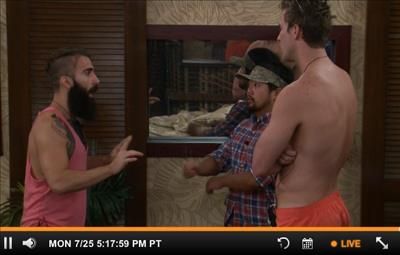 Paul - Do not tell Vic. Of all people, don't tell Victor. We'll pull Paulie in if it is what I think it is.I got a word cause it's a puzzle. Your boy is good at puzzles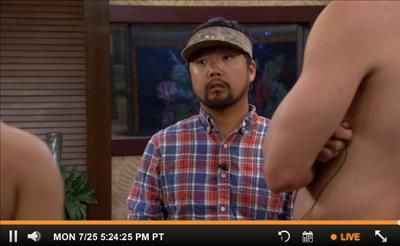 Corey to Paul - Why don't you crack it and just end it?
Paul- I don't want to make it obvious I know what I'm doing
Paul continues to keep watch over Frank and Bridgette as they try to figure it out ...
Bridgette asks Paul if she can dial a number, he tells her to wait, he wants to try to figure it out ...
She walks away ...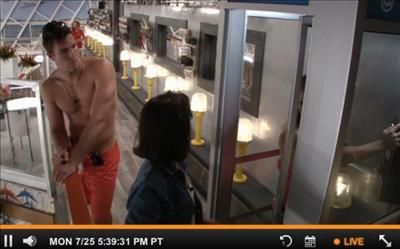 Natalie also asked Paul if she should give it a try ... he tells her to wait .. and then closes the door....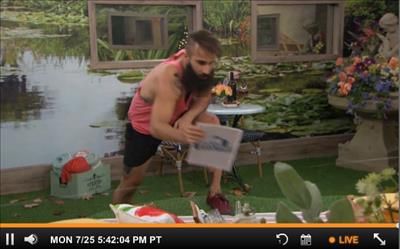 Paul read the card: Before you are 12 sealed envelopes.11 have a one way ticket but one has a round trip ticket. If you get the round trip ticket and you are evicted and haven't opened the envelope, when you are on the stage with Julie it will be opened. You will immediately go back into the Big Brother house for second shot at the half million dollar grand prize. If you open the envelope before you are evicted it is void. If you tamper with another house guests envelope you will incur a penalty. It is up to you whether or not you tell another house guests about this room or the envelope. Remember the more house guests... ( and we get FISH )
Once back, Paul has picked his ticket and is trying hard to decide what to say to the other house guests. He asks "productions" a question and once again we get FISH ... ( but we find out later that he could not lie and say that it was the "only card" .. he could make up a story, which he did, but he couldn't lie about it only being one card to pick from )
Frank and Bridgette sit and wait, while Paul is in "Paris" ...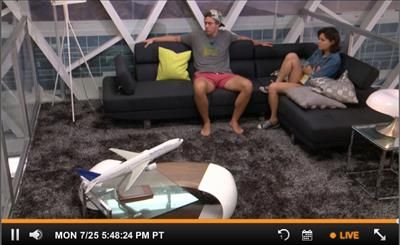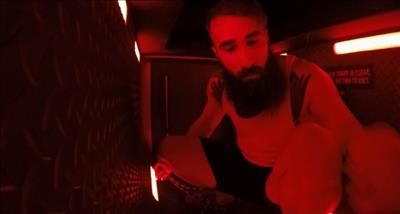 Once out, Paul spins his story very carefully...
Paul- Paris is hidden upstairs.. there were a bunch of cards laid out. I had to pick one. Inside could be a round trip somewhere!!! He tells them he won't know where, until he's evicted ( they all noticed very quickly that the card said "void if opened )
They all have questions for Paul, how did you figure out out, what was the code you used??
Paul does his best to throw them off track, saying he added up all the "departure times" ...
Natalie quickly blurts out that she thinks others can still try to get into the secret room and Bridgett starts to look at the Departure board clues once again ...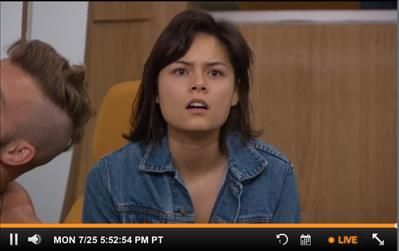 So does Victor...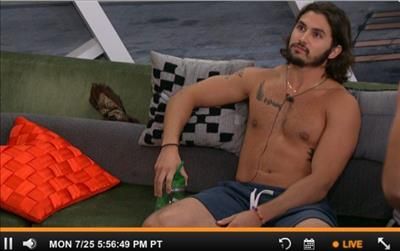 And, Da'Vonne...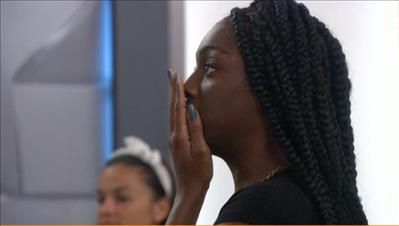 Bridgette and Frank give it another try....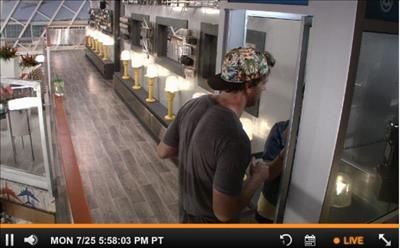 A line forms....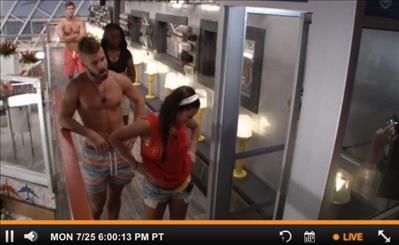 And, Victor is in ...
We get FISH and once back.. we find Michelle in the secret room, as you can see there's only one card left to pick...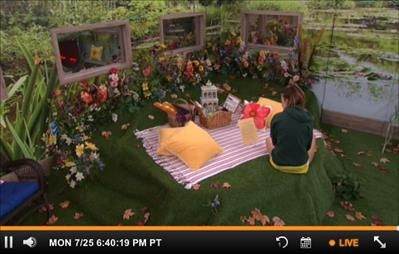 So, each house guest has a card. After Michelle leaves the room, she heads to the HoH room and calls Paul a "liar" ...
Paul is trying his best to explain why he didn't share the "whole story" when he cracked the code and found the room...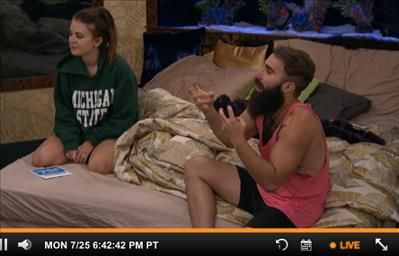 The drama doesn't stop there, as Victor happened to tell Nicole the secret code, in turn she's upset with Corey, because he didn't tell her right away. Michelle is in tears over worrying about being portrayed as a bully on the live feeds, Zakiyah is still fuming because she wasn't woken up right away. Da'Vonne is convinced that his secret room, is only there because Frank is on the block, and slated for certain eviction, And, Paulie is back on the let's get Da'Vonne out before Bridgette train.
Yes, the drama continues on the Live Feeds...
Ready to try a Free Trial?
CLICK HERE

or on any of the live feed banners you see here to get signed up and help support this website at the very same time.

Watching the Live Feeds not for you?

Like what we do here?

Like the Live Feed Updates?
Like the Live Feed Discussion?

Another great way to support this website is by making a donation via our PayPal link. It's safe, easy and secure to use. We appreciate any support!



Follow us on Twitter -

https://twitter.com/BB_Updates

Join in on a discussion in our forums and check out our Live Feed Updates

As always, thanks for reading!

~ Lexie