Big Brother 18 New Head of Household Results! The new Head of Household has FINALLY been revealed! Who will take control of the house this week?
Keep reading or click "see more" below to find out! Just a note: Even though it seems that this season, CBS has fallen into blocking the Live Feeds during any continuation of a HoH competition, we want you to know that we truly understand and appreciate your frustration AND that we will continue to work hard to bring you all the latest updates once the feeds do return. Watching those Head of Household competitions play out on the live feeds, were something that not only that provided excitement, it also provided a chance for websites like us to benefit from any live feed sign ups because fans wanted to be a part of that same excitement. This season, we haven't experienced the "excitement" or the "benefit". As I said before, we will continue to bring you the updates as quickly as we can, when the live feeds return. If you like what we do here, please consider making a donation to help us be able to continue this journey with you. Stop by our forums, join in a discussion and check our live feed updates for all the drama that these house guests bring to the table. And, as frustrating as it is right now, the Live Feeds still provide an inside look like no other show has, so if you are thinking about trying them, please first click on any of the
Live Feed banners you see right here. You'll love the inside look and signing up for the live feeds by clicking on our banners is a great way to help support all that we do here all summer long.
Watch All The Drama On The Live Feeds!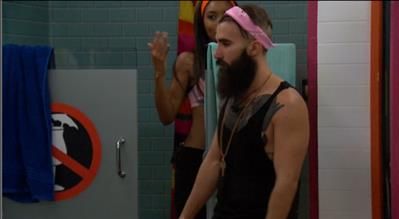 Paul is the new Head of Household

Paul won on a roll of 21.

Paulie, Zakiyah, Natalie and Corey are the Have Not's for the week!

Paul told Victor and Corey that he really didn't want to be HoH this week. He's worried about his safety next week, if there's a double eviction. They both promise him that he'll be safe.

Paul asks if one of them ( Victor/Corey ) would be a pawn up against Bridgette.

Victor tells him no.

Michelle asks Paul if he can ask Victor if he will be a pawn, he tells her yes, but will need help convincing him.

The drama continues on the Live Feeds...

Ready to try a Free Trial?
CLICK HERE

or on any of the live feed banners you see here to get signed up and help support this website at the very same time.

Watching the Live Feeds not for you?

Like what we do here?

Like the Live Feed Updates?
Like the Live Feed Discussion?

Another great way to support this website is by making a donation via our PayPal link. It's safe, easy and secure to use. We appreciate any support!





Follow us on Twitter -

https://twitter.com/BB_Updates

Join in on a discussion in our forums and check out our Live Feed Updates

As always, thanks for reading!

~ Lexie