Big Brother 18 Power of Veto Players Picked and Have Not food revealed. Which house guests are playing in today's Power of Veto? What food did the Have Not's get in addition to slop?
Keep reading or click "see more" below to find out! Not watching the Live Feeds yet? Be ready to watch all the crazy antics of the season with a Free 7 day trial and once you're hooked, you can keep watching for the low, low price of only $5.99 per month. Like Julie Chen says "it's not summer without Big Brother" and we're telling you it's just not Big Brother without the
Live Feeds
,
Get signed up today by clicking on any of the Live Feed banners you see right here. You'll love the inside look and signing up for the live feeds by clicking on our banners is a great way to help support all that we do here all summer long.
Watch All The Drama On The Live Feeds!


As the first three of fall out of the HoH Endurance Competition, James, Bridgette and Corey are the Have Not's for the week.

Along with slop, they have Hash Browns and Corned Beef Hash to eat.


Today's Power of Veto Players are:

Head of Household - Victor
Nominees - Michelle and Zakiyah
Picked Players - James, Paulie and Nicole
Host - Paul
Michelle says she knows she's alone in the Veto Competition .... knows that no one will use the veto on her...
Michelle- My downfalls have to be letting my emotions get to me, being blunt and saying what's on my mind, and not being in a showmance... sorry I didn't want to embarrass myself on national TV and I don't like any of the guys in this house...I hate when people say the term layover and die, but at this point I feel there is not much you can do to sway people
Michelle - I think this season will be horrib
le to watch... because for some reason this is one of the only seasons where a seated showmance gets so freaking far. And, none of them have been split apart, the only duo that has, is when James put up Bridgette and Frank. That was the only time that someone has taken a shot at a duo. And, I think that people are scared. and there are a whole bunch of freakin' weaklings in this house. And, I guarantee you, if I win HoH ... I am messing **** up, if I stay.






9:58 AM BBT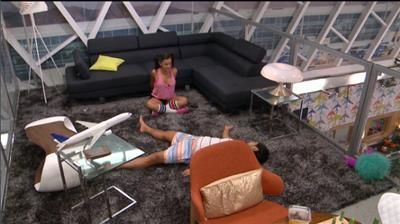 James to Natalie- I'm happy I get to play
Natalie- I know

James- and you get to watch
Natalie- I know

James- and I'm going to throw it

Natalie- I know

James- if it's a luxury comp.. then sorry.. I'm taking either the $5,000 or a trip
The Power of Veto Competition plays out later today...

For now ... the drama continues on the Live Feeds...
Ready to try a Free Trial?
CLICK HERE

or on any of the live feed banners you see here to get signed up and help support this website at the very same time.

Watching the Live Feeds not for you?

Like what we do here?

Like the Live Feed Updates?
Like the Live Feed Discussion?

Another great way to support this website is by making a donation via our PayPal link. It's safe, easy and secure to use. We appreciate any support!

Follow us on Twitter - https://twitter.com/BB_Updates


Join in on a discussion in our forums and check out our Live Feed Updates

As always, thanks for reading!

~ Lexie