Big Brother 18 Power of Veto Competition is over and we have the results! Who won the Power of Veto? Keep reading or click "see more" below to find out! Not watching the
Live Feed
s yet? Be ready to watch all the crazy antics of the season with a
Free 7 day trial
and once you're hooked, you can keep watching for the low, low price of only $5.99 per month. Like Julie Chen says "it's not summer without Big Brother" and we're telling you it's just not Big Brother without the
Live Feeds
, Get signed up today by clicking on any of the Live Feed banners you see right here. You'll love the inside look and signing up for the live feeds by clicking on our banners is a great way to help support all that we do here all summer long.
Watch All The Drama On The Live Feeds!


Victor won the Power of Veto

Zingbot was there...




Victor gave up $5,000 to take the Veto
James won the $5,000
Paul has to complete a task ( don't know for how long) but he has numbered check points all throughout the house ....
Paulie has to "bake a pie" every time BB says " Oh Hey Can You Zing" ...

Nicole won a vacation to any where in the United States
Paul has to dress in a suit .. like the Secret Service

Corey will be wearing a Patriot-tard
Nicole - all 3 of us will be in a costume on the Live Show



Paulie to Paul and James -
Well boys, I appreciate you guys being in here and hanging out and all that stuff.

He goes onto to say that he will talk to Victor, see if he will consider taking him off the block.
Paulie heads up to talk to Power of Veto winner Victor ...



Paulie to Victor- If you find it within yourself to pull him down, I'd like to fight for my life. You know the same way you had 2 people to campaign against. Because, I refuse to campaign against Corey. If you don't want to do that, it's completely up to you. I will sit and enjoy my time, but I won't campaign against him. I won't campaign against any guy that was in my alliance. If you find it in yourself, to pull it down, there are options that would still get me out of this house. Pretty much, everybody has already made their mind up about that. You know what I mean, so I would like to just not roll over and do nothing, I would at least like to have the chance to kinda ask around, fight for it, you know what I mean?

Victor - I gotcha

Paulie - and, if people want to lie to me, the same way they lied to you, then I'm still going home, you know what I mean?

Victor- I hear you out man ...

Paulie- I appreciate it.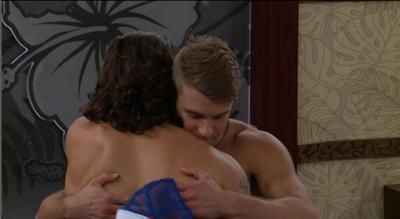 Victor- good fight out there man

Paulie- thanks, I wish it was anything but a freakin' crap shoot
The drama continues on the Live Feeds...

Ready to try a Free Trial?

CLICK HERE or on any of the live feed banners you see here to get signed up and help support this website at the very same time.

Watching the Live Feeds not for you?

Like what we do here?

Like the Live Feed Updates?
Like the Live Feed Discussion?

Another great way to support this website is by making a donation via our PayPal link. It's safe, easy and secure to use. We appreciate any support!

Follow us on Twitter - https://twitter.com/BB_Updates


Join in on a discussion in our forums and check out our Live Feed Updates

As always, thanks for reading!

~ Lexie