Big Brother 18 Live eviction and last ticket reveal is over. Did Paulie Calafiore have the Round Trip Ticket? Keep reading to find out who was evicted, check out Da'Vonne, Zakiyah and Bridgette at the Big Brother Jury House and there's a new twist revealed! Not watching the
Live Feed
s yet? Be ready to watch all the drama with a
Free 7 day trial
and once you're hooked, you can keep watching for the low, low price of only $5.99 per month. Like Julie Chen says "it's not summer without Big Brother" and we're telling you it's just not Big Brother without the
Live Feeds
. Get signed up today by clicking on any of the Live Feed banners you see right here. You'll love the inside look and signing up for the live feeds by clicking on our banners is a great way to help support all that we do here all summer long.
Watch All The Drama On The Live Feeds!


Julie Chen -
For most of the summer, Paulie has been running the game. Tonight, he just might be run right out of the house.

Tonight, there will a be jury segment and you'll get to meet the first Big Brother baby ( Rachel and Brendon )
Nicole DR- Zingbot is singing but Paulie is not moving to make that apple pie. You really need to just suck it up and do it, it's part of the Big Brother experience.

Michelle DR - The fact that Paulie is just running around and not respecting the game makes me think I'm not the biggest baby.

After Paulie refuses to make the 2nd apple pie, Corey gives him a pep talk and he finally makes it ( this is after a trip to the DR, that they did not show tonight, where they told Paulie, that they thought he had said he would be a good sport about his punishment from the PoV competition )

Paulie finally complies and makes the apple pie.

Paulie DR- I had my time to feel bad for myself. Now, I need to get my mind back in the game

We get a Paulie campaigning segment.

Next up, Rachel and Brendon .. with baby Adora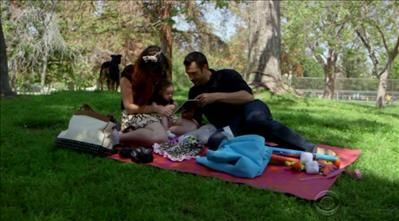 Rachel says she's obsessed with Natalie.
Brendon thinks that Paul could win the game.
Rachel - I was the last female to win Big Brother. That was 5 years ago. Girls, step it up! They need to ditch the guys


Rachel - she ( Adora ) will be on Big Brother, no matter what her dad says.

Jury house segment is next...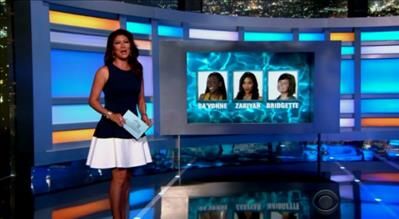 Da'Vonne -my biggest regret is not keeping my big mouth shut.

Zakiyah arrives and they watch the HoH endurance competition, where Zakiyah drops after Paulie tells her he will take care of her....





They see Victor win HoH and Paulie winning the PoV.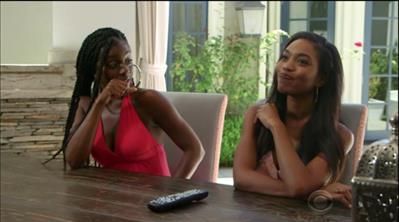 Da'Vonne- wait a damn minute, he won the Power of Veto, and you're sitting here next to me?

Bridgette arrives.

They watch the double eviction where Corey wins HoH and PoV and where Michelle calls out Paulie and Nicole.


Da'Vonne- I am so proud of Michelle. That girl is playing the game. She is playing a little dirty but she is playing it!
Zakiyah - Homeboy (Paulie) is going to get chewed up and spit out
Da'Vonne, Zakiyah and Bridgette all want Paulie to be the next one to arrive in the jury house.

Paulie gives his final plea, which was a long one, complimenting every single house guest, and ending it by telling Michelle, the one thing she didn't have in the Big Brother house, was a showmance...

Paulie to Michelle- may I?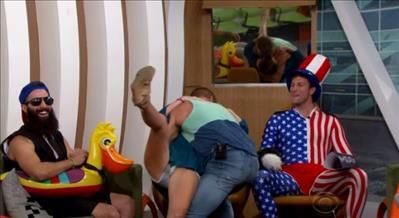 Live Voting:

Michelle- Paulie
Paul - Paulie
James- Paulie
Natalie- Paulie
Nicole - Paulie


By a vote of 5- 0 ... Paulie Calafiore has been evicted from the Big Brother House





Final Ticket Reveal: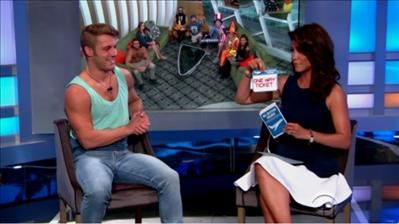 Paulie has a ONE WAY TICKET and becomes the 4th member of the Big Brother Jury.
Julie- Who do you feel betrayed you the most?
Paulie- I think it was a team effort

Julie asks Paulie about his reaction to being on the block, after he had his hand in almost every single eviction of the summer.
Paulie to Julie- I was trying to get some sympathy. Crying doesn't work for men as much as it works for women



Julie-
Will you have something outside of the house with her (Zakiyah)?
Paulie- Too early to tell.
Julie- That's a no

Michelle's goodbye to Paulie - Zingbot said you are a poor man's Cody. When it comes to game play, you are definitely a poor man's Derrick

All tickets are revealed....


Natalie - One Way Ticket
Nicole- One Way Ticket
Corey - One Way Ticket
James - One Way Ticket
Victor- One Way Ticket

Paul - ROUND TRIP TICKET




( remember he was the first one into the secret Paris room and had the first pick of all the tickets )

Michelle- One Way Ticket






New Twist Coming - one of the first 5 Jury Members will compete to get "back in the game"

Julie will reveal the "new twist" to the house guest on next Thursday's Live Show ...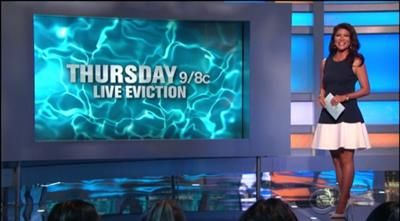 Don't forget to vote for the last America's Care Package... Co- HoH ...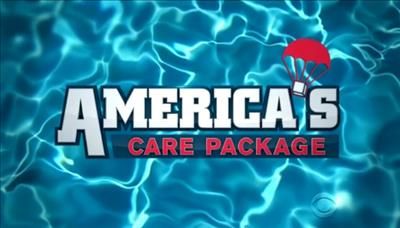 Tomorrow ( Friday ) is a "bonus show.

The Head of Household Competition will play out tonight... ( will air on Sunday Night's show )

Head of Household Winner Results revealed on the Live Feeds... ( later tonight )

Ready to try a Free Trial?

CLICK HERE or on any of the live feed banners you see here to get signed up and help support this website at the very same time.

Watching the Live Feeds not for you?

Like what we do here?

Like the Live Feed Updates?
Like the Live Feed Discussion?

Another great way to support this website is by making a donation via our PayPal link. It's safe, easy and secure to use. We appreciate any support!

Follow us on Twitter - https://twitter.com/BB_Updates


Join in on a discussion in our forums and check out our Live Feed Updates

As always, thanks for reading!

~ Lexie