Big Brother 18 house guests are under a BB Storm Watch. But, that's not the only drama they are dealing with. There's a storm brewing that might blow one house guest right out the Big Brother back door. Yesterday's nominations created blow ups, confrontations, tearful regrets, the yes, even the possibility of a back door target. And, if that's not enough to drama to keep you up at night, Big Brother made sure that BB Storm Weather Warnings were blasted all through the night, giving the house guests Storm Warning information, that will be used in today's Power of Veto Competition. Keep reading or click "see more" below for a sneak peek inside a very long day and night inside the Big Brother 18 house! Not watching the
Live Feed
s yet? Be ready to watch all the drama with a
Free 7 day trial
and once you're hooked, you can keep watching for the low, low price of only $5.99 per month. Like Julie Chen says "it's not summer without Big Brother" and we're telling you it's just not Big Brother without the
Live Feeds
. Get signed up today by clicking on any of the Live Feed banners you see right here. You'll love the inside look and signing up for the live feeds by clicking on our banners is a great way to help support all that we do here all summer long.
Watch All The Drama On The Live Feeds!



So much happened yesterday and into the night that it's almost impossible to wrap it all up in a single update, but I'll try ...

I suggest that you check out our Live Feed Updates HERE for ALL the crazy drama that started after Natalie and Michelle's nomination of Paul and Victor.

Here's a glimpse of one very long drama filled day and night after the nomination ceremony ...



Paul confronts Natalie and Michelle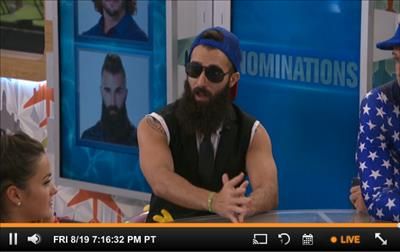 Nicole and Corey celebrate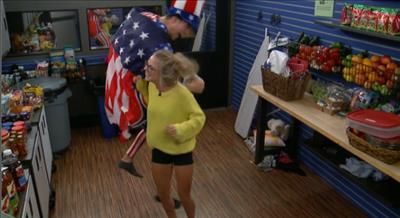 Paul works to turn the tables back
Natalie cries, regretting her nomination decision ...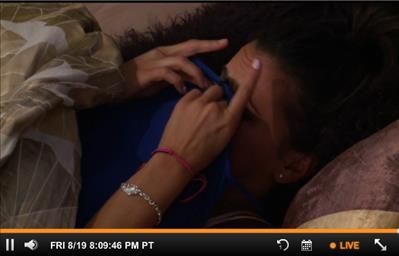 Natalie decides to back door Corey, if she gets the chance

Michelle wants to save Victor and Paul, mostly Victor
Natalie is still leaning towards saving Victor from the block ...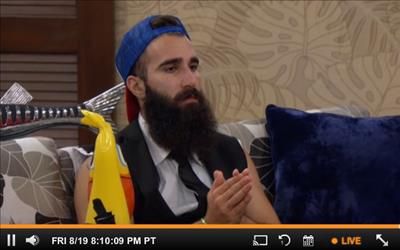 Paul wants to call out Nicole and Corey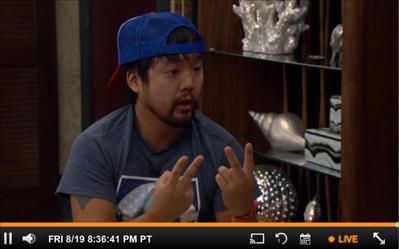 Once alone, James tells Natalie that they need to get assurances from Paul and Victor that what happened this week will be forgotten ...


Michelle tells Paul that she wanted to stick to the 5...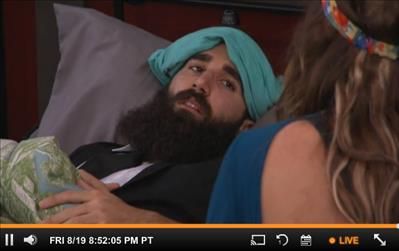 Nicole promises Michelle, she's not after her






Michelle promises Victor, if she wins the Veto, she will use it on him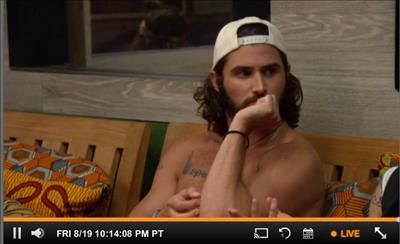 Michelle alone in the HoH room talks to the Live Feeders, thanking you for her care package and hoping she isn't disappointing ...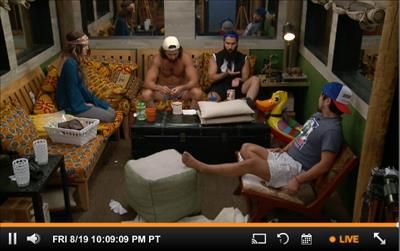 James talks with Paul, Victor and Michelle in the Safari Room - all agreeing that they need to win and use the veto to back door Corey



James meets up with Natalie in the Storage Room - tells her that the others want Corey back doored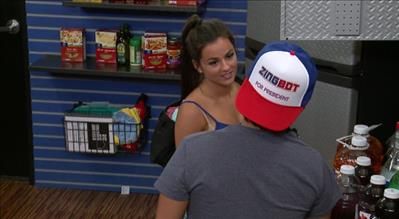 Corey tells Nicole that Michelle's nomination of Paul, was the "dumbest move ever" for her.

Paul asks Natalie's permission to call out Nicole and Corey
Victor and Paul assure Natalie that they have time to fix things


Paul drops the bomb on Natalie .. telling her about Corey's comment about her sucking on James' dick to get to the end
Natalie is furious .. wants to back door Corey for sure
Paul asks again if he can "blow up their ( Corey/Nicole's ) **** ..he wants to Pot and Pan them
James suggests going down to the kitchen now, Nicole there, Corey in the DR


Paul confronts Nicole





Corey comes out of the DR, excited to do a strip tease, as his Patriot-tard time is over
Paul and Nicole going at it






Corey confused, wants to play up his release, it's awkward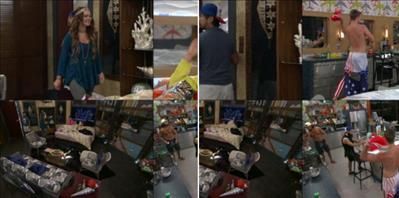 Paul continues to confront Nicole....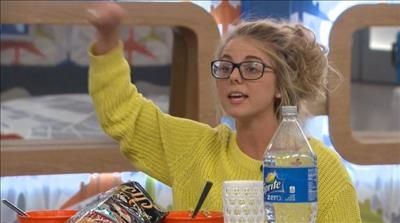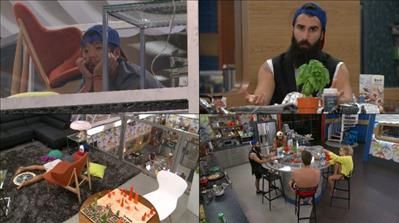 Nicole makes her way up to the HoH Room







Paul tells Victor that Nicole is "****ting her pants"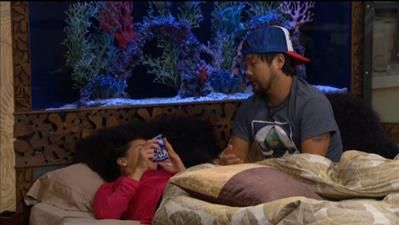 James works to assure Natalie that he has Nicole and Corey and they will not come after her and that Corey's time "will come"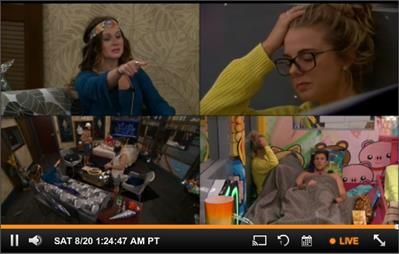 Nicole tells Corey that she should of just walked away from Paul. She tells Corey she will take all the heat.


James- game plan, win veto, pull someone down, put up Corey, we all know what's going on ...

And, if that's not enough for you ...



1:35 AM BBT - BB announces - THIS IS A BB STORM UPDATE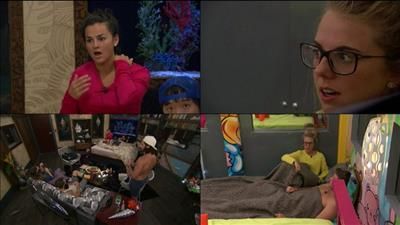 The BB area is encountering a slow moving storm... authorities are calling it "Super Storm Glenn"
Countless coconuts have been seen falling to the ground
Doppler Radar shows it's raining cats, and well-groomed dogs...
Forecast for "Super Storm Glenn" is that this low pressure system will quickly dissipate ..
"Super Storm Glenn" originated in the North east.. leaving in its wake.. and 1/2 inch of rain and 2 pounds of dog hair...
A storm this strong, hasn't been since since Super Storm Jodi...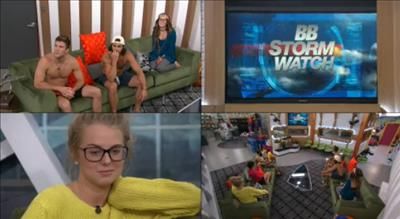 Natalie cracking up remembering Michelle's speech to Paul... Which went something like this...

Michelle to Paul - You swear to God all the time, and yet you are an atheist ..
Paul- I'm not an atheist ...
Michelle- oh.. well this is awkward...

Natalie cracking up ...





Michelle- they ( America/Live Feeders ) all think we are bat **** crazy ...


2:55 AM BBT - THIS IS A BB STORM UPDATE

The residents are still feeling the effects of Super Storm Glenn
Another storm is rolling in, Super Storm Joeza is a fierce weather system, with swirling winds 25 miles per hour and gusts up to 40 miles per hour
People are already calling this the Messiah of bad weather...
This storm goes higher than normal water levels in Eviction County ...
But, despite initial claims.. the seas have not actually parted...
Super Storm Jozea is a noisy storm, travelling towards the BB house at 22 miles per hour
The system is 78 miles wide
Stay tuned to BB Weather for further updates


Paul, Michelle, Victor, Natalie and James all reciting each storm update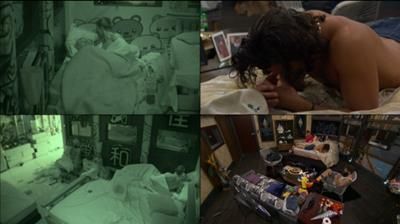 Nicole and Corey are talking about kissing and cuddling ... with Nicole asking Corey if he will cuddle her and make her feel safe..




3:53 AM - THIS IS A BB STORM WATCH UPDATE

An update now on Super Storm Jozea...Earlier reports of this storm being called the Messiah of Bad weather ... are now being called a serious exaggeration ...
The BB Weather Center is tracking yet another system...
Large Raindrops seem to be the cause of what is being called Super Storm Tiffany ...
Super Storm Tiffany is rolling into the area bringing non stop rain...
It has an impressive cloud canopy ...
BB weather trackers report that it's a similar but lesser version of last years Super Storm Vanessa
Stay tuned to BB Weather for further updates..


Paul continues to drill Michelle and Victor on each storm update ...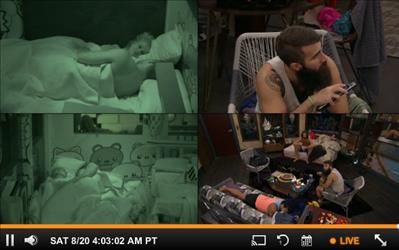 Nicole tells Corey that she can't imagine hanging out with him on a regular day.. where they didn't have to stress out ...



4:46 AM BBT - THIS IS BB STORM WATCH UPDATE

Super Storms Jozea and Tiffany to continue to pester the BB area...
And, if thing weren't bad enough, super storm Frank is coming down from the Chilltown area.. bringing a cold surge...
It looks like it's time for OLD man winter..the likes of which haven't been since since 2012
Super Storm Frank is producing high pressure systems and unpredictable weather patterns..
It is predicted to bring a combination of snow, sleet, rain and hail and sun..
To make matters worse ... Super Storm Frank is being trailed by a smaller storm...
Super Storm Bridgette is expected to hang around in Super Storm Frank's wake...
Stay tuned for the next BB Storm Watch update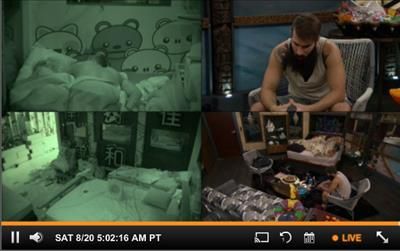 Paul is still up and wired...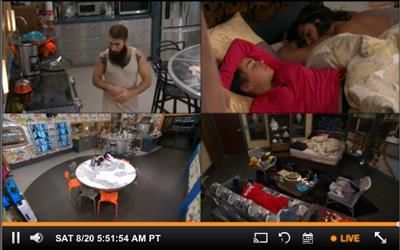 5:56 AM - THIS IS A BB WEATHER STORM UPDATE

Paul- Meech .. get up!
Michelle- I am up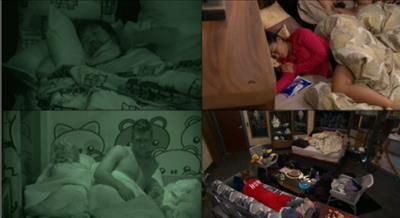 An update now on Super Storm Tiffany, it's now producing freezing rain conditions with gusts up to 64 miles per hour
Tear size hail is expected from this storm
The BB weather history center has filed a report on Super Storm Glenn, they note that this storm was a force for less than 29 hours
It had a high temperature of 73 and a low of 65 with a very distinct Boogie Down Bronx accent
Some question whether it should be considered a weather event at all ..
Stay tuned for the next BB Storm Watch Update

Paul to Michelle and Vic - we're going to start again guys .. Vic?
Vic- I'm listening ...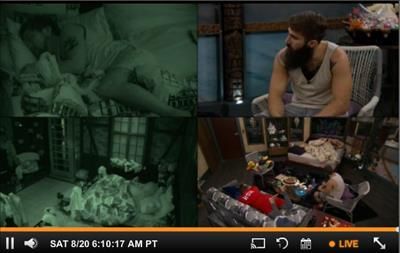 6:33 AM BBT - Paul, Michelle and Victor still going/reviewing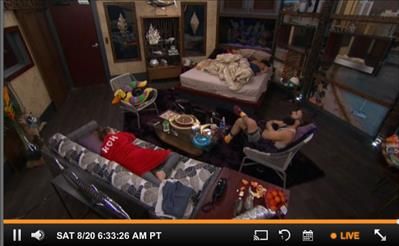 6:35 AM - THIS IS A BB STORM WEATHER UPDATE
Paul- Nat! Get up!!

Natalie- I will have everything memorized I promise...

Paul- get up .. we need you for this one.. listen !
The convergence of Super Storm Jozea, Tiffany and Frank have caused problems throughout the region.

Super Storm Jozea, hit the key region NotsVille and LostVeto

Super Storm Tiffany closed down PowerPeninsula, SafetyVille and the Toezarks ...

Adding to the havoc.. Super Storm Frank caused RV's in back door country to get stuck ...

Authorities cautioned residents to stay off the streets.. to avoid becoming BB Road Kill ...

Stay tuned for the next BB Storm Watch Update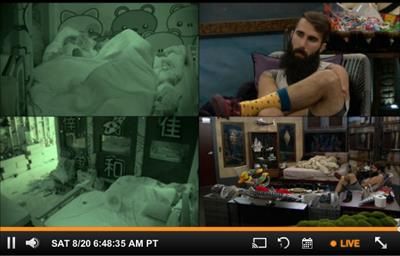 Paul- Vic? You up? You're turn...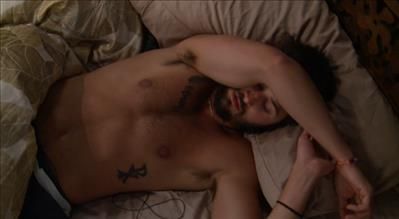 Victor- I just did it 2 minutes ago ...


The drama continues on the Live Feeds...

Ready to try a Free Trial?

CLICK HERE or on any of the live feed banners you see here to get signed up and help support this website at the very same time.

Watching the Live Feeds not for you?

Like what we do here?

Like the Live Feed Updates?
Like the Live Feed Discussion?

Another great way to support this website is by making a donation via our PayPal link. It's safe, easy and secure to use. We appreciate any support!

Follow us on Twitter - https://twitter.com/BB_Updates


Join in on a discussion in our forums and check out our Live Feed Updates

As always, thanks for reading!

~ Lexie