Big Brother 18 has yet another new alliance. Which four unlikely house guests have bonded together this time? What cool name did they think up for their new strong and bold alliance? Keep reading or click "see more" below to find out and get a sneak peek of who might be playing the pawn this week. Not watching the Live Feeds yet? Be ready to watch all the drama with a Free 7 day trial and once you're hooked, you can keep watching for the low, low price of only $5.99 per month. Like Julie Chen says "it's not summer without Big Brother" and we're telling you it's just not Big Brother without the Live Feeds. Get signed up today by clicking on any of the Live Feed banners you see right here. You'll love the inside look and signing up for the live feeds by clicking on our banners is a great way to help support all that we do here all summer long.

Watch All The Drama On The Live Feeds!


Nicole, Corey, Paul and Victor formed an alliance called the ....





Final 4 ...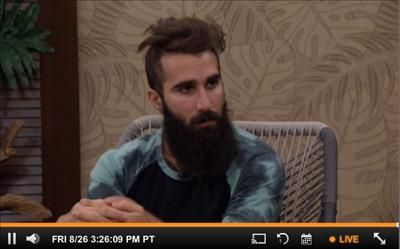 It's not quite the hair raiser you had hoped for is it?


Last night, Nicole was set on nominating James and Michelle, with Michelle as her target.

Today ...

Nicole to Corey- James is not going up on the block. I never said James is going on the block.
Corey- You said it last night...
Nicole - I'm not putting James up on the block... if anyone is going to blow up any plan, it's going to be James


Nicole tells Paul that she could put him up with Michelle in order to keep the other side calm.

Paul- I know he (Victor) would vote my way. Corey, if you give me your word...
Corey- I promise.
Paul- I would do it ...

Nicole - I will break that tie in front of everyone and say Michelle, get to steppin'


Paul- put me up. I'm trusting you. **** it
Nicole- are you sure?
Paul- **** it

Nicole- this is the best strategic way for one of us to win this game
Victor- I agree



Meanwhile...

Michelle- apparently Paul is working with them now
James- no... Corey and them aren't dumb

Nicole to Corey, Paul and Victor- The Final 4 is not going to say anything personal... we're going to go down in history being strategic, smart and powerful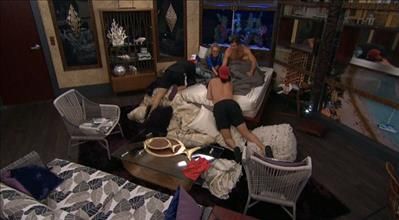 Paul- put me up. I trust you
Nicole- you are not going anywhere. .. they ( Natalie/James ) think that you are my target.... if they pull her (Michelle) down and think they ( Natalie/James ) are pulling a fast one, the other one is going up and going home


Meanwhile...

Natalie - It's going to suck if one of them (Paul/Victor) doesn't go
James - one of them will go... all we need are two votes


And then ....


Paul - it comes down to two votes. I know that he (Vic) would vote my way
Corey - I would
Nicole - - he absolutely would

Back to ...


Natalie - Nicole is playing strategically.. she will backdoor Vic if she has to.
James- if Paul comes down

And finally ( for now ) ...


Nicole to Paul- you going home is not good for my game.... I'm thinking "do I really want to put you up there?", but I trust him (Corey). I want to keep it ( The Final Four ) hidden. I think it's more fun that way...
Paul - then let's do it!

Will Nicole go through with her plan to nominate Paul and Michelle? Is Paul really a pawn?

Nicole's nominations are coming up ...
The drama continues on the Live Feeds...

Ready to try a Free Trial?

CLICK HERE or on any of the live feed banners you see here to get signed up and help support this website at the very same time.

Watching the Live Feeds not for you?

Like what we do here?

Like the Live Feed Updates?
Like the Live Feed Discussion?

Another great way to support this website is by making a donation via our PayPal link. It's safe, easy and secure to use.

We appreciate any support!
.