Big Brother 18 Live Eviction is over and the Head Of Household Competition continues! Who was evicted? Who took Corey's Bribe? And, who will be the next Head of Household? Keep reading or click "see more" below to find out! Not watching the
Live Feed
s yet? Be ready to watch all the drama with a
Free 7 day trial
and once you're hooked, you can keep watching for the low, low price of only $5.99 per month. Like Julie Chen says "it's not summer without Big Brother" and we're telling you it's just not Big Brother without the
Live Feeds
. Get signed up today by clicking on any of the Live Feed banners you see right here. You'll love the inside look and signing up for the live feeds by clicking on our banners is a great way to help support all that we do here all summer long.
Watch All The Drama On The Live Feeds!
Corey uses his bribe....

On the Live Feeds - Wednesday - 8:58 PM BBT
After talking it over and over and over ... Corey and Nicole decide they've found a way to solidify their new "The Final Four" alliance by offering Victor the $5,000 to vote out Michelle. ( which he was going to do in the first place) but it came down to the "use it or lose it" and they decided to "use it" to strengthen their pact with Victor and Paul.


CBS Interactive today announced the official title and premiere date for the upcoming digital edition of BIG BROTHER

Developed exclusively for CBS All Access, the CBS Television Network's digital subscription video on demand and live streaming service,

BIG BROTHER: OVER THE TOP will begin streaming live on Wednesday, Sept. 28, at 10:00 PM ET/7:00 PM PT.

Julie Chen is the host.


Julie lets the House Guest know that tonight is NOT a double eviction and there will be NO other double eviction this summer.

( note- she didn't say anything about not having a fast forward )



The house guests get video messages from their families...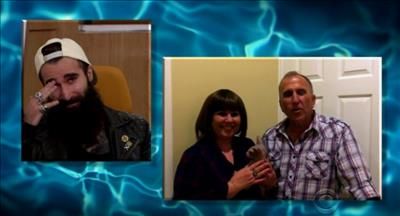 Live Voting:

Victor- Michelle ( bribe complete )
Natalie- Paul
Corey- Michelle
James - Paul

It's a tie...

As Head of Household, Nicole will break the tie....

Nicole cast the deciding vote for Michelle....

Michelle has been evicted from the Big Brother 18 house.


On her way out the door, Michelle says she hopes whoever wins HoH, gets their head out of Victor's ass and that they vote out Nicole...

Michelle- you guys need to get Nicole out, if you know what's good for you, get her out next! She's floating her way to the Final 2
Nicole to Michelle- that's exactly why I had to evict you!







Head of Household Competition: "Poached Eggs"

It's the Chicken Coop Competition ...





The House Guest must work the egg up, over and down to the ramp and then roll the egg to knock over the letters H.. O.. H ...

First one to do so, is the new Head of Household....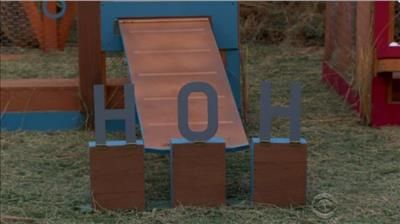 To avoid being a Have Not .. get an egg into the Have Holder.. the first three house guests to get an egg in the Have Holder, will NOT be Have Not's for the week...





Julie warns them to be careful ... eagles may "poach" their eggs...





Follow along with our HoH Competition Updates in our Live Feed Updates Forum HERE

The drama continues on the Live Feeds...

Ready to try a Free Trial?

CLICK HERE or on any of the live feed banners you see here to get signed up and help support this website at the very same time.

Watching the Live Feeds not for you?

Like what we do here?

Like the Live Feed Updates?
Like the Live Feed Discussion?

Another great way to support this website is by making a donation via our PayPal link. It's safe, easy and secure to use. We appreciate any support!

Follow us on Twitter - https://twitter.com/BB_Updates

Join in on a discussion in our forums and check out our Live Feed Updates

As always, thanks for reading!

~ Lexie