CBS Big Brother 18 Nominations are in! Who was nominated for eviction this week? Keep reading or click "go to post" to find out! Don't miss out on a
FREE ONE MONTH TRIAL
of All Access, using the Promo Code
FallAccess
. This promo code expires on 9/16/16, so don't delay, get signed up today and save money! And, even though this new Big Brother Over The Top season is only on
CBS All Access
that doesn't mean that you have to sit in front of your computer all season long. Grab your remote, sit on your couch and stream your favorite CBS shows on your big screen, with streaming devices such as Chromecast, Apple TV, FireTV, Roku, and even XBox360.
Click HERE
to get signed up today and find out all that CBS All Access has to offer. Executive Producer Allison Grodner shares "with the unique streaming format, not only will viewers get to see
everything
play out live, including ceremonies and competitions, but the audience will also participate in the show like never before. Each week will offer unprecedented interactive opportunities that will have an immediate impact on the game." It's coming sooner than you think... sign up today!
Head of Household Corey Brooks nominated Victor and Paul for eviction, turning his back on this "Final 4" alliance to make a new Final 3 alliance with James and, of course, Nicole.


Before Nominations ... Corey and Nicole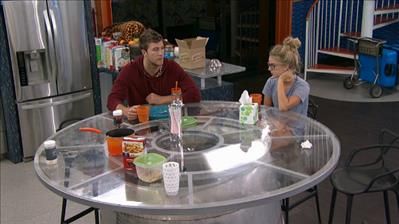 Corey - you (Paul/Victor) said it yourself, anyone sitting next to you Final 2 is going to lose. I want to win. James kept me in this house.
Nicole- and he's had my back
Corey- so I can't put him up

Corey- ( practicing his nomination speecch ) I nominate you Victor and you Paul....this has to be done. I expect you guys would do the same thing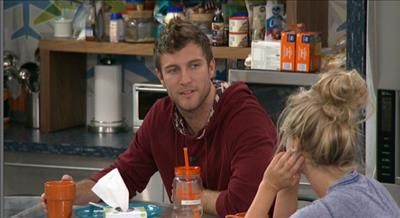 10:24 AM BBT -

Nicole - if I win HoH next week,...I literally can never sit on the block....
Corey - that's crazy
Nicole- that's what I need and any one would be an idiot to nominate me right now.... anybody can beat me in Final 2

And, James talks to the live feeders about his strategy this season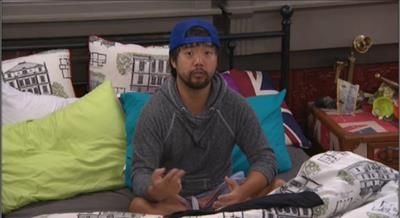 James - lay low, throw comps, not really try too hard. I know I have been in a showmance.... I feel like I lost focus a little bit but my social game was so strong I could take a break. James- I'm like 89-90% sure that I will be part of the Final 4,...which is huge. I've got to start winning these comps


Click HERE to catch up on all the action inside the house last night after Corey's HoH win ...
Victor and Paul ( before ) nominations...
Paul - I'm going to say that both of us might be on the block.
Victor - I wouldnt even want to entertain the conversation
Paul - have to ...
Victor - if I get ****ed over... it's part of the game.... if I don't, great...but I will call them out on it if I do....I feel like our alliance is more than just an alliance in the game. I feel like it's really friendship. I would not do it to them.
Paul - you would have to...swallow your pride
Victor- I don't have to do ****...if they did it and then tried to explain afterwards, I would not entertain the conversation

Nicole/Corey

Nicole - I'm so proud of you... this is such a good move
Corey - I know
Nicole- Victor is in a really bad mood today
Corey- I know... he was saying he was going to punch something earlier
Nicole - yeah .. it's not a good day to put him up
Corey- I would love for him to throw a punch at me
Nicole - this is the first time that I feel like I am stabbing someone in the back this year
With both Paul and Victor on the chopping block...

The drama continues on the Live Feeds...

Get your FREE ONE MONTH TRIAL right now and be ready for ALL THE DRAMA!

Click HERE or on any of the CBS All Access banners you see here to get signed up and help support this website at the very same time.

Watching the Live Feeds not for you?

Like what we do here?

Like the Live Feed Updates?
Like the Live Feed Discussion?

Another great way to support this website is by making a donation via our PayPal link. It's safe, easy and secure to use. We appreciate any support!

Follow us on Twitter - https://twitter.com/BB_Updates

Join in on a discussion in our forums and check out our Live Feed Updates

As always, thanks for reading!

~ Lexie