CBS Big Brother 18 Paul Abrahamim and Nicole Frazel, will they really take each other to the Final 2? Keep reading or click "go to post" for a sneak peek of what they had to say about that today. Even though this new Big Brother Over The Top season is only on
CBS All Access
that doesn't mean that you have to sit in front of your computer all season long. Grab your remote, sit on your couch and stream your favorite CBS shows on your big screen, with streaming devices such as Chromecast, Apple TV, FireTV, Roku, and even XBox360.
Click HERE
to get signed up today and find out all that CBS All Access has to offer. Executive Producer Allison Grodner shares "with the unique streaming format, not only will viewers get to see
everything
play out live, including ceremonies and competitions, but the audience will also participate in the show like never before. Each week will offer unprecedented interactive opportunities that will have an immediate impact on the game." It's coming sooner than you think... sign up today!
Paul has continue to promise Nicole that he's taking her to the Final 2, if he wins the 3rd and Final HoH competition "live" Wednesday night. And, for the most part, he's believable. On the other hand, it's Nicole's promise that she will take Paul, that at ( at least to me ) been debatable.

Here's a sneak peek of a convo they had today ... ( you decide, is it truth or deception? )

9/18/16 - 12:50 PM BBT ....






Paul - you don't doubt me right.. 0%?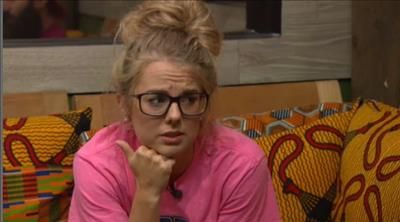 Nicole- no .. 0%


Paul - strategically, emotionally, personally, physically, mentally...

Nicole- every way ..

Paul - every way .. I ...

Nicole - same

Paul - you have my word you're my Final 2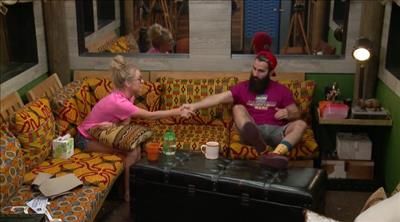 Nicole to Paul - you have my word too... so it doesn't matter

They hug it out ...





You can catch up on Paul and Nicole's plan for their Jury Speech HERE in our Live Feed Updates Forums

What do you think?

Will Paul and Nicole take each other F2, or will James be sitting in a F2? Join in on a discussion in our Live Feed Discussion

We'll wrap up this season Wednesday Night, but we'll continue to be here for you .. for the new Big Brother Over The Top...

For now, Big Brother 18 drama continues on the Live Feeds....

And, Over the Top is ONLY accessible on CBS All Access...

Ready to get signed up?

Click HERE or on any of the CBS All Access banners you see here to get signed up and help support this website at the very same time.

Watching the Live Feeds not for you?

Like what we do here?

Like the Live Feed Updates?
Like the Live Feed Discussion?

Another great way to support this website is by making a donation via our PayPal link. It's safe, easy and secure to use. We appreciate any support!

Follow us on Twitter - https://twitter.com/BB_Updates

Join in on a discussion in our forums and check out our Live Feed Updates

As always, thanks for reading!

~ Lexie