CBS Big Brother Over The Top Live Eviction Tonight! Which house guest was evicted this week? Keep reading or click "go to post" below to find out! You can watch ALL THE DRAMA PLAY OUT LIVE exclusively on
CBS All Access
. You can watch 24/7 on your computer or grab your remote, sit on your couch and stream #BBOTT on your big screen, with streaming devices such as Chromecast, Apple TV, FireTV, Roku, and even XBox360.
Click HERE
to get signed up today and find out all that CBS All Access has to offer. Big Brother Over The Top will run for 10 weeks. There will be no jury, you the LIVE FEED watcher will be the one who decides the winner at the end of the season. So, get ready to see
e
verything
play out live and be ready because each week will offer you interactive opportunities that will have an immediate impact on the game. New users, get signed up today for CBS All Access and help support this website at the very same time. We'll update you right here with the LIVE voting results!
We'll update you right here with the Live Eviction Results...
In the meantime, here's a quickie on what's happened this week...
Scott is the Head of Household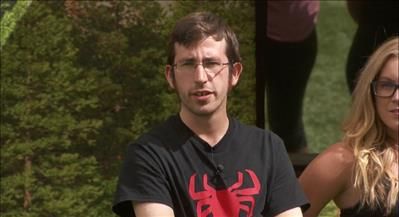 He planned to nominate Shane and Danielle, but that was BEFORE he was the winner of America's Care Package - which contained Pick-A-Veto- The house guest that gets this care package will be able to decide what type of Veto the house guests will be playing for, either Diamond (the holder of this Veto can save someone on the block and also name their replacement), Double (two Vetoes would be in play) or Boomerang Veto (the holder of this Veto can use it twice, hence removing two nominees from the block).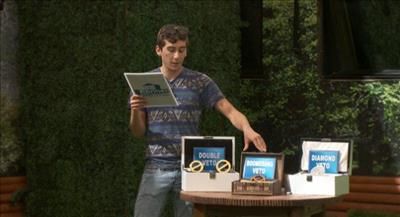 Scott decided his best strategy would be to nominate 2 weaker house guests and select the Double Veto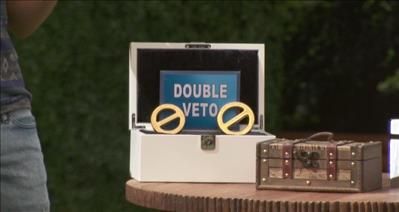 Scott nominated Kryssie and Neeley ( with the hope of backdooring Shane/Danielle )
America nominated Danielle as the 3rd nominee for eviction ...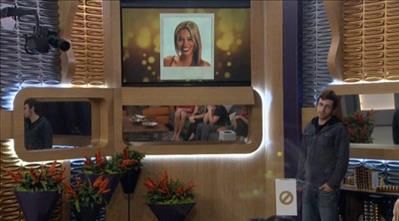 Alex Danielle Shelby are Have-Nots
Alex and Justin were picked to play in the PoV Competition, along with HoH Scott, and nominees Kryssie and Neeley ...
Power of Veto Competition is a Head to Head Knock Out ...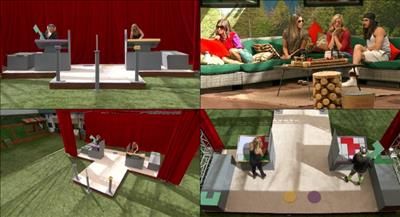 Round 1- Kryssie chose Alex - Kryssie out
Round 2 - Danielle chose Scott - Scott out
Round 3- Neeley chose Alex- Neeley out
Justin picks Danielle and that means Alex wins the first veto
Round 4- Justin against Danielle- Danielle out
Alex and Justin won PoV's
Danielle cries in the bushes...
As the "Ball Smashers" celebrate Alex's win ... Danielle hides under the covers and cries some more.. she's upset that she lost and that Justin didn't throw it ...
Power of Veto Ceremony ....
Alex did NOT use the Power of Veto...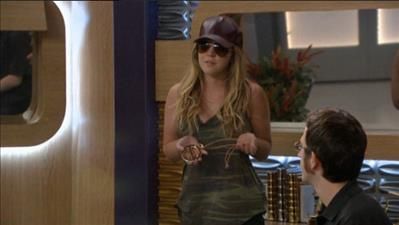 Justin USED the Power of Veto on Kryssie....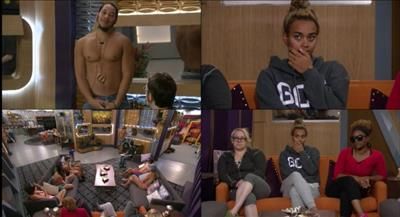 Scott named Shane as the replacement nominee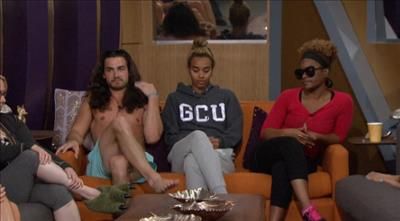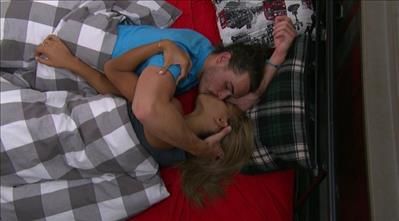 Live Voting:
Alex- Shane
Whitney - Shane
Kryssie - Danielle
Justin - Danielle
Morgan - Shane
Jason- Danielle
Shelby- Shane
America's Vote - Danielle
It's a tie... with Scott as Head of Household breaking the tie...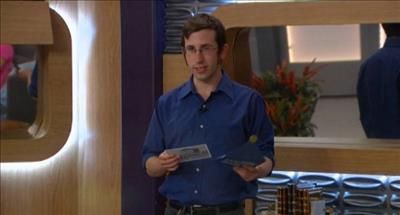 Scott- Shane, when you drank the blue potion I knew you'd be my best friend or worst nightmare. I vote to evict you
By a vote of 5-4-0, Shane has been evicted from the Big Brother house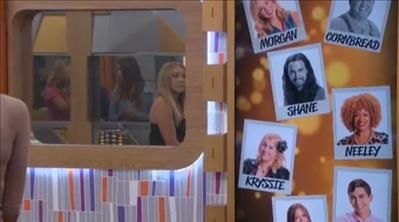 Scott- You okay, Kryssie? Do you want a hug or anything?
Kryssie- Don't Scott... you don't have to pretend you like me....that is a human being you took out personally. You knew damn well America wanted Danielle... you made it a thing
Scott-did I make it a thing or did Shane make it a thing?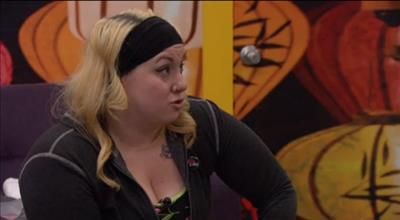 Kryssie- you don't have to pretend you are my buddy
Scott- we have to vote somebody out every week... that's what we signed up for
Kryssie- that was my friend
Scott- I thought we were friends too. I hope me, Shane and Monte are playing video games after this...
Kryssie- you guys knew you couldn't beat him so you back doored him. That's ****ed up.
Scott- it's strategy
After tonight's Live Eviction ...
You boy, Paul Abrahamian will be hosting the "Perfect ShOTT" competition @ 12 AM ET.
Tonight's competition is inspired by the Perfect Shot HOH competition from season 18 that Paul won with some new Over The Top twists!
Looking for a place to discuss Big Brother Over The Top?
Join in on a discussion in our
forums
Ready to get signed up for CBS All Access and watch it all play out LIVE ... 24/7 ...
Click HERE
or on any of the CBS All Access banners you see here to get signed up and help support this website at the very same time.
Watching the Live Feeds not for you?
Like what we do here?
Like the Live Feed Discussion?
Another great way to support this website is by making a donation via our PayPal link. It's safe, easy and secure to use. We appreciate any support!
Follow us on Twitter -
https://twitter.com/BB_Updates
Join in on a discussion in our
forums
As always, thanks for reading!
~ Lexie