CBS Big Brother Over The Top LIVE Head of Household Competition "Keep You Posted" is over and we have the results! Who is the new Head of Household in the Big Brother Over The Top House? Keep reading or click "go to post" to find out! Watch ALL THE DRAMA PLAY OUT LIVE yourself, exclusively on
CBS All Access
. You can watch 24/7 on your computer or grab your remote, sit on your couch and stream #BBOTT on your big screen, with streaming devices such as Chromecast, Apple TV, FireTV, Roku, and even XBox360.
Click HERE
to get signed up today and find out all that CBS All Access has to offer. With Big Brother Over The Top, YOU are the jury! Get signed up for CBS All Access and get ready to see
e
verything
play out live! Each week will offer you interactive opportunities that will have an immediate impact on the game. New users, get signed up today for CBS All Access and help support this website at the very same time.
Seven questions will be asked...each wrong answer...step to a smaller post to stand on...
The Q & A portion is over and the endurance begins as the house guests step onto their first post...
Morgan and Kryssie are still on their main post
Jason has had one wrong and is down 1 post
Justin is down 2
Justin down 3....
Now, all will transition to the next post... every 5 minutes...
As they move...
Jason falls....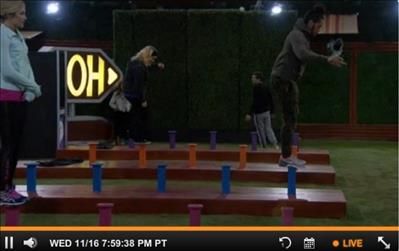 Justin falls...
It's down to either Kryssie or Morgan ...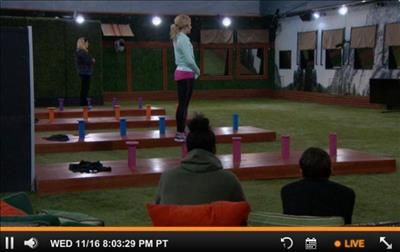 Morgan offers Kryssie a deal ... she says she will give her the whole room to herself and let her make her decisions, she just wants a letter from home.
Kryssie tells Morgan that she "can't throw a comp, it makes her feel gross"...
As they transistion to the final post.....
Kryssie falls...
Morgan is the new Head of Household...
Ready to try the Live Feeds?
Get yours now....
Click HERE
or on any of the CBS All Access banners you see here to get signed up and help support this website at the very same time.
All the Big Brother drama you can handle and more on BBOTT Live Feeds... 24/7 for real!
Watching the Live Feeds not for you?
Like what we do here?
Like the Live Feed Discussion/Updates?
Another great way to support this website is by making a donation via our PayPal link. It's safe, easy and secure to use. We appreciate any support!
Follow us on Twitter -
https://twitter.com/BB_Updates
Join in on a discussion in our
forums
As always, thanks for reading!
~ Lexie