CBS Big Brother Over The Top Final Four Head of Household competition is over and we have the results! Who is the new Head of Household? Keep reading or click "go to post" to find out. Tonight, Julie Chen revealed that the winner of tonight's competition will automatically advance to finale night. Julie also revealed that this HoH will get to bring another houseguest with them to the finale. The two that remain will face off in a do or die competition. Watch ALL THE DRAMA PLAY OUT LIVE yourself, exclusively on
CBS All Access
. You can watch 24/7 on your computer or grab your remote, sit on your couch and stream #BBOTT on your big screen, with streaming devices such as Chromecast, Apple TV, FireTV, Roku, and even XBox360.
Click HERE
to get signed up today and find out all that CBS All Access has to offer. With Big Brother Over The Top, YOU are the jury! Get signed up for CBS All Access and get ready to see
e
verything
play out live! Each week will offer you interactive opportunities that will have an immediate impact on the game. New users, get signed up today for CBS All Access and help support this website at the very same time.
Shelby was evicted.
Morgan, Jason, Justin and Kryssie are the Final 4
The Head of Household Competition is coming up ...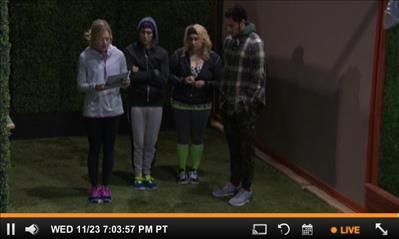 Morgan reads the rules...
Each house guest will compete, answering the question "HoH Competition Winners" by maneuvering the balls, with the correct house guests name on it to the to the correct numbered slot.
This competition is called....
"Up Hill Battle"...
​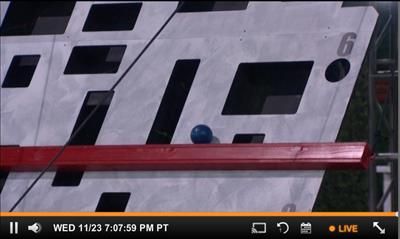 ​
​
And .. just like that ...lickety split...
Jason wins!
Kryssie had 3 balls in the slots, while Morgan and Justin only had 1 ball in play, when Jason won.
​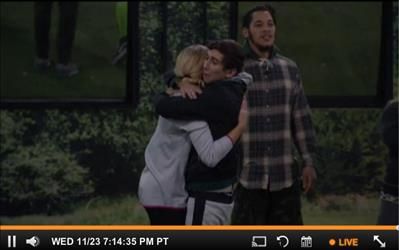 Jason reveals "his twist" that America voted him in to Morgan, Kryssie and Justin.
Ready to try the Live Feeds? You can try them FREE for ONE MONTH ( use Promo Code GOBBLE ) by 11/28/16 AND it's not only Big Brother Over The Top that you get to see, there's tons of content that can keep you going and going and going! Plus, clicking on the links/banners right here at BBU to sign up, helps to support all that we do here now and all summer long!
Get yours now....
Click HERE
or on any of the CBS All Access banners you see here to get signed up and help support this website at the very same time.
All the Big Brother drama you can handle and more on BBOTT Live Feeds... 24/7 for real!
Watching the Live Feeds not for you?
Like what we do here?
Like the Live Feed Discussion/Updates?
Another great way to support this website is by making a donation via our PayPal link. It's safe, easy and secure to use. We appreciate any support!
Follow us on Twitter -
https://twitter.com/BB_Updates
Join in on a discussion in our
forums
As always, thanks for reading!
~ Lexie