CBS Big Brother 19 Head of Household competition is on a rain delay is over and we have the unlikely winner for this Head of Household Competition. Who is this new Head of Household? Keep reading or click "go to post" below to find out. Grab you FREE TRIAL of the Live Feeds and use the FLASHBACK feature to watch all the drama you missed inside the Big Brother 19 house! Click
HERE
to start watching right now! It's a great way to help support this website and get a look inside all the crazy drama that the Big Brother 19 house guests bring. Once signed up you can not only watch the Live Feeds, you also gain access to thousands of episodes of CBS shows on demand, get new episodes of hit shows on demand the next day with the CBS App, and stream their local CBS channel live! We appreciate any support
Grab your
FREE TRIAL
and get ready for the drama ....
Signing up for the Live Feeds not for you right now?
Like what we do here?
Like the Discussions and like having a great place to call your home away from home for the BB Summer?
A great way to support this website is by making a donation via our PayPal link. It's safe, easy and secure to use. We appreciate any support!
While we wait.... we looked back and this does look like the Ready, Set, Whoa Competition .. where in Season 17 Austin beat out James for the win ...
Each race will have one House Guest eliminated
Houseguests must hold three buttons on starting clock.
Words will scroll, "Ready, Set, Go" ... when the word Go comes up, race to the end of the yard..... There are decoy words though... and if If you release one of the three buttons before go comes up you are eliminated.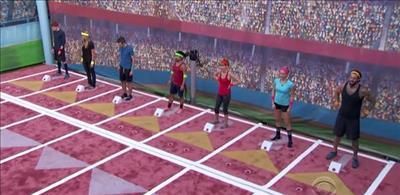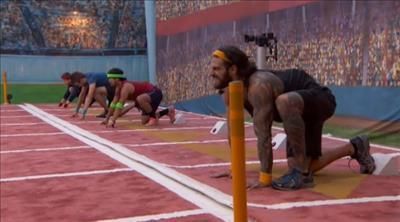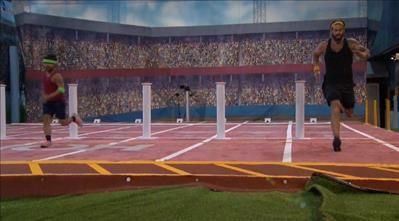 Click
HERE
to start your FREE TRIAL of the Big Brother 19 Live Feeds! Watch all the drama inside the Big Brother 19 house. It's a great way to help support this website and get a look inside all the crazy drama that the Big Brother 19 house guests bring. Once signed up you can not only watch the Live Feeds, you also gain access to thousands of episodes of CBS shows on demand, get new episodes of hit shows on demand the next day with the CBS App, and stream their local CBS channel live! We appreciate any support!
When the feeds returned...
We first has Paul trying to calm Kevin down ...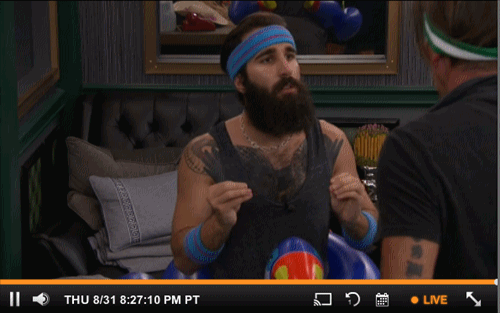 Kevin asking if he's being nominated ...
Paul telling him to just stay in his room, read his bible and not to freak out ...
And, then we had ...
Josh, Raven and Christmas bonding ...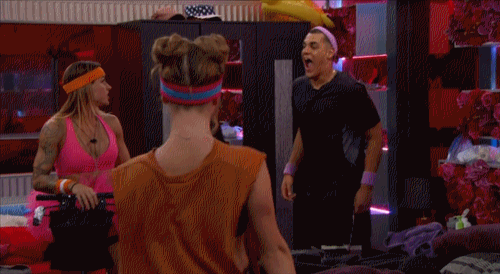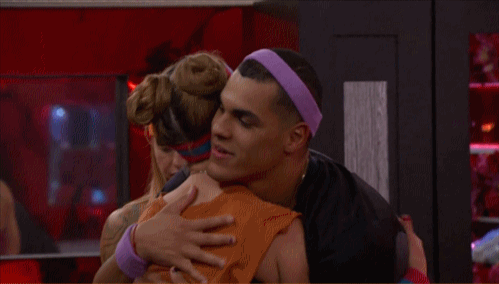 With Christmas telling Josh to "stop it with the face" ... ( that one up there )
Christmas to Raven- if you see him making that face, slit his throat ..
Raven - I will cut his balls off...
And with that ....
Christmas is the new Head of Household...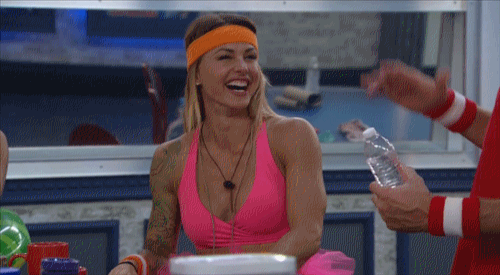 ** somehow she won by default?
Christmas- I mean this in the best way guys... but thanks for ****ing up ...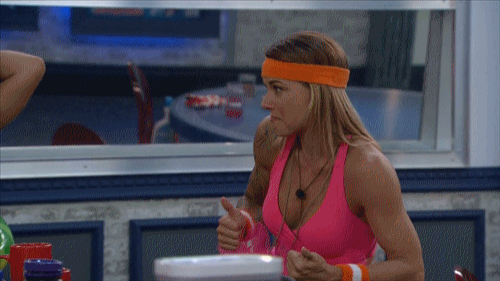 Join in on a discussion in our
forums
Check out our
LIVE FEED UPDATES HERE
Just a note to our member/readers ...
Because we continue to exceed the bandwidth usage in a lightening fast pace this season, and because of the increased expenses that we continue to incur because of it, we have made the decision to make the forums for registered members only. Non-registered members can still see the news articles here, but the forums are closed to registered members only. If you are already a registered member, and you cannot access the live feed updates/discussions, you will just need to login in.
If you are not a registered member of BBU, we invite you to register and join us.
And, don't forget to follow us on Twitter -
https://twitter.com/BB_Updates
As always, thanks for reading!
Lexie