CBS Big Brother 20 Power of Veto Players Picked! Which house guests are playing in today's Power of Veto Competition? Keep reading to find out! If you haven't already, now is a great time to try the Big Brother
Live Feeds with CBS All Access
. Don't miss a minute of ALL the DRAMA inside the Big Brother 20 house. Try the
Live Feeds FREE for one week
AND for only $5.99 per month you can watch ALL the DRAMA inside the Big Brother 20 house and I have a feeling the drama this season is going to be FULL FORCE on the Live Feeds! Get your
CBS All Access
for an inside look like never before. Try the feeds for Free for one week!
Click HERE
or on any banner or link right here at BBU to start the process and sign up today. By clicking on the links/banners here you help support all that we do. We truly appreciate any support!
Power of Veto Players:
HoH - Bayleigh
Nominees - Brett and Rachel
Picked Players - Tyler, Sam and JC
Host - Rockstar
The Power of Veto Competition plays out later today!
In the meantime ...
Yesterday, Rachel agreed to be the pawn.
Today, she's freaking out about being the pawn
Rachel to Angela- this whole thing is throwing my ****ing game off.. and it's pissing me off. ... because JC should have went up there. She (Bayleigh) feels like I need to be okay with this cause she told me that big secret...
And, whether she realizes it or not, it's putting a bigger target on her back, and giving Bayleigh ammunition to use against her with Angela and Kaycee.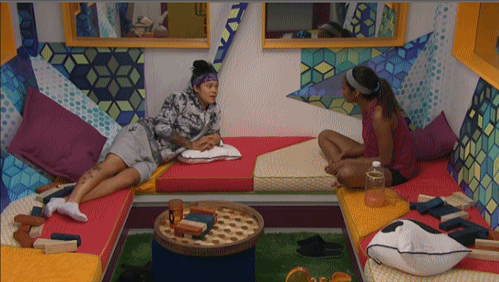 Bayleigh to Kaycee- Rachel is getting on my last nerve. I literally almost snapped on her this morning..... I said "you coming in here with all of this negativity when I already have a lot on my plate is not okay". ....I said "stop acting like you are the only person in this game"...
Bayleigh to Kaycee- She is going to make me mad to where I am going to want to send her home...
Kaycee to Bayleigh- she needs to calm the **** down. I understand your frustrations
Bayleigh- Why is she doing this? We talked about it for hours before it was going to happen. I could have just surprised her ass.
The drama continues on the Live Feeds...
We truly appreciate your support by grabbing your
FREE TRIAL
of the Live Feeds ( CBS ACCESS ) by clicking on any of the links and/or banners right here. It's the ONLY way that we get credit for your subscription
Join us in discussion in our
Live Feed Discussion thread HERE
or check out the
Live Feed Updates
to catch up on what happened last night
HERE
We have new Live Feed Discussion thread each day in our Forums, join us
Signing up for CBS ALL ACCESS not for you right now?
Like what we do here?
Like the Discussions?
Like out Live Feed Updates?
Like having a great place to call your home away from home for this new season of Big Brother?
A great way to support this website is by making a donation via our PayPal link. It's safe, easy and secure to use. We appreciate any support!
If you are not a registered member of BBU, we invite you to register and join us.
Join in on a discussion in our
forums
Check out our
Live Feed Updates
And, don't forget to follow us on Twitter -
https://twitter.com/BB_Updates
As always, thanks for reading!
Lexie