CBS Big Brother 20 Live Eviction and Head of Household Competition results! Who was evicted? Who is the new Head of Household? Keep reading to find out the EXPLOSIVE results! If you haven't already, now is a great time to try the Big Brother Live Feeds with CBS All Access. Don't miss a minute of ALL the DRAMA inside the Big Brother 20 house. Try the Live Feeds FREE for one week AND for only $5.99 per month you can watch ALL the DRAMA inside the Big Brother 20 house and I have a feeling the drama this season is going to be FULL FORCE on the Live Feeds! Get your
CBS All Access
for an inside look like never before. Try the feeds for Free for one week!
Click HERE
or on any banner or link right here at BBU to start the process and sign up today. By clicking on the links/banners here you help support all that we do. We truly appreciate any support!
During his speech ... Brett blows up the Power App, the all girl alliance the Man -eaters, he says except Sam and he tells them all that Rachel told him...
Brett-I know that I was Bayleigh's target this week & Rachel is the pawn, Bayleigh has a power that gives her the ability to change the nominations next week. He also outed the Man-Eaters (said it excluded Sam) & he told them that how did he know all this? Rachel told him
LIVE VOTING:
Rockstar- Brett
Angela- Rachel
Kaycee- Rachel
Scottie- Brett
Tyler- Rachel
Sam- Rachel
Faysal - Brett
JC - Rachel
Haleigh - Brett
Rachel has been evicted from the Big Brother 20 House.
Rachel stormed out of the house crying ...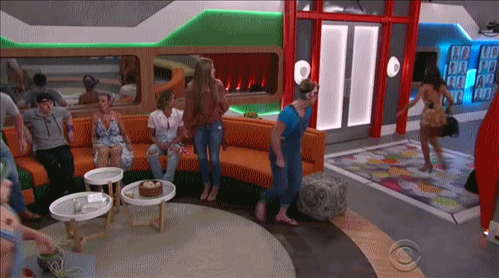 However.. JC runs to grab the door ( lol )
Julie to Rachel - can you speak?
Rachel- yeah..
Julie- you stormed out... what are you thinking?
Rachel- I don't know... I don't know .. I guess the guys and a girl..... I am completely blindsided right now
Julie- do you know who you are mad at?
Rachel- I don't know who I'm mad at!
Julie tells Rachel that her alliance voted her out...
Julie - would you like to hear your goodbye message?
Rachel - not really
Angela's goodbye message - Rachel, just a few bullet points to go over here.... you talked yourself onto the block.... you lied to my face and your stories don't make sense.... our F2 deal is about as irrelevant as you were week 2....
Rachel - what the f..
Julie- please don't curse. .... final thoughts?
Rachel- what the frick is wrong with Angela?
Julie- she did'nt believe you
Rachel- what's wrong with her?
Julie- you'll see when you get home...we have an HoH competition
Rachel- well I hope no one from Level 6 wins
Head of Household Competition ...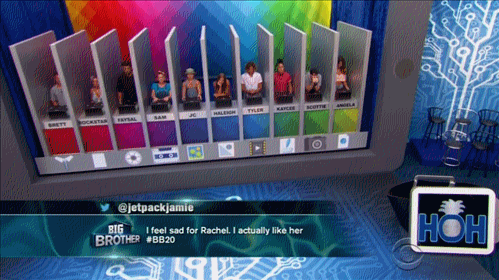 True or False questions based on questions asked my Julie about a series of gifs...
Round One - Kaycee is out
Round Two - everyone right... everyone safe
Round Three - JC is out
Round Four - Sam is out
Round Five - Brett, Tyler, Faysal and Scottie are out
Only Haleigh, Rockstar and Angela left in the game...
Round Six - Haleigh is out
It's down to Angela and Rockstar
Round Seven - Last question - both right
Tie Breaker question - close to the number without going over is the new HoH
In seconds what was the total time of the Out on a Limb endurance competition ... from the official start to when Tyler hit the ground?
Correct answer is 3,722 seconds
Angela is the new Head of Household!
New Twist - Hacker Comp Each week one house guest will win the power to secretly hack the game
The drama continues on the Live Feeds!
Get your
FREE TRIAL
right now !!
Join us in discussion in our
Live Feed Discussion thread HERE
and catch up what you missed with our
Live Feed Updates HERE
We truly appreciate your support by grabbing your
FREE TRIAL
of the Live Feeds ( CBS ACCESS ) by clicking on any of the links and/or banners right here. It's the ONLY way that we get credit for your subscription
We have new Live Feed Discussion thread each day in our Forums, join us
Signing up for CBS ALL ACCESS not for you right now?
Like what we do here?
Like the Discussions?
Like our Live Feed Updates?
Like having a great place to call your home away from home for this new season of Big Brother?
A great way to support this website is by making a donation via our PayPal link. It's safe, easy and secure to use. We appreciate any support!
If you are not a registered member of BBU, we invite you to register and join us.
Join in on a discussion in our
forums
Check out our
Live Feed Updates
And, don't forget to follow us on Twitter -
https://twitter.com/BB_Updates
As always, thanks for reading!
Lexie