CBS Big Brother 20 Double Eviction Night! Hold onto your hats and we'll watch the Big Brother 20 house guest play out a week's worth of Big Brother in one hour tonight! Who was evicted? Who is the new Head of Household? Keep reading to find out! The drama continues on the Live Feeds. If you haven't already, now is a great time to try the Big Brother
Live Feeds with CBS All Access
. Don't miss a minute of ALL the DRAMA inside the Big Brother 20 house. Try the
Live Feeds FREE for one week
and catch ALL the DRAMA inside the Big Brother 20 house. As we get closer to the season finale, the drama won't stop! Get your
CBS All Access
for an inside look like never before. Try the feeds for Free for one week!
Click HERE
or on any banner or link right here at BBU to start the process and sign up today. By clicking on the links/banners here you help support all that we do. We truly appreciate any support!
It's a week's worth of Big Brother drama all in one hour tonight - LIVE!
LIVE VOTING:
Tyler- Haleigh
JC - Haleigh
Brett - Haleigh
Angela - Haleigh
By a unanimous vote ... Haleigh has been evicted from the Big Brother 20 house
Julie- why do you think you couldn't get the target of your back?
Haleigh - I did a good job of putting it there.
Julie- was the Hacker your worst move?
Haleigh- either that or my HoH ...
Julie- how do you really feel about Fessy?
Haleigh- I think he's awesome.. great guy.. things that are questionable about the game.. but I'm ready to see him.
Kaycee - Brett told me that if you won HoH week that you would come after me and Angela again
Angela- if you see this message, you can blame Brett, he told me and Kaycee as well as the rest of the house that, if you won HoH .. that you would have target me and Kaycee...
Brett- You are my girl ... the truth is ... Kaycee, Angela and Tyler wanted you out this entire time...
HEAD OF HOUSEHOLD COMPETITION - "Buffering"
Earlier, you watched short video clips ... I will play them back.. but they will stop ... you will be given 2 options of how they ended.. A or B answer - each right answer is worth 1 point.
Round 1 -- Sam and Tyler get a point
Round 2 - JC gets a point ( he was the only one to get it right )
Round 3 - Tyler and Brett get a point
Tyler in the lead with 2 points ...
Round 4 - JC, Sam, Tyler and Brett get a point
Tyler in the lead with 3 points
Angela has zero points
Round 5 - Sam, Tyler, Angela and Brett get a point
Tyler in the lead with 4
Round 6 - everyone answers A ... - everyone gets a point
Round 7 - last clip -- Sam, Tyler and Angela get a point
Tyler is the new Head of Household.
Tyler telling Bret to stick to the plan and NOT to win veto .. let him win it


Tyler begging Sam to trust him


Nominations
Tyler nominates JC and Sam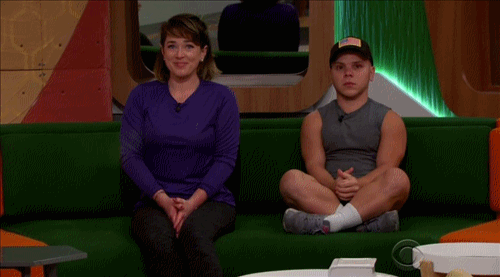 Power of Veto Competition - Block and Roll
Place your colored blocks on your game board.. so it will bounce off and hit your target - your ball must be rolled through your tube first ...
Angela wins the Power of Veto!!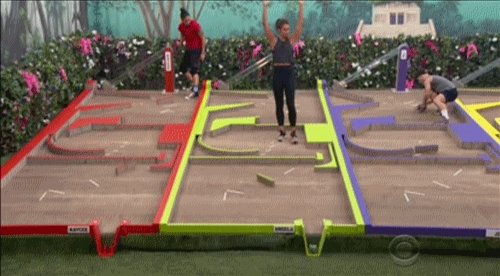 Tyler and Angela celebrate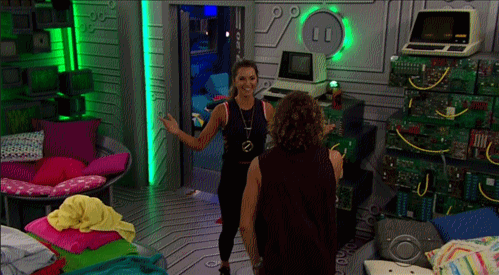 Tyler to Angela - take JC off
Kaycee and Angela celebrate
Kaycee - are you taking JC off?
Angela- yeah
Brett to Angela- you're leaving them the same right?
Angela - nods
Brett- Sam right? ( to vote out )
Angela - yeah
Power of Veto Meeting
Angela uses the Power of Veto to take JC off the chopping block
Angela- I call this move, being just one step ahead.
Tyler- I call this being 2 steps ahead, Brett take a seat.
Tyler names Brett as the replacement nominee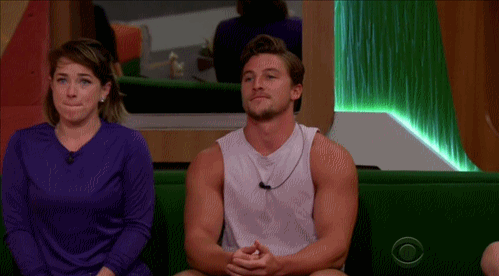 Sam- first, Angela sorry I ever doubted you. Tyler, your friendship, Kaycee, JC, y'all mean the world to me.. and if I stay .. nothing is going to change and I will be honored.
Brett - wasn't ready for this .. surprise to me ...clearly you have your mind made up. I played nothing but a loyal game to you guys. I do love you guys all on a personal level. I do understand that you have to make a game move here.... please don't send me to that house with Blockstar. ... have mercy .. change your minds...
LIVE VOTING
JC- Brett
Kaycee - Brett
Angela- Brett
When Julie reveals the unanimous vote ...
Brett looking over at both Kaycee and especially JC ...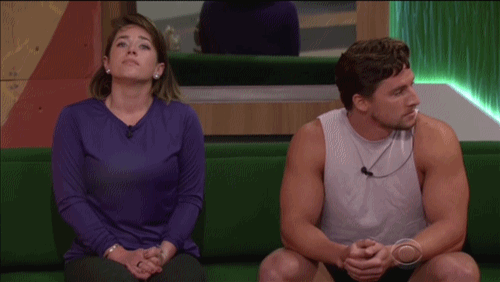 Brett has been evicted from the Big Brother 20 house.
Brett - well . pack my things please
Sam - we will .. with care and respect
Tyler- you are the best player in here Brett.
Julie to Brett- you got played, son. You chose not to expose Level 6. Why not and what are you thinking?
Brett- I don't know .. I was loyal to them ... this was there chance to get Sam out, I dunno, they were playing some other angle
Julie- you broke ranks and said you wanted to target the girls, why do that?
Brett- I knew I could beat JC and Sam
Julie- who do you feel most betrayed by?
Brett- Tyler, he was my ride or die, never thought of betraying him
Julie- what do you think of their speech .. one step ahead.. two steps ahead
Brett- it was exactly what I would have expected.
Julie- are you bitter or do you respect the game play?
Brett- I respect the game .. I'm upset .. but I do respect the game
Julie- are you going to vote bitter or will we see..
Brett - we'll see
Julie- that's my Brett ( or did she call him BRENT? )
** Yes, she called him BRENT
Julie tells him that he's off to the jury house with Rockstar
Julie tells use Bebe Rexha will be entertaining the HG and ....
Wednesday - another HG is sent packing and becomes a member of the jury ...
Julie- from outside the house with Brett.. I'm Julie Chem MOONVES ... Goodnight.
The drama continues on the Live Feeds...
We truly appreciate your support by grabbing your
FREE TRIAL
of the Live Feeds ( CBS ACCESS ) by clicking on any of the links and/or banners right here. It's the ONLY way that we get credit for your subscription
Signing up for CBS ALL ACCESS not for you right now?
Like what we do here?
Like the Discussions?
Like our Live Feed Updates?
Like having a great place to call your home away from home for this new season of Big Brother?
A great way to support this website is by making a donation via our PayPal link. It's safe, easy and secure to use. We appreciate any support!
Join us in discussion in our
Live Feed Discussion thread HERE
or check out the
Live Feed Updates
to catch up on what's happened in the Big Brother 20 house.
If you are not a registered member of BBU, we invite you to register and join us.
Join in on a discussion in our
forums
Check out our
Live Feed Updates
And, don't forget to follow us on Twitter -
https://twitter.com/BB_Updates
As always, thanks for reading!
Lexie