CBS Big Brother 20 live eviction is over and the Final 3 is set. Who was evicted? Who are the Final 3 Big Brother 20 house guests? What is the jury thinking as Scottie, Haleigh, Bret and Sam join them? Keep reading to find out? The drama continues on the Live Feeds. It's never too late to try the Big Brother
Live Feeds with CBS All Access
. Don't miss a minute of ALL the DRAMA inside the Big Brother 20 house. Try the
Live Feeds FREE for one week
and catch ALL the DRAMA inside the Big Brother 20 house. As we get closer to the season finale, the drama won't stop! Get your
CBS All Access
for an inside look like never before. Try the feeds for Free for one week!
Click HERE
or on any banner or link right here at BBU to start the process and sign up today. By clicking on the links/banners here you help support all that we do. We truly appreciate any support!
Julie Chen - Level 6 will be leveled ... JC is in power and he has revenge on his mind.
Angela- His first HoH win and it gets him to Final 4 .. really? No one saw this coming ... this ruins all of our plans.
As you know ...
JC nominated Angela and Tyler for eviction
.
Jury House Segment...
Scottie arrives .. again ...
Faysal- it pisses me off that these people are winning these comps.
Bayleigh- you made your own bed... so shut up.
Faysal- So did we all ...
Bayleigh- don't act like we are all as stupid as you.
Faysal- telling the opposite side you have a power is stupid
On Haleigh's arrival ...
Rockstar- They clean swept us....
Faysal- damit .. we look like idiots
Rockstar- Kaycee is playing the best game... she hasn't made any enemies and she is winning when it counts
The Hive is Alive .. in the Jury House ...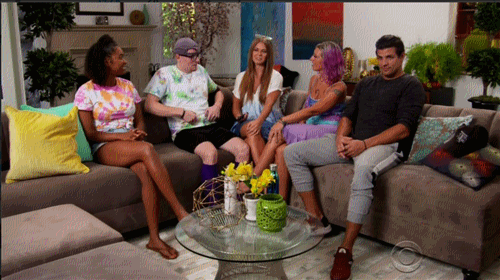 Brett joins the Jury House
Brett- I shouldn't have told Tyler my plan to target the girls.
Brett- Tyler told me he was going to backdoor Angela.
Bayleigh - and you believed him?
Brett- he was the one that came to me with the whole plan
Rockstar- like you came to me with a secret alliance?
Brett- exactly
Bayleigh- the person that I think is playing the best game would have to be Kaycee
Sam joins the Jury House
Sam- I wish that I had fought for myself and been a little bit more selfish .. because look where it got me.
Sam to jury members- I felt very secure that Tyler would follow through with his promise. On Day 3, we made a Final 2 deal.
Brett- I had a Final 2 deal with Tyler too.
Scottie- that tells me that Tyler never had my back..... I gotta respect him
Sam- I don't think I will ever trust Tyler again. One bad apple spoils the whole bunch.
Rockstar- Tyler actually never did wrong by me. He just knew I was targeting him.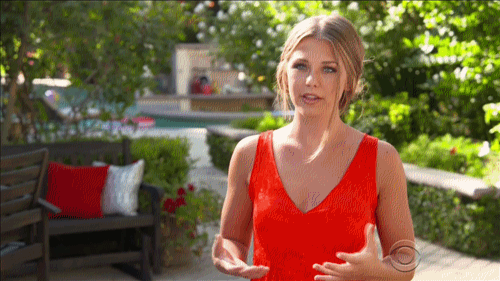 Haleigh- I know a lot of people in this house dont have a great taste in their mouth for Tyler.... but so far all that I have seen is great game play
Power of Veto Competition Results...
And, as you know ....
Kaycee won the Power of Veto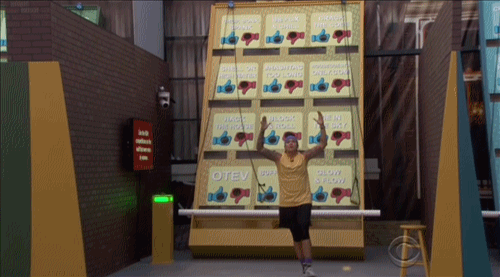 Her 5th Power of Veto of the season!
It's time to vote for America's Favorite Player ...
Kaycee has the only vote tonight ...
Angela - Kaycee, my little peanut.... I know this has been the hardest decision you have had to make in this game.. we're all bonded for life. us four .... regardless of what happens... I cannot tell you how happy I am to be surrounded by my three best friends in this house sitting up here. And, I'm not about to stand here and campaign against Tyler, that would break my heart. And, so I want you to know that whatever decision you make, I have the upmost respect and understanding and whatever you decide to do, I will love you to death regardless.. and I love you, peanut.
Tyler- I just want to shout out to CBS for making my dreams come true... to my friends and family.. I love you . I'm doing all this for you ... Kaycee, JC, I'm so proud of you guys making it to Final 3 and representing for the LGBT community.... if anybody out there has any doubts on how to truly be yourself and how far it can get you ... just look at these two right here.
Tyler- Angela, you are the most beautiful and resilient person I have ever met in my life..... and you've taken nothing but shots in this game and in real life and you've jumped over them every single time flawlessly ... and that being said ... anybody would be crazy not to be absolutely 100% in love with you. Thank you Julie.
Julie- wow. Thank you Tyler. Thank you both.
Kaycee - here we are Final 4 ... about to be Final 3 .it's been crazy in this house being together with you guys in this house for 97 days 24/7 ... now both of my best friends are on the block... we have been dreading this moment ... you guys are both competition beasts... by far. And, I do have a fun fact... between the 3 of us .. collectively ... we have won 19 competitions.. that is mind blowing. We should all be so proud of that .. and with that being said .. on a personal level .. I love you guys both.
Kaycee- Tyler, you are like my brother. You are so caring, you are such a sweet guy, I appreciate you every morning when you ask if anybody wants some eggs... it means everything. You know I love you so much.
Kaycee- Angela, we've been so close since the beginning ... you know people have been attacking you personally ... those are people who have no idea who you are. I know who you are.. you are such a beautiful person ... inside and out. You are so loving, smart and talented
Angela- you're going to make me cry
Kaycee - and. I am so honored to have met someone so special as you are. And, this is the hardest decision, I love you guys so much.
Julie- we need a decision
Kaycee -I want you guys to know this is strictly game.. strictly game and I hope you guys understand .. but I am so sorry Angela I have to evict you.
Julie- it's official .. Angela you are evicted from the Big Brother house. Come on out.
Kaycee to Angela- I'm so sorry.
Kaycee, Tyler and JC are the Final 3
Julie to Angela - We want to get straight into this, you and Kaycee have been so close this summer, why do you think she chose to evict you and not Tyler?
Angela- I don't know .. honestly when it comes to jury votes.. I think that me and Tyler were pretty equal ... and when it comes to competitions we were equal as well. I thought it was a 50/50 chance who she was going to pick .. I didn't know and I guess it just came down to what was best for her personal game. I 100% respect that and have total support.
Julie - we heard you say to Tyler " I'm in love with you" and he said it back to you .. what do you hope the future holds for the two of you?
Angela- I don't know what the future holds.. but I'm so excited to start our next chapter and I absolutely adore him. I'm head over heels obsessed with him and I cannot wait to get to see him once we get out of here.
Julie- Goodbye messages from your former house mates.. right here ...
Kaycee- Angela, my girl. I'm sure that you're wondering why the heck did I pick Tyler over you. I have a little secret.. me and Tyler made a Final 2 deal on Day 2, before we even formed Level 6... and I hope that you really understand.
JC- Angela girl, this really sucks... I'm sorry that at the end we got so distant from each other. No matter what, I'm always going to be your friend and hopefully we'll get to hang out after this.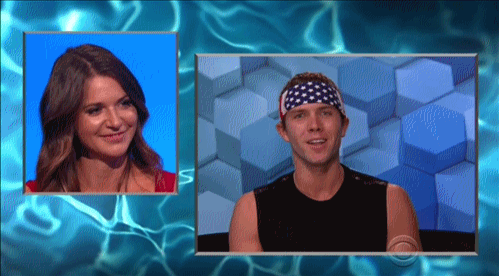 Tyler- Angela, this is the toughest goodbye message I've had to do all year. Secret #1. I've had a Final 2 deal with Kaycee since Day 1. Secret #2 ... I got the 2nd power app. My biggest secret of all is that I did not expect to come into this game... meet you .. get my world flipped upside down ... and fall totally in love with you.. but that is exactly what I did ... You are the most beautiful person I've ever met in my life and I can't wait to spend so much time with you outside of this house ... I love you Angela.
Julie- in the final 15 seconds. what do you make of hearing that Kaycee and Tyler had a Final 2 deal?
Angela- honestly, I'm not surprised... and I don't blame them. I mean people make Final 2 deals with each other in this house ..it's expected... and it happened before we formed what we did with Level 6 ... and that's okay .. you know .. they are my 2 best friends in this house and I will love them forever .. until the day I die.
Julie- well you're off to the jury house
Angela- oh god.
Julie- think you have what it takes to win Big Brother? Here's how to apply for Big Brother NEXT SUMMER .. go to
http://bigbrothercasting.tv
for details
#BB20
#BB21
Signing up for CBS ALL ACCESS not for you right now?
Like what we do here?
Like the Discussions?
Like our Live Feed Updates?
Like having a great place to call your home away from home for this new season of Big Brother?
A great way to support this website is by making a donation via our PayPal link. It's safe, easy and secure to use. We appreciate any support!
Join us in discussion in our
Live Feed Discussion thread HERE
or check out the
Live Feed Updates
to catch up on what's happened in the Big Brother 20 house.
If you are not a registered member of BBU, we invite you to register and join us.
Join in on a discussion in our
forums
Check out our
Live Feed Updates
And, don't forget to follow us on Twitter -
https://twitter.com/BB_Updates
As always, thanks for reading!
Lexie